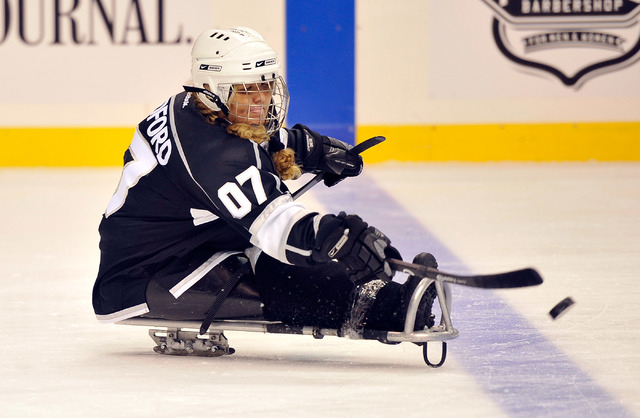 Growing up in an Spanish-speaking neighborhood in Southern California, retired U.S. Army Cpl. Wesley Leon-Barrientos wasn't much of an ice hockey player. He didn't follow the Kings that much, even after they traded for Gretzky.
Seven years ago when he was 23, during his third tour of duty in the Middle East, a roadside bomb exploded in Iraq while the corporal was riding in a Humvee.
Now Cpl. Leon-Barrientos plays on the blue line for the official Los Angeles Kings sled hockey team.
He lost both legs when that bridge plate IED went off. He spent 18 months at Walter Reed Hospital.
"I'm the kind of guy who enjoys contact, physical stuff, and I wasn't doing that kind of stuff," he said of his long and painful recovery.
Now, thanks to sled hockey, he's enjoying contact and doing physical stuff again as a civilian. But he still calls everybody "Sir," even the referees when they whistle him for penalties.
The Kings' sled hockey team formed three years ago. On Friday night, the Kings organization arranged for the sled hockey team to play counterparts representing the Colorado Avalanche in a prelude to Saturday's annual Frozen Fury exhibition between the NHL clubs at the MGM Grand Garden. The sled hockey teams were to play again at the Fiesta Rancho's SoBe Ice Arena on Saturday afternoon.
Workers still were applying decals to the dasher boards promoting the Canadian province of Alberta when the sled teams were supposed to take the ice Friday.
The teams seemed eager to drop the puck. But the delay was good for us sled hockey neophytes, because as the players assembled in the tunnel between the dressing studios and the rink, they told their stories.
Nicholas Jenkins of San Bernardino, Calif., who started putting the sled team together with an assist from his father, Todd, when he was only 8 years old, has spina bifida.
Darlene Bradford, a grandmother of four — yes, women play sled hockey, too, and sometimes they are among the fiercest body checkers — lost her left leg to cancer.
Pedro Gomez-Ramos has brittle bone disease. He once broke his leg so badly that his leg had to amputated. Now he's the team's fastest skater.
Zack Ramsay lost a leg in a motorcycle accident; Nacho Medrano got cancer as a teenager; Ahmad Karimzada, the only Las Vegan skating with the team, was born without a bone in his leg; Larney Johnson was playing basketball with friends in a mean part of Inglewood, Calif., when bullets were sprayed from a car in an indiscriminate fashion. One severed his spine; now, he, too, plays sled hockey.
For the Avalanche, you had Alexi Salamone, No. 71.
Salamone was born with deformed legs as a result of the Chernobyl nuclear disaster in Russia. His legs were amputated when he was 4. His parents, also suffering from radiation sickness, put him up for adoption when they could no longer care for him; Alexi was taken in by the Salamone family of Buffalo, N.Y.
You should see this kid skate. He plays defense and skates like Bobby Orr, only while sitting in a makeshift sled with blades on its undercarriage. Sled players propel themselves with shortened hockey sticks held in either hand that are fitted with spikes on the butt ends. Salamone's sticks must have rockets in them, too.
The spikes help the players dig into the ice and push off; no, one cannot dig the spike end of a shortened hockey stick into an opponent's thigh, or it's an automatic major penalty. Which is the first thing Philadelphia Flyers fans usually ask about.
Alexi Salamone, the Chernobyl survivor, plays for the U.S. national team now; he was a breakout star in the 2010 Paralympic Games and won a gold medal.
When you see Salamone set sail on an end-to-end rush, it's even more impressive than when Bobby Orr did it in the playoffs against Montreal or St. Louis, because Orr had legs.
"It's amazing," GM Jenkins said of Salamone and sled hockey players in general. "It's great to be able to work with and give these people an outlet in life — just getting them out of their chair and using their bodies and exploring new things.
"Some of them have been athletic their whole lives. Some of them are being athletic for the first time."
None complained about drawing the short straw.
None complained about much of anything, except for Larney Johnson, No. 4. He was worried the workers were being too diligent in applying that decal to the boards for the province of Alberta, cutting into his and his teammates' ice time.
But it wasn't long before the puck was dropped — and it wasn't long before retired Cpl. Wes Leon-Barrientos and one of the Avalanche skaters were sent off. They were enjoying the contact and being physical so much, they were given two-minute respites to be served in front of the penalty box.
When the corporal extended his gloved fist to show there were no hard feelings, his opponent wearing the Avalanche sweater bumped it.
Las Vegas Review-Journal sports columnist Ron Kantowski can be reached at rkantowski@reviewjournal.com or 702-383-0352. Follow him on Twitter: @ronkantowski.