Sleepless Aces take heat for not playing WNBA game
Updated August 4, 2018 - 4:16 pm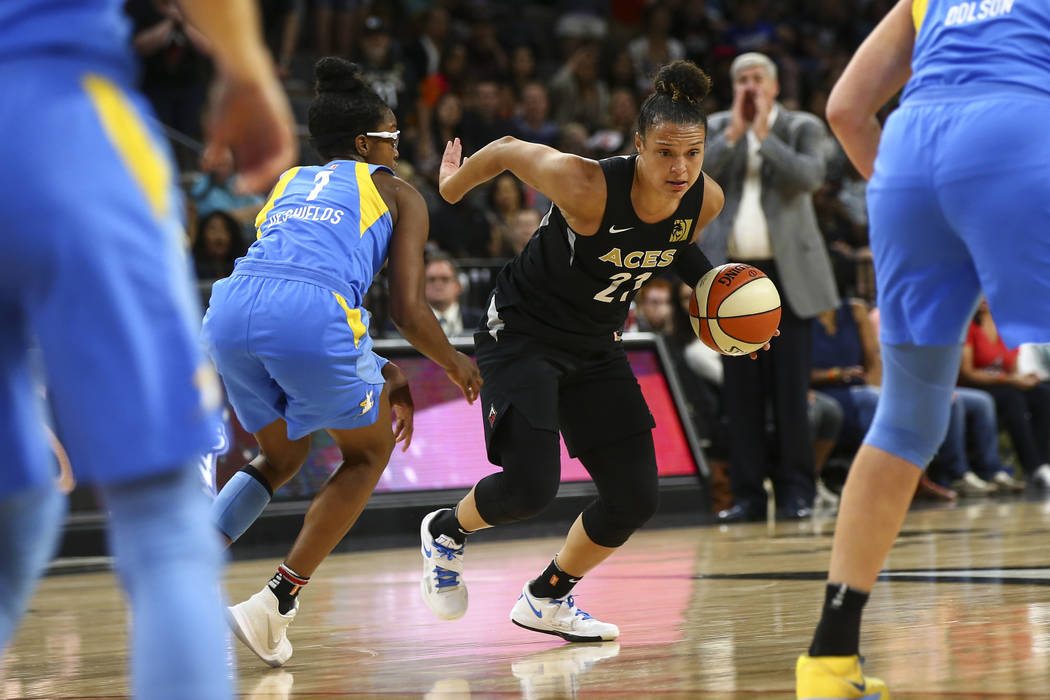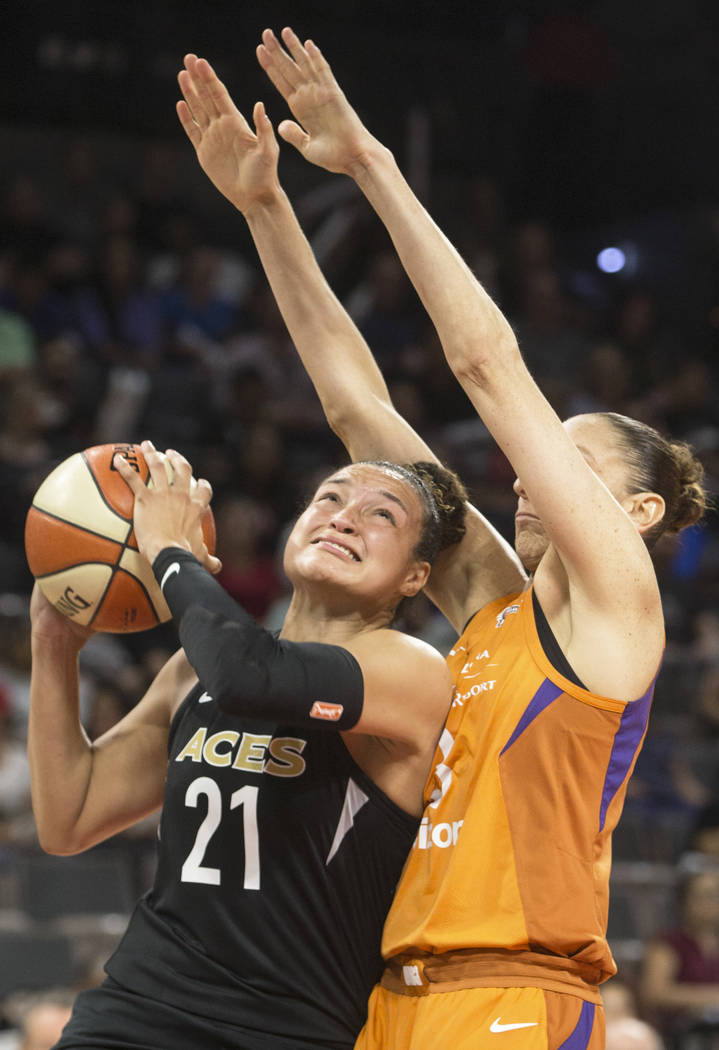 After spending more than 25 hours getting from Las Vegas to Washington, D.C., to play the most important game of their season, the Aces have become the WNBA's answer to Viktor Navorski.
Navorski was a character played by Tom Hanks in the Steven Spielberg movie "The Terminal" who gets stuck in an airport — not because of weather and mechanical delays, per the Aces on Thursday and Friday, but because his passport had expired and unrest had broken out in his homeland.
But the Aces weren't carrying a peanut can containing a photo of famous jazz musicians. And whereas people were sympathetic to Viktor Navorski's situation, and to the Aces' plight at first, some now are blaming the players who refused to suit up against the Washington Mystics after arriving in the nation's capital a few hours before tipoff.
Wrote Aces all-star Kayla McBride on her Twitter account: "No shoot around. No night of sleep. No beds. No food …"
No phone, no lights, no motor car. Not a single luxury. McBride and her teammates felt like stranded castaways on an uncharted desert isle.
"Right now we will land in DC at 2:45 pm that has us going straight to the gym (because) of traffic and bags … and you want us to play? Oh ok," McBride wrote.
But the Aces probably should have played.
They could have used the postgame news conference as a bully pulpit to discuss planes, trains and automobiles, and how something has to be done about flying commercial to save money. They might have even landed a new jersey sponsorship courtesy of the fine folks at NoDoz.
Mystics coach Mike Thibault: They should've showed up. It's that simple to me. Every team in every sport goes through a day like this or two days like this somewhere in a one- or two-year period. It happens… There wasn't a snowstorm, they got here.https://t.co/Jh2yViPiIO

— Matt Ellentuck (@mellentuck) August 4, 2018
Their ownership probably should have been more proactive, too.
MGM Resorts International's stock dipped to a 52-week low Thursday, and MGM is trying to bring an NBA team to town, which ain't cheap. But one suspects that if a casino whale were stranded at the duty free counter with a wheelbarrow of cash, a private plane would have been sent.
Full statement on tonight's canceled game in Washington. 👇 pic.twitter.com/SBCypeCav8

— Las Vegas Aces ♦️♠️ (@LVAces) August 4, 2018
Maybe one really wasn't available, as was reported. Maybe this was just one of those racin' deals, as they say in NASCAR. Maybe it really was nobody's fault.
But I think I may know what really happened when the Aces were advised by their player union to make a strong statement about becoming Viktor Navorski.
After taking a knee in solidarity, they promptly fell asleep.
Nats and rats
It isn't often guys who pitched for the independent Winnipeg Goldeyes are accused of leaking information about clubhouse discontent. But that supposedly was why the Washington Nationals traded former all-star relief pitcher Brandon Kintzler of Las Vegas to the Chicago Cubs for a broken bat and a rosin bag (actually a Class A pitcher).
"It's a bunch of nonsense," said Rick Kintzler, the pitcher's dad. "He was totally shocked when it all went down."
Yahoo sports columnist Jeff Passan called Cubs general manager Theo Epstein to say that Kintzler wasn't his source and that he has never spoken with the Palo Verde product who turned 34 the day after he was traded.
"That's cool of that guy, the fact that he wanted to go out there and set it clear for me," Brandon Kintzler said after making his Cubs' debut against the Pirates on Wednesday.
This may have been more about money than loose lips sinking an underachieving ship. By trading Kintzler, the Nationals won't have to pick up his $5 million contract option next season.
Rick Kintzler said a bunch of Cubs fans gathered at the hotel that Brandon and fellow new arrival Cole Hamels are temporarily staying to wish them well, and to remind them to keep the ball down when the wind is blowing out over the ivy.
Brandon Kintzler on rumors of clubhouse leaking: 'That's an interesting accusation' https://t.co/so5tEVLtLX

— Dan Steinberg (@dcsportsbog) August 1, 2018
Manny Guerra remembered
The tributes continue to pour in for local MLB scout Manny Guerra, who died Wednesday at age 87 because of cancer-related causes.
"He taught me a lot about the game and even more about being a man," wrote Chasen Bradford, Seattle Mariners relief pitcher and Las Vegas native, on his Twitter account.
"The only man in town with an open invitation into any dugout," added Kevin Fiddler, one of Kris Bryant's high school coaches.
Guerra was a St. Louis Cardinals scout for 31 seasons. One of the last major league players he signed, outfielder Tommy Pham of Durango, was traded by the Cardinals to Tampa Bay on Tuesday.
There will be a service for Guerra at 12:30 p.m. Aug. 18 at Calvary Chapel, 7175 W. Oquendo Road, after which many baseball stories will be told.
Manny Guerra, a local legend at any Vegas ball field passed away this morning. My thoughts and prayers are with his family. He taught me a lot about the game and even more about being a man. pic.twitter.com/kxkQewSS3S

— Chasen Bradford (@CBbaseball46) August 1, 2018
Contact Ron Kantowski at rkantowski@reviewjournal.com or 702-383-0352. Follow @ronkantowski on Twitter.