Spencer Gallagher to debut at NASCAR Cup Series after suspension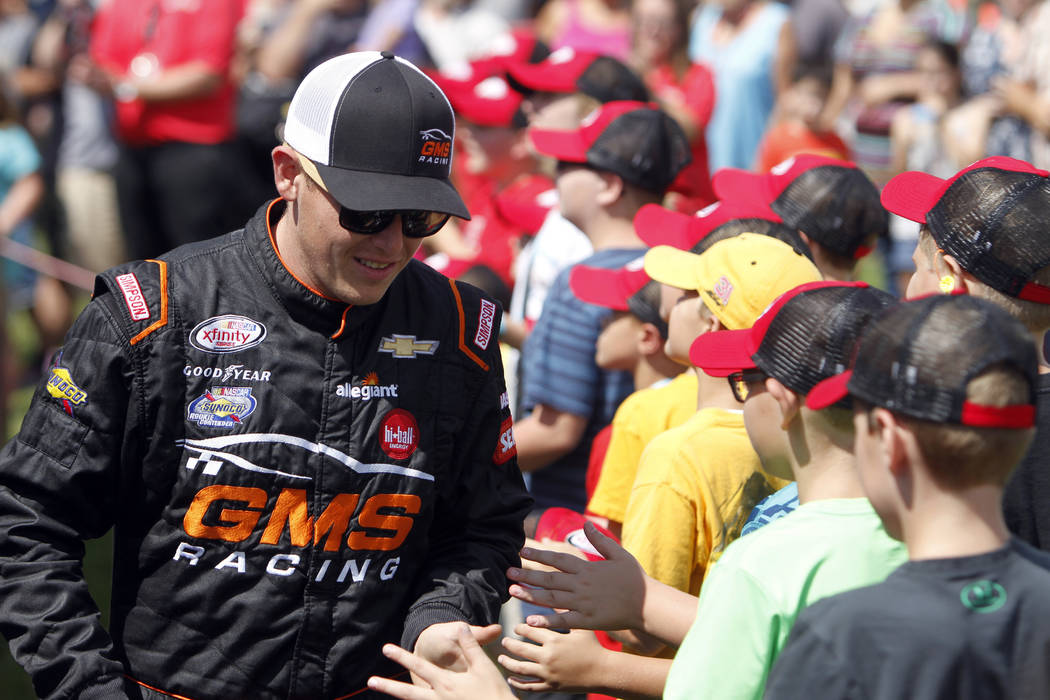 A refrain from the classic Grateful Dead song "Truckin' " speaks of "what a long, strange trip it's been."
Spencer Gallagher, who went from NASCAR Xfinity Series race winner to NASCAR social outcast to NASCAR Cup Series driver in three months' time, can relate.
The 28-year-old Las Vegan will make his Cup Series debut at the historic Watkins Glen International road circuit this weekend as a lifelong pursuit comes to fruition.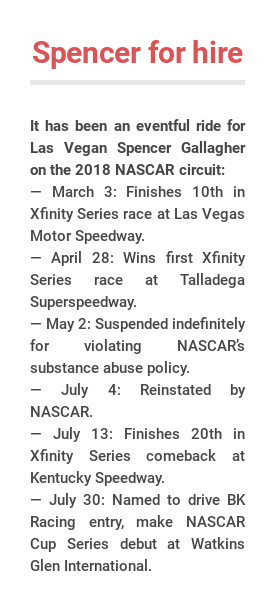 It was a goal that seemed well within reach on April 29 when he broke through for the first victory of his NASCAR career, on the daunting high banks of Talladega Superspeedway no less. It was a popular win and put a muffler on critics who had opined Gallagher was just another rich kid spending his old man's money by driving around in circles.
But four days later the goal was gone and his career at a crossroads.
Gallagher was indefinitely suspended from driving around in circles, and on historic road circuits, on May 2 for having violated NASCAR's substance abuse policy. He would have to participate in the sanctioning body's Road to Recovery Program before he would be eligible for reinstatement.
He threw away a chance to race for the championship and had received a scarlet letter.
Instead of Dale Earnhardt Jr., Spencer Gallagher had become Hester Prynne.
Hero to zero
"A lot of people go from zero to 100," Gallagher said Tuesday about a reversal of fate that seemed almost unfathomable. "I went from 100 to zero."
He was speaking on a cellphone and he was out of breath — not because it had only been a day since he had been named to drive the No. 23 BK Racing Toyota at Watkins Glen, but because he was riding an exercise bike preparing for what is always a physical race.
"From the start it has been my aim and ambition to race on Sunday in the Cup Series," Gallagher said. "To get my first start at a historic place like Watkins Glen, I couldn't be more excited."
How he went from the seat of an exercise bike to a seat in one of the 37 Cup Series cars was just another signpost on the strange trip.
Gallagher has driven in only one Xfinity Series race since being reinstated. The GMS Racing team founded by his father, Maury, is still honoring commitments made to other drivers during the younger Gallagher's suspension.
The BK Cup car has been shared by part-time drivers Gray Gaulding, J.J. Yeley and Blake Jones. It's a small, struggling team that in February filed for bankruptcy.
GMS president and longtime crew chief Mike Beam recently made an offer to purchase the team with the hope of running it under the GMS umbrella. That scenario combined with sponsorship from Allegiant Air led to Gallagher getting a surprise phone call on Monday morning.
"They said 'We have this opportunity, do you want to take it?'
I said 'Hell yes.'"
Focused on future
Before being suspended it appeared Gallagher might ascend to the Cup Series via the traditional method of winning races and achieving results. He sped to three top 10s in the first eight races of 2018, including a fifth at Bristol, Tennessee, and then came the breakthrough victory at Talladega.
Racing people seemed happy for him. "That gave me chills," wrote Cup Series veteran Clint Bowyer on his Twitter account after Gallagher won at Talladega.
The same racing people were just as stunned when the lab reports came back.
Gallagher issued the perfunctory statement apologizing to NASCAR, Chevrolet, his race team and his fans. He called it a "one-time error in judgment that will never happen again."
On Tuesday he politely declined to discuss the nature of the violation. His idea, he said. Not NASCAR's edict.
"I choose not to," Gallagher said when asked if he was at liberty to address specifics. "It's part of my past and I leave it there. I'm focused on the future."
He knew the question was coming. He answered his cellphone anyway. I told him that was much appreciated.
Reinstated, repentant and re-energized, Spencer Gallagher will be driving against NASCAR's best at historic Watkins Glen International this weekend.
What a long, strange trip it's been.
Time for the next chapter boys and girls. Been a tough road, but it's through adversity that you learn true strength. Can't thank the entire garage, the fans and everyone at @GMSRacingLLC enough for their support through this. See you guys at Kentucky ❤️💪🏻 #nowbacktoit

— Spencer Gallagher (@23SpeedRacer) July 4, 2018
Contact Ron Kantowski at rkantowski@reviewjournal.com or 702-383-0352. Follow @ronkantowski on Twitter.