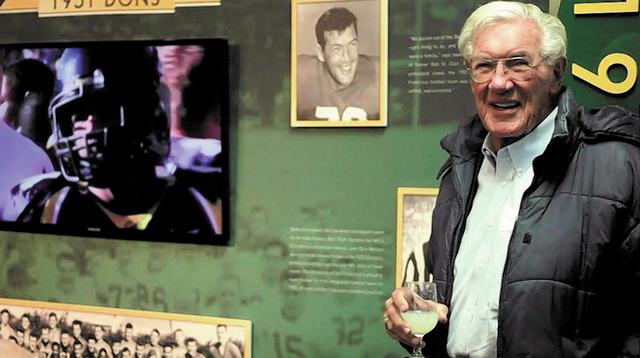 A couple of years ago I went to The Orleans during the West Coast Conference basketball tournament when the WCC was holding its Hall of Fame breakfast.
Bo Kimble of Loyola Marymount was being inducted, and I had hoped to talk to him about shooting free throws left-handed, in memory of his pal Hank Gathers, and about playing UNLV in the NCAA Tournament that year.
I wound up talking mostly with NFL Hall-of-Famer Bob St. Clair.
Only at first I didn't know it was Bob St. Clair. At first I thought it was just a big guy with a full head of gray hair and a strident voice and a friendly smile. But then he said his name, and then I remembered that name from his football card.
Bob St. Clair. San Francisco 49ers. No. 79. Big No. 79. Elbows extended, ready to block somebody, ready to give Y.A. Tittle a little more time in the pocket.
Bob St. Clair was being inducted into the WCC Hall of Fame that day, too, for having been a member of the 1951 University of San Francisco football team. The last USF football team. The Jesuit school, which would become famous for Bill Russell and basketball a few years later, dropped football after the '51 season because it was becoming too expensive.
Sports Illustrated would later call the 1951 Dons "The Best Team You Never Heard Of." USF went 9-0 that year, and eight of its players, who played both ways, went on to play in the NFL. Three of those — St. Clair, Ollie Matson and Gino Marchetti — were inducted into the NFL Hall of Fame.
One team, three pro football Hall-of-Famers. No other school — not Alabama, not Michigan, not Ohio State, not Notre Dame, not Southern Cal — can make that claim.
There's more: When Cal and Stanford and USC would not play USF that season, because USF was too good and to lose to the little Jesuit school would have been too embarrassing, coach Joe Kuharich turned to his young publicity man to find some teams that would play the Dons.
The young publicity man, just a year out of school, was named Pete Rozelle. You may have heard of him.
So San Francisco played San Jose State twice; and Camp Pendleton and San Diego Navy; and Idaho, Fordham, Santa Clara, Pacific and Loyola of Los Angeles (no Marymount then); and the Dons went 9-0, and only one of the games — the one Rozelle had promoted at Fordham — was close.
By then, there were rumblings that the priests who ran USF were getting ready to shut down the program. Rozelle figured if he could get Ollie Matson on a couple of All-America teams and some media exposure, that might save football at USF, and what better way to get publicity than to play formidable Fordham in front of ol' Grantland Rice himself, in the shadow of all those skyscrapers?
Longtime sportswriter Jerry Izenberg, a Hall-of-Famer himself who now makes his home in Henderson and is writing a book about Pete Rozelle, said Rozelle talked at length about that Fordham game, about going to New York ahead of it to promote Matson and the '51 Dons — and how Matson promptly fumbled the opening kickoff.
And how Matson recovered that fumble on his 6-yard-line, and how Matson weaved 94 yards through the entire Fordham defense for a touchdown. Matson would gain 322 yards that day rushing the football and returning kicks as USF won 32-26.
"Rozelle had told (the New York press) that Ollie Matson was the greatest running back who ever lived," Izenberg said. "It was the once in a lifetime that a college publicist didn't lie about his product."
Bob St. Clair told that story, too, and how after the season, USF did not receive the invitation to play in the Orange Bowl — which might have kept the program afloat — because it had played too soft a schedule.
In reality, the Orange Bowl had agreed to invite the Dons. But only if they agreed to leave Matson and Burl Toler, USF's other African-American player, at home. Things were different in 1951.
"We told them to go to hell," is what Bob St. Clair said that morning at The Orleans.
He also said that Burl Toler should have been the ninth player on that USF team to play in the pros, but that Toler got clipped and blew out his knee against the NFL-champion Los Angeles Rams while playing for the College All-Stars.
Burl Toler would go on to become the NFL's first black official.
He was hired by Pete Rozelle in 1965.
Burl Toler was the head linesman in Super Bowl XIV. He would have a distinguished career as a schoolteacher and a principal and in 2006, the Ben Franklin Middle School campus in San Francisco was renamed in his honor.
It was an amazing team, Bob St. Clair told me, and he said they were talking about making a movie about the 1951 Dons.
And now they have.
The ESPN documentary "'51 Dons" premiered Monday. It is the true story of a team that should never be forgotten, ESPN says. A band of brothers who stood together, refusing to allow racism to do what no opponent could.
Las Vegas Review-Journal sports columnist Ron Kantowski can be reached at rkantowski@reviewjournal.com or 702-383-0352. Follow him on Twitter: @ronkantowski