Stan the Man's farewell as indelible as my pajamas
January 21, 2013 - 2:01 am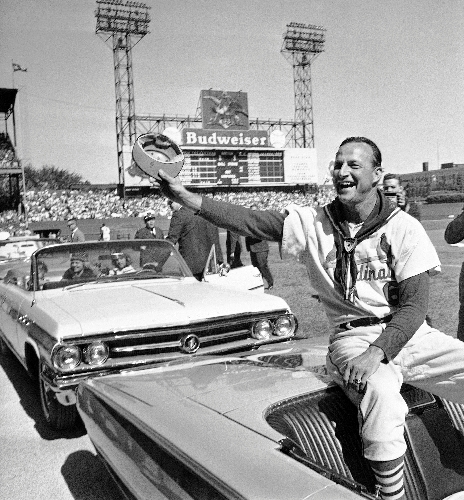 I can still hear The Voice, echoing through the grandstands from above, or beyond, or from some secret, celestial baseball place.
"ATTENTION! … Attention please! … Have your pencil and scorecard ready … and I'll give you the correct lineup … for today's ballgame …"
The voice from above belonged to Pat Pieper, who for 59 years served as the Chicago Cubs' public-address announcer. Actually, it was the voice from below, though it was from a celestial baseball place: Pat Pieper performed his public-address duties from field level – Wrigley Field level – while sitting on a little chair along the bricks.
I was not aware of this the first time I heard his voice, when I was 6 years old. The first time I heard Pat Pieper's voice pop and crackle in that inimitable staccato style, I thought this is how Babe Ruth must have sounded.
"The battery for St. Louis … Broglio … and Ricketts … Batting order … 21 … Flood … center field … 24 … Groat … shortstop … 6 … Musial … left field …"
The date was Sept. 25, 1963. This would be the last game Stan Musial – "Stan the Man" Musial, the great ballplayer who died Saturday at age 92 – would play in Wrigley Field.
My dad thought I should see it.
I am sure he wanted to see it a lot more than I did, though I don't remember him being a big Stan Musial fan, per se. His guy was Phil Cavaretta, the first baseman who won the batting title and led the Cubs to the 1945 World Series, where they lost to the Tigers in seven games. At least my dad got to see the Cubs play in the Series.
This wasn't my first Cubs game, but it's the first one I remember, and only vaguely, sort of in the way Zach Galifianakis and the other two guys remember stealing Mike Tyson's tiger.
The thing I remember most: My mom made me wear pajamas (with leopard spots) under my clothes.
According to "Farmers Almanac," the high temperature in Chicago on Sept. 25, 1963, was 82 degrees; the low was 55. So on Sunday I called my mom and asked what was she thinking, making me wear pajamas under my clothes, when it was such a nice day?
She said it was cold in the morning. And that the old man had grandstand tickets, and did I forget how chilly it got in the Wrigley grandstands, in the shade, when the wind was blowing off Lake Michigan?
Good point, Mom.
I don't remember much about the game, other than my dad pulled me out of first grade to see it, so wearing those pajamas under my clothes was worth it.
I looked up the box score on the Internet. The Cardinals won, 5-2. Stan Musial went 0-for-2.
According to the play-by-play, after Curt Flood walked to start the game and Dick Groat hit into a double play, Musial "made an out to catcher." In the top of the third, he struck out, facing Larry Jackson.
Then Stan Musial, two months short of his 43rd birthday, left the game. He was replaced in left field by Corky Whitlow, who played in five other games for the Cardinals in 1963, and that would be all.
I am sure my dad would have liked to have seen Stan the Man belt one onto Sheffield Avenue, or even line a double into the withering ivy. But that's the way it had to be, because Musial, remarkably, was to finish his career with 1,815 hits at home and 1,815 hits on the road – had he knocked one onto Sheffield or against the ivy, that would have spoiled the symmetry of the man that former commissioner Ford Frick called "baseball's perfect knight."
According to the next day's Chicago Tribune, the Cardinals had made Musial a vice president before the game, and before he came to bat in the third, Pat Pieper announced him as such. And the reason Musial left the game early was that he had to go down to city hall, to be made an honorary Chicago citizen.
(He was born Stanislaw Franciszek Musial, and if there was one thing people from Chicago loved in those days … well, it was a polish sausage with the works. But if there was a second thing people from Chicago loved, it was Polish ballplayers; this might explain why Theodore Bernard Kluszewski – "Big Klu" – was allowed to cut off the sleeves of his jersey, displaying a farmer's tan on meaty biceps, when the "Go-Go" White Sox picked him up for the '59 pennant drive.)
I seem to recall Ken Hubbs hitting a home run. The box score confirmed it: The Cubs scored their first run when their young second baseman, the 1962 National League Rookie of the Year, went deep in the second inning.
That would the last time I would see Hubbs of the Cubs play, too; he was 22 when he was killed in an offseason plane crash. In a few weeks, President Kennedy would be gone as well, and so would the innocence for a lot of people.
But the thing I remember most about that game, besides Pat Pieper's voice and wearing those spotted pajamas under my clothes, was another voice, that of my father, promising that someday I would tell people I was among the 11,564 who witnessed the last game Stan Musial played at Wrigley Field.
Las Vegas Review-Journal sports columnist Ron Kantowski can be reached at rkantowski@reviewjournal.com or 702-383-0352. Follow him on Twitter: @ronkantowski.