Stanley Cup Final coaches are two pucks in a pod
Updated June 2, 2018 - 2:23 pm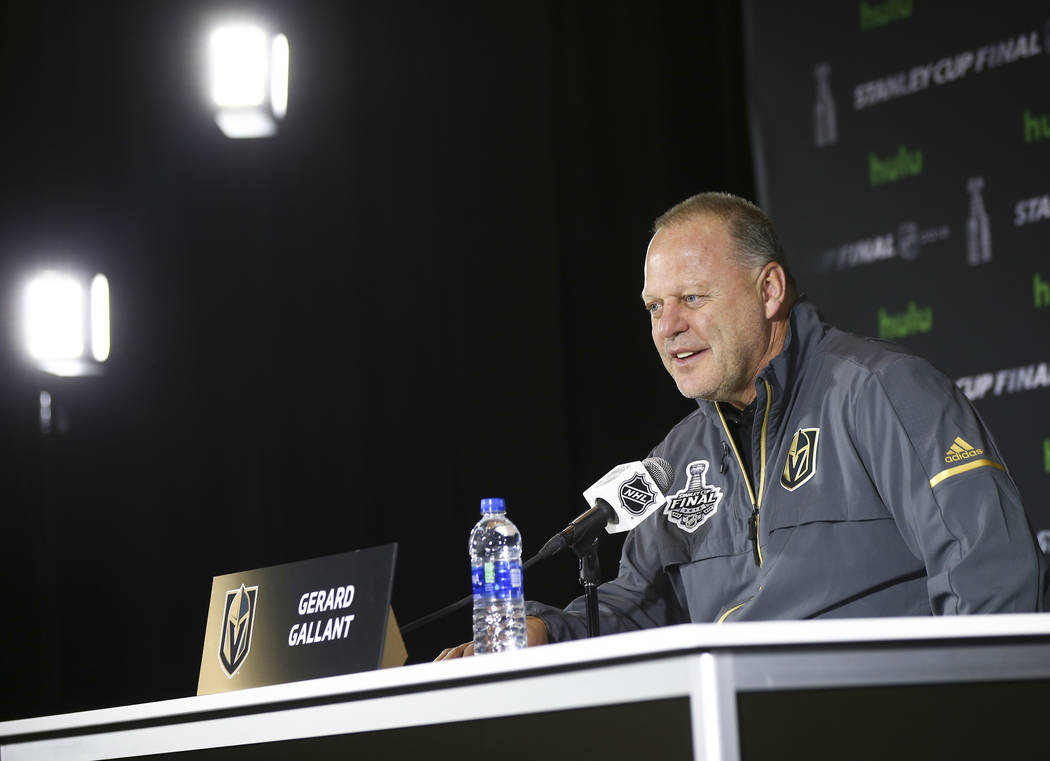 If you were a blogger from Mystery, Alaska, or some place like that, and were sitting among the hockey press corps after Washington's 3-2 victory over the Golden Knights in Game 2 of the Stanley Cup Final, you may have noticed physical and philosophical similarities between the coaches.
They're like two pucks in a pod.
The Knights' Gerard Gallant and the Capitals' Barry Trotz sort of look alike, talk alike, share a similar impatience for impertinent queries. Sometimes they bristle and get their dander up, like a wolverine in the presence of a wolf, porcupine or somebody who graduated from Ohio State.
Gallant says he doesn't read blogs or newspapers, except the Prince Edward Island Guardian, to catch up on what's happening back home.
Trotz begins or ends a news conference — or both — by telling the hockey media to stay hydrated.
It may sound dismissive, but a wise man from Saskatoon told me that when you play hockey in May and June, it gets hot in Tampa Bay and Las Vegas.
That's why you've got to stay hydrated.
Gallant effort
Gerard Gallant spent 10 NHL seasons as a player during which his specialty was the Gordie Howe hat trick — a goal, assist and fight in the same game.
These two sentences from his Wikipedia biography typify the kind of the player he was: "In his first NHL game, he scored against Islanders goaltender Billy Smith in the second period of a 5-4 victory that snapped a 12-game Red Wings' winless streak. In his second game, he fought Rangers' forward Bob Burke."
During one four-season stretch, Gallant scored 38, 34, 39 and 36 goals. With 216, 242, 230 and 254 penalty minutes.
Howe would have been proud.
Gallant's first coaching assignment was with his hometown Summertime Capitals of the Maritime Junior Hockey League. His last before being dubbed by the Knights was with the Florida Panthers who kicked him to the curb, or at least left him standing on one, waiting for a taxi, after he was fired between periods against the Caroline Hurricanes.
This may not be the quintessential example of overcoming professional adversity. But it may rank in the top three.
Hot to Trotz
Unlike his Vegas counterpart, who scored 211 goals in 616 games, Barry Trotz had much more modest statistics as an NHL player: 0 goals, 0 games.
Trotz made it only as far as training camp with the American Hockey League's Hershey Bears in 1982. He began his coaching career as an assistant at the University of Manitoba in 1984, and 13 years later was named coach of the expansion Nashville Predators.
You've heard of meteoric rises to the top of one's profession? Trotz's wasn't one.
Also unlike his Vegas counterpart, he would not guide the Predators to the Stanley Cup Final in their first season. But by the time he was kicked to the curb in 2014, Trotz had coached in 1,196 games, making him the longest tenured head coach in the stick-and-ball sports outside of Gregg Popovich of the NBA's San Antonio Spurs.
When Trotz's playing career ended abruptly, an executive in Hershey named Jack Button predicted he "might make a good minor league leader or coach someday."
This might not have been the quintessential example of understating potential. But it may rank in the top three.
'Two good guys'
Other than the duration of their NHL playing careers, the consensus among hockey people is that Gerard Gallant and Barry Trotz easily could be confused on a darkened frozen pond.
"I think they are very similar," ESPN analyst and former L.A. Kings coach Barry Melrose said Friday after the Capitals skated at their spiffy rooftop practice facility in Arlington, Virginia, across the Potomac River. "Both are the kind of coaches that players like to play for. They don't try to invent the wheel.
"They're old school; they look at analytics but they don't build their team around analytics, because a lot of what makes a team great is heart and passion and things like that. So they use the eye test also. Two good guys, two guys who paid a price to be here, two guys who went to work in the minors, played in the minors, scouted. They deserve to be here."
Two good guys, one of whom will have an upper hand on Lord Stanley's Cup after Saturday's Game 3 in the shadow of the Washington Monument, and a lot of other monuments.
As Barry Trotz likes to say, stay hydrated. It's about to get warm inside Capital One Arena.
Contact Ron Kantowski at rkantowski@reviewjournal.com or 702-383-0352. Follow @ronkantowski on Twitter.
NHL career coaching wins
1. Scotty Bowman 1,244
2. Joel Quenneville 884
3. Ken Hitchcock 823
4. Al Arbour 782
5. Barry Trotz 762