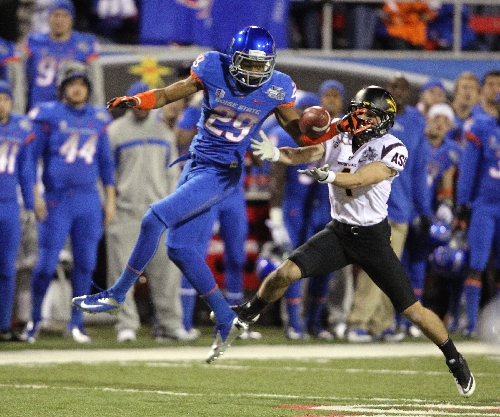 Let's see, there are those crop circles, Stonehenge, the Mayan Prophecy, Bigfoot, the Bermuda Triangle, Julia Roberts' marriage to Lyle Lovett and Arizona State never seeming to win in the sports that count.
These are some of the world's great mysteries.
Despite a ton of resources — a budget that rivals the Pentagon's, a student enrollment of more than 75,000, palm trees, an abundance of young women strolling around the Mill Avenue District in halter tops — the Sun Devils haven't been consistent winners in football since gruff Frank Kush was cuffing around his punter in the 1970s.
It's a good thing Kush wasn't around for Thursday night's MAACO Bowl Las Vegas at Sam Boyd Stadium. Suffice it to say there would have been a lot of cuffing around.
Arizona State won the toss against No. 8 Boise State and elected to defer to the second half.
There went the upset bid. The Broncos' Doug Martin returned the opening kickoff 100 yards for a touchdown.
It was 7-0, Boise, 14 seconds into the game.
It was 14-0, Boise, after the first quarter; 28-3, Boise, at halftime; 35-10 Boise, after three quarters.
It was 56-24, Boise, at the end of the game.
To no one's surprise, the team from the Mountain West Conference with the $27.8 million athletic budget was much better than the team from the Pac-12 with the $55.3 million budget.
To no one's surprise, the team from the Mountain West also was faster, better prepared and much more disciplined than the team from the Pac-12.
Sun Devils coach Dennis Erickson was fired in November after Arizona State's 6-2 season imploded into a 6-6 season with crushing losses against mostly crushable opponents. But his players were confident they would send Erickson out a winner.
To no one's surprise, they didn't.
There were reports many of the Sun Devils had stayed out late, partaking in the Las Vegas nightlife, when they should have been partaking in a defensive scheme for Kellen Moore and the guys in the all-blue uniforms.
"Things went backward for us in a hurry, from a contract extension to being sent down the highway real fast," said Erickson, who won two national championships at Miami but hits the unemployment line having had only one winning season in five at Arizona State.
If this was to be his final game, it wasn't worth remembering. About the only thing the Sun Devils (6-7) did better than the Broncos (12-1) was commit personal fouls.
Those were a trademark of Erickson's teams at Miami and Oregon State, too. But those teams were so talented they could hand out knuckle sandwiches and it didn't matter.
Teams that lose by 10 at Washington State usually don't get away with handing out knuckle sandwiches.
For all their deficiencies and blatant head noogies, the Sun Devils had a chance to get back into the game in the third quarter after Arizona State's Rashad Ross returned the second-half kickoff 98 yards to trim the Broncos' lead to 28-10.
On fourth-and-goal at the Boise State 1-yard line, Erickson elected to go for it, but first he wanted to talk about it.
He was still gesturing frantically for quarterback Brock Osweiler to call timeout when Osweiler's pass was intercepted in the end zone by Jamar Taylor and returned 100 yards for a Boise touchdown.
"In a game like this, momentum was everything," said Sun Devils wideout Gerell Robinson, who set a Las Vegas Bowl record with 241 receiving yards on 13 catches. "The bottom line was we didn't capitalize and they did."
In a game like this, momentum really wasn't important as Robinson said it was. And the bottom line was that it was the second 100-yard touchdown yielded by Arizona State in less than three quarters.
In the end, it was just another night of underachievement for a program that seems to excel at it.
While coaches such as Darryl Rogers (37-18-1) and John Cooper (25-9-2) had a fair amount of success at Arizona State, Larry Marmie (22-21-1), Bruce Snyder (58-47), Dirk Kotter (40-34) and Erickson (30-25) couldn't turn the palm trees and halter tops into championships.
The Sun Devils have won only three conference titles since 1977. They've been to the Rose Bowl just twice, winning once and losing to Ohio State in 1997, a defeat that might have cost Arizona State a share of the national championship.
But there have been many more Freedom, Aloha and Insight Bowls than there have been Rose Bowls for a program that seems to have everything going for it, yet, for whatever mysterious reason, rarely seems to get it done.
Las Vegas Review-Journal columnist Ron Kantowski can be reached at rkantowski@reviewjournal.com or 702-383-0352. Follow him on Twitter: @ronkantowski.