There's precedent for naming Las Vegas' NHL team the 'Nighthawks'
August 13, 2016 - 11:47 pm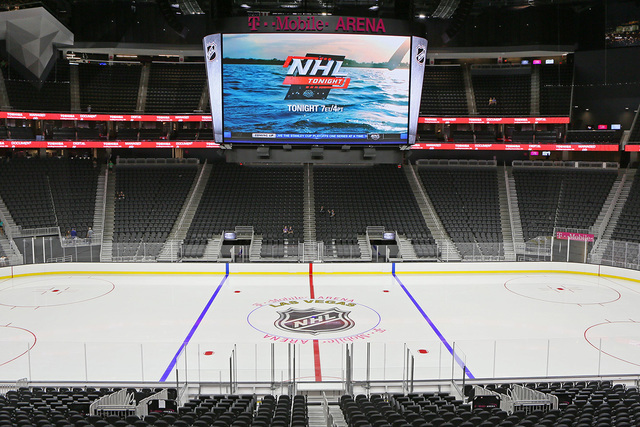 If Las Vegas' NHL expansion team winds up being called the Nighthawks, it will be a case of life imitating art and a vicious bodycheck along the boards.
Old-time hockey fans might recall the final scene of the old-time hockey movie "Slapshot" in which the Federal League champion Charlestown Chiefs are being feted in a parade, and aging player-coach Reggie Dunlop, Paul Newman's character, bumps into his estranged wife, Francine (Jennifer Warren), and makes one last desperate appeal to reconcile.
"I got good news. The Minnesota Nighthawks; I'm coaching! I got a contract. The Chiefs are history, but as soon as I get up there, I'll bring in my guys!"
The viewer is led to believe the Minnesota Nighthawks are an NHL team, or a new team in the Iron League. Regardless, it's the "Big Apple" of hockey, Reg Dunlop tells Francine, and he has a contract back in the car, and he's bringing the Hanson brothers and Dave "Killer" Carlson and Ned Braden with him.
This is why our NHL team should be called the Nighthawks.
There's precedent, with the primary difference being we already know who "ownzzz" the Chiefs — er, the Nighthawks — er, the team, whatever it may be called after the patents and trademarks and whatever are registered, and after Maple Leaf Gardens freezes over again.
Bill Foley owns the team, and there's absolutely no chance he is going to move it to Florida. Not even if they close the mill, not even if they've got some geezers from the Northeast down there who really miss hockey — not even if it takes forever to get a nickname.
TERRY'S TIRADE
Nobody asked his opinion of Kingman's performance, as former Las Vegas Stars broadcaster Paul Olden queried of Dodgers manager Tommy Lasorda after Dave Kingman had hit three home runs in one game against Los Angeles when Lasorda was skipper.
But Mets manager Terry Collins went on a rant about his team anyway, albeit with a more measured tone and a lot less swearing after New York lost again Thursday night.
He hit all the managerial talking points, and said if the Mets don't start hitting the cutoff man and start getting after it, "I will find somebody else who does, because in Las Vegas there's a whole clubhouse full of guys who want to sit in this room (clubhouse), and I'll find them.
"And that's all I've got to say, and I'm done."
Sounded good in theory. But the whole clubhouse full of guys in Las Vegas to which Collins referred are 57-63, just got swept by the last-place team in their division and have fallen eight games behind first-place El Paso. So I'm not sure that's the answer, either.
F-BOMBS FOR D-BACKS
Maricopa County has turned down the Arizona Diamondbacks' request for $65 million worth of improvements to Chase Field, in a manner of speaking. The manner of speaking, part of a conversation between a county supervisor named Andy Kunasek and Diamondbacks president Derrick Hall, was reported by azcentral.com, among others:
" … take your stupid baseball team and get out and … go back to "f—-ing West Virginia …"
The county commissioner was speaking in most certain terms about team owner Ken Kendrick, who was born in Princeton, West Virginia.
The story said if the D-backs are serious about moving to a new ballpark, this is their chance. (It also said an absurdly high rental car tax, which partially funds the football Cardinals' stadium, has been ruled unconstitutional.)
So if I were 51s president Don Logan, and a new ballpark in Summerlin is still on the drawing board, this is where I would draw an upper deck on the blueprint, just in case this Andy Kunasek fellow speaks for the other politicians down there.
SING IT AGAIN, FRANK
Now that Bali Hai golf course has emerged as the top site on which to place a proposed 65,000-seat domed stadium to be built by Las Vegas Sands Corp., Majestic Realty and the Oakland Raiders, you can almost hear Frank Sinatra singing "There Used to Be a Ballpark (Right Here)" in a melancholy tone.
You could substitute "golf course" for ballpark. Or "tennis complex" for ballpark, because Andre Agassi was part of a group that bid on that land, too. Or "Formula One racetrack" for ballpark.
There once also was a promoter named Tommy Baker, a likable fellow who talked as fast as those F-1 cars, who was in cahoots with F-1 czar Bernie Ecclestone — whose proposed project (that would have included a golf course with affordable greens fees) had received preliminary approval.
That was before Billy Walters swooped in with political allies and spent "$300,000 on crushed marble to make the bunkers as white as possible." Crushed marble bunkers and other amenities made greens fees unaffordable for most locals.
If they wind up playing pro football on that land, there's a good chance Billy Walters will benefit from being the leaseholder. This must drive Tommy Baker crazy, wherever he might be.
BASEBALL Q-TIP
Las Vegas' Kris Bryant of the Chicago Cubs has the highest Q rating appeal among active baseball players at 25 percent. His Q rating national recognition is 38 percent.
Q rating is not a new sabermetric created by some kid who went to Harvard. It measures the appeal of a brand, celebrity, company or entertainment product, such as a TV show.
Fellow local slugger Bryce Harper of the Washington Nationals scores 24 percent in appeal and 53 percent in recognition. Must be the haircut and the Gatorade commercials. Cannot be the batting average, which this season is atrocious.
The Q factors were reported by USA Today in a story about baseball trying to replace household names such as Alex Rodriguez. A-Rod's appeal was about as low as his OBP or his OPS or his other metrics — 18 percent — but he still is recognized by 68 percent of sports fans.
The story said the gold standard is Michael Jordan, with 86 percent recognition and 48 percent appeal. The significance of six championship rings, five MVP awards and a few underwear commercials cannot be overstated.
CALLING HISTORY
Former Las Vegas Stars play-by-play voice Rich Waltz bore witness to baseball history last weekend. This is how he called Ichiro Suzuki's 3,000th hit while behind the microphone for the Miami Marlins:
"Two-oh … Ichiro to right … and deep … back goes Parra to the wall … and it's off the wall! … 3,000 is in right field! … and Ichiro is racing for third! … and he's done it! … he's climbed the mountain! … a triple, and he has arrived at 3,000."
OK, perhaps not as memorable as: "The Giants win the pennant!" or "Go crazy, folks, go crazy!" But it still must have been pretty cool for a guy who cut his broadcast eyeteeth in Las Vegas — Waltz was the Stars' play-by-play guy from 1990 through 1992 — to contribute to baseball history in some small way.
Las Vegas Review-Journal sports columnist Ron Kantowski can be reached at rkantowski@reviewjournal.com or 702-383-0352. Follow him on Twitter: @ronkantowski