These gosh-darn NASCAR boys clean up real nice
December 3, 2011 - 2:02 am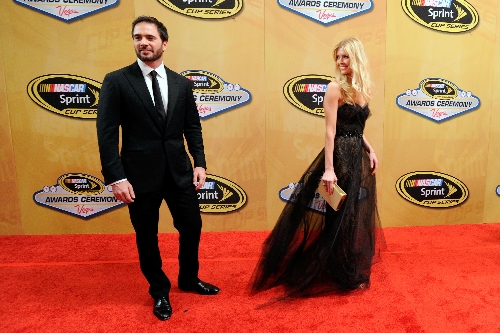 Gentlemen, start your cummerbunds.
NASCAR held its annual awards ceremony at Wynn Las Vegas on Friday night, and it's times like this when one thinks of the old comedian George Gobel.
Gobel had the misfortune to be a guest on "The Tonight Show" years ago after Bob Hope had knocked 'em dead. It was a tough act to follow — kids, ask your grandfather or the soldiers at a USO show — and there simply was no way Gobel could measure up.
"Johnny," he said, taking his seat alongside his venerable host, "do you ever get the feeling that the world was a tuxedo, and you were a pair of brown shoes?"
The best stock-car drivers in the world got all gussied up again Friday night. I saw a lot of tuxedos on the red carpet. I did not see a single pair of brown shoes.
Shoes were shined, lapels were notched, cuffs were linked. It appeared Tony Stewart, the man of the hour, had at least attempted to shave. On Thursday.
Even the crew chiefs had scrubbed the grease from under their fingernails.
NASCAR, it turns out, cleans up better than Courtney Love.
You can take the boy out of the country … and you can also take the country out of the boy.
When Jeff Gordon broke into NASCAR, he had a mustache and a mullet. Now he wears Armani suits and has a long-legged wife who is taller than he is.
Carl Edwards has posed for magazines without his shirt. I'll bet Cale Yarborough never did that.
Expensive haircut. Perfect teeth. Married to a "10." Not a Bristol "10" or a Darlington "10." A Las Vegas "10." When I told Edwards he looked sartorially splendid, he smiled and said "Yeah." He knew what that meant.
Kurt Busch also looked comfortable in his tuxedo. The Las Vegas native was the only driver sporting the traditional dinner jacket bow tie. Wit. Charm. Savoir faire. At least away from the track.
Busch looked like a secret agent. Busch, Kurt Busch. Now all he needs is for Q to make him a silencer for those interviews on pit road.
All in all, the red carpet was about as eventful as one of those races on the 1.5-mile ovals. Not a lot of action. Jimmie Johnson kept stepping on the train of wife Chandra's dress; Dale Earnhardt Jr. actually does have a girlfriend (her name is Amy Reiman, and she is gorgeous); Jordan Fish, Denny Hamlin's date, had a slit up her dress that would not have passed tech inspection (not that anybody was complaining); and Brad Keselowski, the Eddie Haskell of NASCAR — cocky and arrogant but in a likable way — arrived without a date.
"Why bring sand to the beach?" said the driver of the Miller Lite Dodge.
And Reba McEntire — I mean Reba, as she has now become a one-named person — said she has a son, Shelby, who is going to drive in the Grand-Am Series for Jack Roush next year, so Tony Stewart had better watch out.
Speaking of Smoke, one of the photographers saw the champ in the hospitality room, wolfing down a couple of In-N-Out burgers at around 4:30, less than 90 minutes before NASCAR would serve him the finest meats and cheeses.
You can take the boy out of the country … and you can also take the country out of the boy. But not when he's hungry. Then you just give him a bib and hope he doesn't drip on his cummerbund.
Stewart was the last to go inside before the awards ceremony began and was running late. But he jammed on the brakes to answer a few more questions. "I'd rather just blend in and go sit at one of the tables," he said.
Preferably a craps table. But this was Tony Stewart's week, Tony Stewart's night, Tony Stewart's year. He would sit at the main table, front and center. He would smile and pose for pictures and sign autographs and he wouldn't complain, not tonight, because he was wearing a tuxedo and shiny black shoes and he looked like a champion.
Las Vegas Review-Journal sports columnist Ron Kantowski can be reached at rkantowski@reviewjournal.com or 702-383-0352. Follow him on Twitter: @ronkantowski.
SPRINT, NASCAR SIGN CONTRACT EXTENSION
Sprint has signed a contract extension with NASCAR to remain the title sponsor of the elite Cup series through at least 2016.
Sprint CEO Dan Hesse announced the extension Friday during NASCAR's season-ending awards ceremony at Wynn Las Vegas.
The 10-year contract Sprint signed with NASCAR was set to expire at the end of the 2013 season, but negotiations on an extension had been going on for some time. Sprint officials indicated during the Nov. 20 season finale that they were close to announcing a new deal.
Hesse called the Chase for the Sprint Cup championship the best since its 2004 inception and thanked the drivers for adding excitement to "an amazing series."
Hesse also presented champion Tony Stewart with a check for $5.8 million.
THE ASSOCIATED PRESS