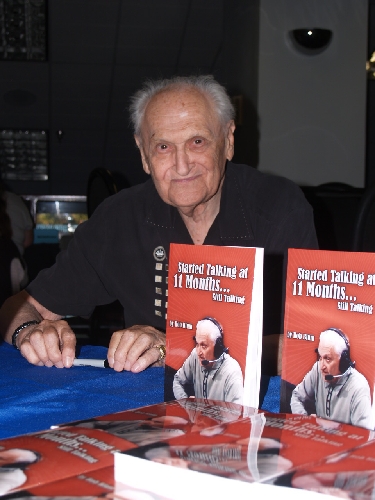 Just weeks shy of his 90th birthday, Bob Blum finally has done it.
The longtime Las Vegas 51s special assistant to the general manager (and Lady Rebels broadcaster) has written a book.
He has taken some of the stories he has been accumulating about the sports broadcasting business since the Harding administration and written them down on parchment, using a feather-tipped quill pen.
Actually, he used his computer. Blum's book, "Started Talking at 11 Months … Still Talking" is available for $19.95 at the 51s gift shop at Cashman Field or through Amazon.com.
The first story Blum tells is about the 1924 Rose Bowl featuring coaches Knute Rockne of Notre Dame and Pop Warner of Stanford. Knute Rockne and Pop Warner. When he was 4. Back when Max Blum would sneak his young son into Notre Dame games by hiding him inside his overcoat.
Some 86 years later, Robert J. Blum is still getting into games for free. And he's still telling stories about them.
Not only has Blum been around long enough to remember Rockne and ol' Pop Warner and four guys wearing leather helmets seated on the backs of horses outlined against blue-gray October skies, he once ordered a Cobb salad — from the man who invented it.
Blum knew a guy at Notre Dame who was dating Peggy Cobb, daughter of Bob, who owned the Hollywood Stars of the old Pacific Coast League. Bob Cobb also owned the famous Brown Derby restaurant, where Clark Gable was said to have proposed to Carole Lombard. And where the Cobb salad originated.
So when Blum found himself dining at Bob Cobb's home one evening, and the host asked what he would have to eat, ordering a meat loaf sandwich seemed out of the question.
Blum recalls playing touch football on the beach in Lake Tahoe with Y.A. Tittle and Huge McElhenny and their wives, being part of the first fantasy football league, broadcasting baseball games for the El Centro Imperials of the old Sunset League — the Imperials' owner, King Maljean, made a killing in the lettuce-growing business, Blum says, and who am I to argue? — and being introduced to Meyer Lansky in the valet parking line at the Dunes hotel-casino.
"Happy to meet you, Mr. Lansky," Blum recalls on Page 28, before taking a step back "in case the sniper missed."
There are stories about John Wooden and Jim Plunkett and Jerry Tarkanian and Bill King and Dan Pastorini and Dick Williams and Fred Biletnikoff and Don Rickles and Pete Newell and Reggie Jackson and John Madden and Harry Caray and Ken Korach and Don Logan and too many others to list. And Al Davis. There are lots of stories about Davis, the cantankerous owner of the Oakland Raiders, for whom Blum worked during the franchise's formative years in the American Football League.
"He may order 10,000 copies (of the book), Blum said. "Or I may never be allowed into another Raiders game for as long as I live."
With Bob Blum, there's no telling how long that might be.
THREE UP
■ TIM CHAMBERS: The new UNLV baseball coach already has obtained oral commitments from five top local recruits and said last week he would be bringing back "The 335 Club," the program's unofficial booster club during the Fred Dallimore-Rod Soesbee eras. Chambers will build a new perch in left field — on top of the wall that former coach Jim Schlossnagle erected to keep the wind out, and the 335 Club from watching Rebels games for free. To paraphrase Maurice in that Heineken commercial: "The locals love Tim Chambers. And if you love the locals, by default, you love Tim Chambers."
■ KATHY OLIVIER: Although she hasn't yet turned around a UNLV women's basketball program that really didn't need much turning around in the first place, the Lady Rebels coach showed a sense of humor when she proclaimed herself coach of the "undefeated" Lady Rebels at the school's inaugural All-Student-Athletes Meeting. The Lady Rebels' first four games are against Southern Utah, San Diego, UNR and Oregon State, a program with more inner turmoil than Kirstie Alley's digestive system. So there's a possibility Olivier may still be undefeated Nov. 26.
■ KARAM OF NAZARETH: I have yet to see Karam Mashour, UNLV's new basketball recruit from Israel, dunk a Matzah ball, much less a basketball. But if he has the chutzpah to make an impact as a freshman, he will become the second native of Israel to contribute to UNLV's basketball fortunes, joining Iris Dinerman of Haifa, who played for the Lady Rebels from 1990 to 1994.
THREE DOWN
■ THE MAYOR WHO CRIED PROFESSIONAL SPORTS: Mayor Oscar Goodman said this past week an unnamed American League team was not interested in moving to Las Vegas after he said the week before that one most definitely was. In a shocking development, a $700 million, 45,000-seat domed stadium that doesn't exist was said to be a small factor in the Yankees' decision to stay in New York.
■ WAC SPORTS NETWORK: I thought this was a joke when it showed up in my e-mail box. It's not. It debuts in selected Western Athletic Conference markets Sept. 18 when Utah State hosts Fresno State in football. The WAC might be going away, but if you get Channel 28 in Yakima, Wash., you'll be able to watch Idaho play Western Michigan on Oct. 2, provided "Wayne's World" doesn't run long.
■ THE TEXAS DEPARTMENT OF LICENSING AND REGULATION: Antonio "Hands of Plaster" Margarito has been issued a license to fight Manny Pacquiao in another pay-per-view fleecing of the public at Cowboys Stadium. On the undercard of HBO's Despicable Boxing After Dark, it'll be Genghis Khan vs. up-and-comer Mel Gibson, along with a 10-round grudge match pitting Heidi Montag against former beau Spencer Pratt. The Ultimate Fighting Championship has issued a statement saying it still isn't worried.
Las Vegas Review-Journal sports columnist Ron Kantowski can be reached at rkantowski@reviewjournal.com or 702-383-0352.