THREE UP, THREE DOWN — Kid's exit quieter than arrival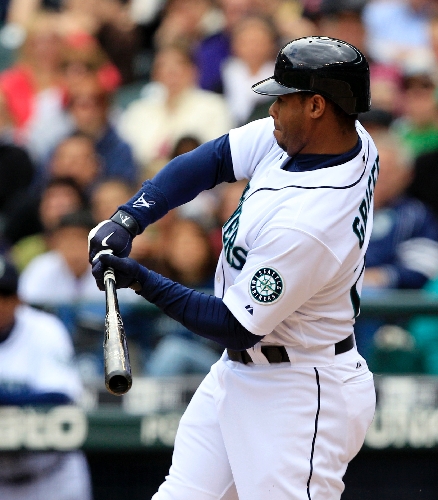 It was August 1985 when the 15-year-old baseball prodigy with the sweetest baseball swing since Darryl Strawberry (bet you thought I was going to say Ted Williams) barged into the press box at Ricketts Park, home of the Connie Mack World Series in Farmington, N.M., asked if I was the reporter from the local newspaper and, if so, when did I want to interview him?
The kid had his cap, representing the Midland Redskins from Cincinnati, Ohio, on backward.
This was a few years — but not many — before the kid became The Kid.
Of course, I had heard of Ken Griffey Jr., mostly because of his old man, partly because his reputation had preceded his arrival in the Four Corners, even though the Internet was just a figment of the vivid imagination of Al Gore or whoever claims to have invented it. That's how sweet this kid's swing was.
But I feigned ignorance. As if I hadn't heard of him. Or his old man. And though he kept flashing that captivating smile for which he would become famous (the 630 taters also might have had something to do with it), I told him to get lost.
I thought about that the other night, when The Kid announced his retirement on the same day Jim Joyce blew a call at first base, proving once and for all how nondiscriminating the baseball gods can be.
THREE UP
■ CSN BASEBALL: Tim Chambers and Bryce Harper — or was it the other way around? — made us interested in junior college baseball, if only for a little while. Then there was a pitch in Colorado a mile outside and a line drawn in the dirt and a home run in the bottom of the ninth by a school in Iowa with a direction in its name and … well, that's junior college baseball, isn't it?
■ GLEN GULUTZAN: The former Las Vegas Wranglers coach and all-around good guy has guided the startup Texas Stars to a 2-0 lead over the Hershey Bears in the American Hockey League finals. The Texas Stars used to be known as the Iowa Chops, so this seems like quite an accomplishment.
■ DICK CALVERT: Although the longtime UNLV public address announcer was joined on the Southern Nevada Sports Hall of Fame dais by former UNLV sharpshooter Freddie Banks, amateur baseball proponents Fred Darling, Ralph Meder and Bill Bayne and the Fertitta family, founders of the UFC and a lot of snazzy buildings on the UNLV campus, Calvert is the only one among the group who will regale you with tales about Las Vegas' sporting past during batting practice at Cashman Field and make you wish it wouldn't end until top of the third.
THREE DOWN
■ DREW DONDERO: The new president of the 51s says not much will change between now and the end of the season, so it makes you wonder why this coup d'etat — I mean, new partnership with longtime president and general manager Don Logan — couldn't have waited until then. Unless Dondero has been spending a lot of time working as a hot dog vendor at Cashman Field for an upcoming episode of "Undercover Boss," he has much to learn about the Triple-A baseball business from the Las Vegas Don.
■ FALSE ALARM: Yes, UNLV basketball coach Lon Kruger's home in Anthem is up for sale (asking price: $1.4 million). No, as one reader hastily jumped to a conclusion, he's not leaving to coach the Cavaliers, Nets, Hornets, Bulls, Hawks, Clippers, Hickory High or Big State, where Jesus Shuttlesworth was recently granted an extra year of eligibility. Kruger is just moving into a nicer home in Southern Highlands.
■ CONSPIRACY THEORY: How many in the class think these rumors of college sports super conferences, should one or more come to fruition, will result in the Mountain West holding an empty bag when they start distributing automatic BCS bids? Horshack and I aren't the only ones who have our hands up, Mr. Kotter.
Las Vegas Review-Journal sports columnist Ron Kantowski can be reached at rkantowski@reviewjournal.com or 702-383-0352.