Three Up, Three Down: UNR-Boise as good as it gets
November 28, 2010 - 12:00 am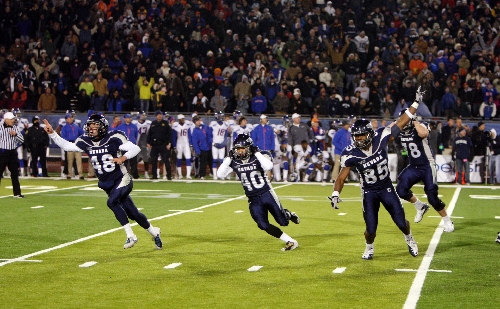 While watching Friday's UNR-Boise State game, I kept thinking how much it looked like one of those timeless paradigms of football as drama you might see again and again on "NFL Films Presents," right down to the players' collective breath rising from frozen face masks in little white puffs.
It reminded me of the Ice Bowl, Dallas vs. Green Bay, Dec. 31, 1967. I kept waiting for Jerry Kramer to throw a wedge block on Jethro Pugh. I kept reaching for a flask, and I was only watching on TV, from the warmth of my living room couch.
Mind you, this was even before the Wolf Pack rallied from 17 points down, and their clutch drive at the end that tied the score with 13 seconds to play, and the long desperation pass and great catch that should have untied it with two seconds to play, before that poor kid from Boise State started missing chip shots, and the freshman walk-on split the uprights from 35 yards in overtime, giving UNR a 34-31 victory in one of the games of the year — of this or any year.
It was cold, it was taut, it was memorable, it was classic, it was even better than classic. It was Thelonious Monk on the piano, Dr. Martin Luther King Jr. at the pulpit, Keith Moon banging the drums, John Belushi arching an eyebrow, the E*TRADE baby in those commercials.
It was Jack Nicholson as Melvin Udall and Helen Hunt as Carol Connelly in the movies.
It was as good as it gets.
THREE UP
■ LAS VEGAS LOCOMOTIVES: Whereas the UNR-Boise State game recalled the Ice Bowl, Saturday's United Football League championship game approximated the old Blue-Gray Classic, mostly owing to the funky uniforms (although there weren't many players from William & Mary and the Yankee Conference). Congrats to Jim Fassel and the Locos; may you live long and prosper. But playing games on Sunday in Las Vegas next August when it's hotter than Gisele Bundchen probably won't help in that regard.
■ TYSSON POOTS: No, that wasn't Mac Davis' nickname for Nick Nolte in "North Dallas Forty," although Tysson Poots of Las Vegas can catch a mean forward pass, too. The former Coronado High School standout broke virtually every pass-receiving record at Southern Utah, finishing his college career with 285 receptions for 3,960 yards and 43 touchdowns and this year being named offensive player of the year in the Great West Conference.
■ ANTHONY CALVILLO: It seems incredulous the former Las Vegas Posse quarterback still is throwing touchdown passes in the Canadian Football League. Calvillo, who this season became the fourth player in CFL history to pass for more than 50,000 yards, today will lead the Montreal Alouettes against the Saskatchewan Roughriders in the 98th installment of the Grey Cup, the CFL Super Bowl. Or Grey Cup XCVIII, which seems like an awful lot of Roman numerals. Anyway, I hope it snows.
THREE DOWN
■ BOISE STATE: Before losing the overtime thriller Friday at UNR, the Broncos were in line for a Bowl Championship Series berth, which pays $18 million. Now they are in line to play Whoer U. in the Humanitarian Bowl in Boise, which pays $750,000; or Disco Tech in the Fight Hunger Bowl in San Francisco, which pays $850,000. I guess that's still better than playing Michigan in the Lovely Parting Gift Bowl, which pays nothing. That Boise State is scrambling for crumbs after just one defeat against a ranked team by the narrowest of margins illustrates that if the BCS is more messed up than Charlie Sheen, the bowl system is Lindsay Lohan.
■ DWAYNE JOHNSON: The former Miami Hurricane turned pro wrestler turned actor did not appear at Saturday's UFL championship game between the Locomotives and Florida Tuskers to promote his new movie, "Faster." Renowned historians considered this a bigger upset than Chaminade over Virginia in '82.
■ WIDE LEFT, WIDE RIGHT: Kyle Brotzman, Boise State, meet Scott Norwood, Buffalo Bills. Have a Lifesaver, son. Have two. But you didn't blow a 24-7 halftime lead.
Las Vegas Review-Journal sports columnist Ron Kantowski can be reached at rkantowski@reviewjournal.com or 702-383-0352.