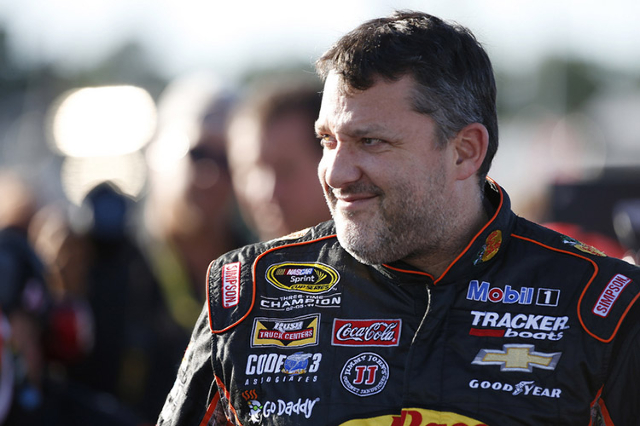 "I don't like you. I never have."
That was what an off-duty corporal in the Tulsa Sheriff's Department said to Tony Stewart Friday night, after the NASCAR driver went into the stands to confront him during the Chili Bowl Nationals.
The Chili Bowl Nationals are races for midget-style racecars held indoors in Oklahoma. I'm assuming methanol fumes don't readily dissipate indoors. When you combine that with lots of beer, people sometimes yell stuff at drivers they have never liked.
You see and hear this type of behavior at Oakland Raiders games all the time. Most of those are played outdoors.
Anyway, you would think a law enforcement official would know better than to yell stuff at Tony Stewart. You also would think Stewart would know better than to charge into the stands after him.
You see this at hockey games now and then. It never turns out well.
Stewart has a cantankerous nature, which until 2014 mostly had served him well, in the manner that having a cantankerous nature served the great A.J. Foyt well. Foyt, one of only three men to have won the Indianapolis 500 four times, sometimes would hurl a laptop computer down pit road when a crew member miscalculated his fuel mileage. People loved that.
Foyt was and still is Tony Stewart's hero. That is why Stewart drives car No. 14 (Foyt's number) in NASCAR, and his teammate, Las Vegas' Kurt Busch, drives No. 41.
Most NASCAR fans also love Stewart for being cantankerous. Like when he backed down pit road after a race and slammed his car into one driven by Brad Keselowski, who also can be cantankerous on the racetrack.
They showed that one over and over on SportsCenter, and the ESPN anchors loved it. Slamming into each other on pit road showed those guys had character and moxie, they said.
Most NASCAR fans went right on cheering Tony Stewart's character and moxie until the summer of 2014 in upstate New York.
Stewart and a young sprint car driver tangled in one of the turns. When the young driver got out of his wrecked car and came bounding down the track, wagging his finger at Stewart — as he had probably seen Stewart do many times on SportsCenter — Stewart drove a little too close.
The young driver would be pronounced dead at a local hospital. There would be a wrongful death suit.
The tragedy seemed to temper Stewart's cantankerous nature. That was unfortunate, because he always had interesting things to say about the other drivers and to the media, especially when you asked a dumb question. He would castigate you, but usually in a way that made you chuckle.
After the tragedy, Stewart only came into the media room when NASCAR said he had to. He wasn't nearly as cantankerous. He wasn't the same driver as before, either. Maybe that was because of the tragedy; maybe that was because he was getting older. Maybe it was a combination of the two.
It has been nearly 18 months since the tragedy in New York. Stewart, 44 and a three-time Sprint Cup champion, still isn't the driver he once was. He has announced this will be his last year driving in NASCAR.
Some of these tracks probably will give him a rocking chair or a fishing rod during driver introductions. Most fans will wish him well. Others may yell stuff from the stands.
"I don't like you. I never have."
Were those fighting words?
Not this time.
Whereas some people were quicker than those midget racecars to criticize Stewart for going into the stands, perhaps he also has learned from the tragedy in New York.
Somebody got killed that time.
Nobody even got punched this time.
For once, there was constraint among alpha males.
It appeared Stewart might have gone into the crowd with good intentions. He also went up there to shut the guy up. Accompanied by security guards, the driver appeared to be smiling when he climbed the steps of the Expo Center to where the heckler was.
But then the man in the red hooded sweatshirt, the off-duty cop with the leather lungs, said he didn't like Stewart, that he never has. And then Stewart called the man a wuss, only he didn't use that word.
There was a push. It really never came to a shove.
Had it been A.J. Foyt, the heckler probably would have received a punch in the nose. Probably several of them.
But there wouldn't have been multiple cellphone videos.
And then the next day, the man on the morning news wouldn't have referred to cantankerous A.J. Foyt as being "embattled," or that had a "famously hot temper," which is what the man on the morning news said about Tony Stewart.
Las Vegas Review-Journal sports columnist Ron Kantowski can be reached at rkantowski@reviewjournal.com or 702-383-0352. Follow him on Twitter: @ronkantowski