Travis Pastrana lands Caesars Palace jump in Las Vegas
Updated July 9, 2018 - 1:02 am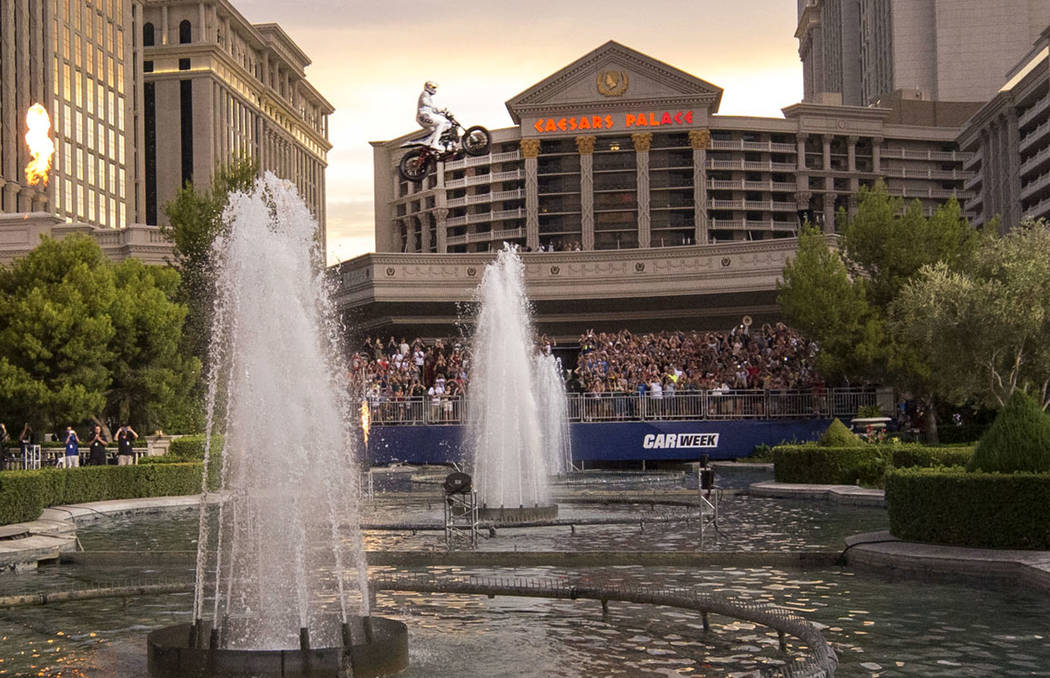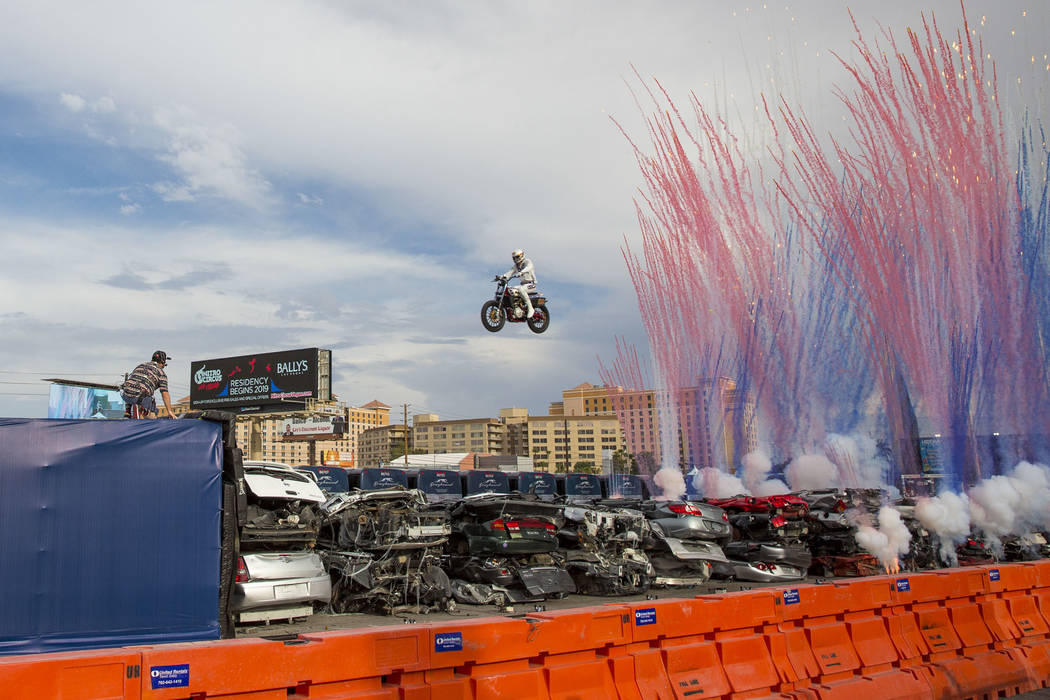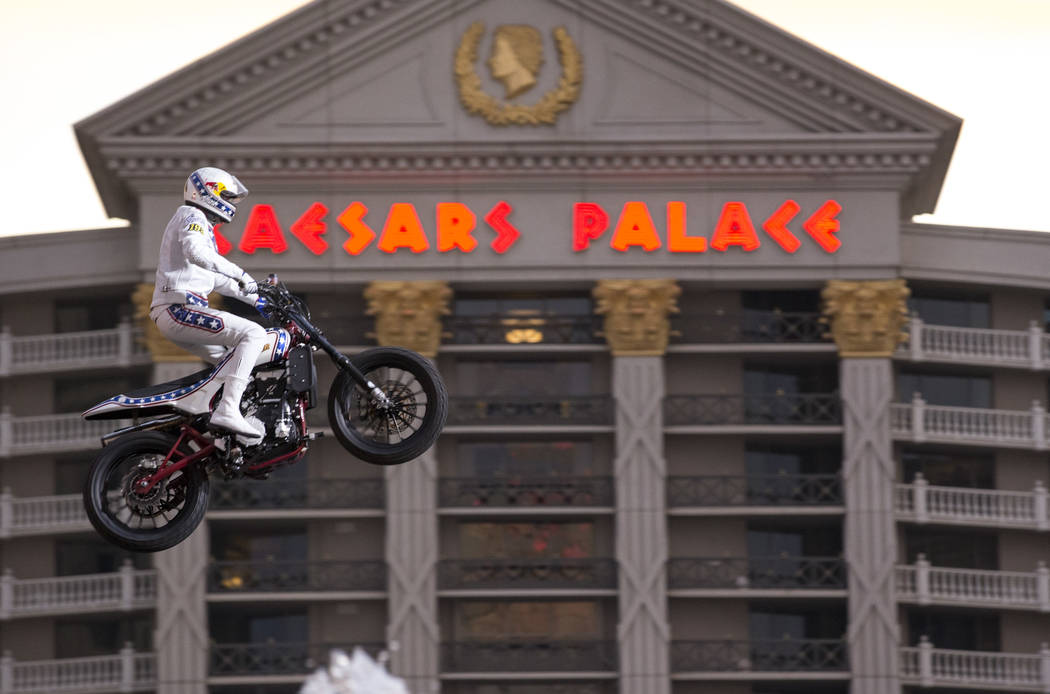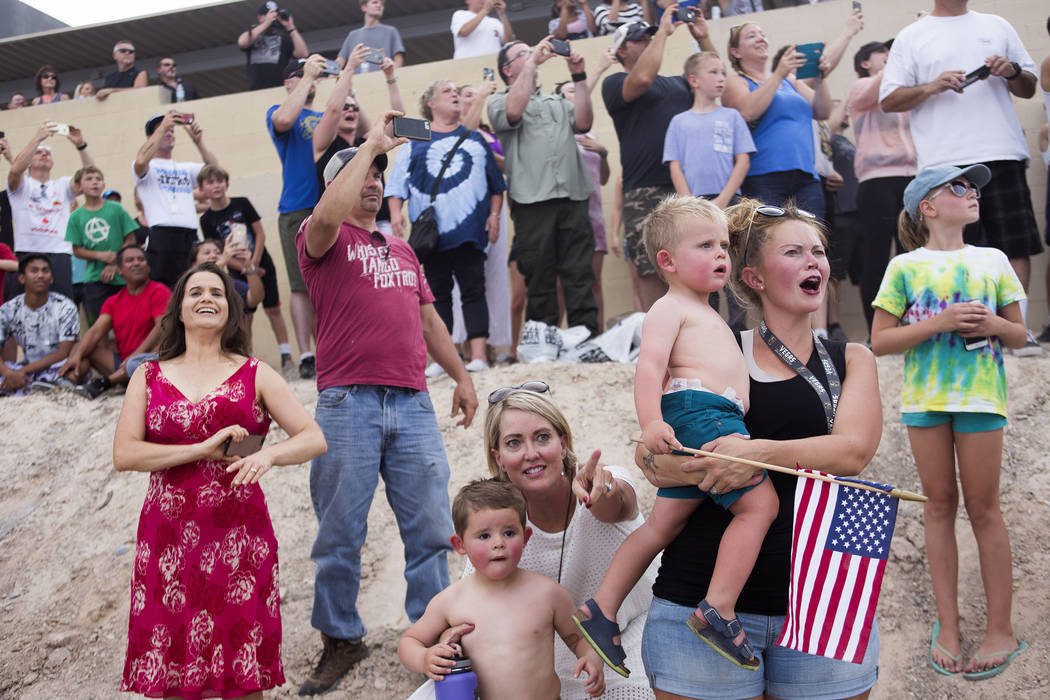 It has been said that only The Shadow knows what evil lurks in the hearts of men.
But Evel may no longer lurk under the jumpsuit of Travis Pastrana.
Paying homage to legendary daredevil Evel Knievel, Pastrana successfully re-created three of his most iconic jumps on a sweltering Sunday in Las Vegas.
The 34-year-old action-sports star vaulted over 52 flattened cars and 16 buses in a vacant lot behind Planet Hollywood Resort before successfully landing a jump over the ornamental fountains at Caesars Palace, a stunt that nearly took his predecessor's life on New Year's Eve in 1967.
The jumps were part of "Evel Live," a three-hour tribute to Knievel's legacy that aired live on History in partnership with Nitro Circus, an action-sports tour co-founded by Pastrana.
"Man, it's such an honor to live a day in Evel's footsteps — and literally in his boots," the personable Pastrana said on the landing ramp as a huge crowd of onlookers cheered. "To be here in Las Vegas, so much of my history has been here. I proposed to my wife (Lyndsey) here; I had my first Nitro Circus show here.
"So thank you to everyone watching, and thank you to all in Evel's family for coming out and helping my dream come true. I'm not done yet, but this was one of the coolest things — the coolest thing — I've ever done."
Pastrana made the jumps on an Indian Scout FTR750, a more advanced motorcycle that resembled the Harley-Davidson used by Knievel.
"I'm jumping a bike that's not made for jumping," Pastrana said after arriving in Las Vegas. "This is a tribute back to when men were men and bikes weren't meant to fly.
"In order to get here and to do all this stuff, Evel Knievel had to be a showman, he had to be a salesman, he had to convince people he could fly a motorcycle."
On Sunday, Pastrana wore white leathers, boots and a cape similar to Knievel's iconic costume. He convinced huge throngs at both jump sites that he could fly a motorcycle, too.
He covered 143 feet over the crushed cars and 192 feet over the buses in the first two jumps, bettering Knievel's records. After making the short jaunt up Flamingo Road to make the showstopper jump, Pastrana soared 149 feet over the fountains with little run-up.
"This is modern-day Evel Knievel," the 11-time X Games gold medalist said of the stunts after sticking the landing over the 16 buses amid plumes of red, white and blue smoke. "These bikes are a little faster and a little lighter (than Knievel's Harley), but it's similar."
Pastrana, who also had a brief career driving in NASCAR's Xfinity and Truck Series, received a police escort to Caesars Palace after the first two jumps. He did wheelies and burnouts and posed for selfies with people riding in taxis while saluting the huge crowd on the Strip with clenched fists and upturned thumbs.
Of the three jumps, the one over the fountains was the shortest but the most technical, the cramped confines of Caesars' front courtyard leaving little room for error.
After warming up at 400 feet for the first two jumps, Pastrana had only 210 feet to get up to 70 mph before launching off an elevated ramp that catapulted him over the fountains and onto a landing ramp on the other side as the crowd roared.
Among those cheering was Kelly Knievel, one of Evel's sons and a longtime Las Vegas resident.
"I look around, and I think this is as big a spectacle today as it was 50 years ago," he said.
There would be a fourth, unadvertised jump before the end of the night. Pastrana celebrated and cooled off at the same time by taking a flying leap into Caesars' fountains.
It was a stunt his famous predecessor never got to attempt but almost certainly would have applauded.
Contact Ron Kantowski at rkantowski@reviewjournal.com or 702-383-0352. Follow @ronkantowski on Twitter.
Cleared! With requisite pyro and smoke action @travispastrana #EvelLivd @CaesarsPalace @history @nitrocircus pic.twitter.com/NBobZj41wJ

— John Katsilometes (@johnnykats) July 9, 2018
Looks easy, eh? But so much practice … #EvelLive @travispastrana @history @nitrocircus pic.twitter.com/zpnPNqVOnm

— John Katsilometes (@johnnykats) July 9, 2018
Fonzie action! #EvelLive @travispastrana @history @nitrocircus pic.twitter.com/MtaUhAdWbn

— John Katsilometes (@johnnykats) July 9, 2018