Twenty years ago, Thunder ruled ice
October 6, 2013 - 8:29 am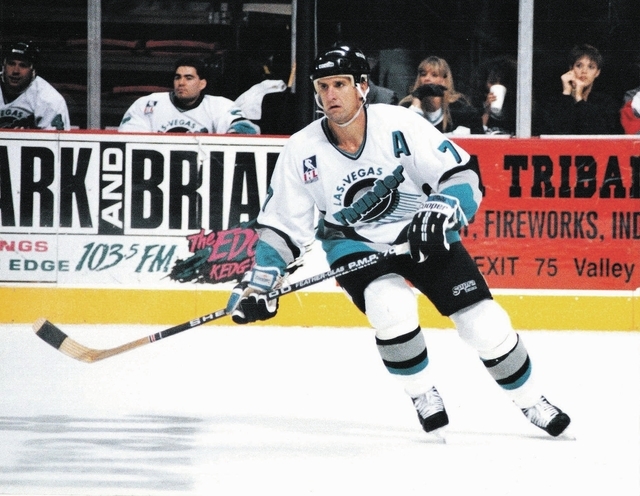 On Tuesday it will have been 20 years since a guy wearing a striped shirt with orange armbands skated into the center ice faceoff circle at the Delta Center in Salt Lake City with a hockey puck in his hand.
With a flick of the wrist, the man in the striped shirt would drop that puck between a teenager wearing a black sweater with teal and white trim and an older guy wearing a white sweater with gold and red and black trim.
The teenager sported a mullet of reasonable length. This was 1993. I don't remember what sort of haircut the guy wearing the white hockey sweater was sporting.
There was a clash of sticks, a spray of ice chips. And then up in the broadcast booth, a guy from Canada named Kevin Gallant said the Las Vegas Thunder were on the air, because Canadians always refer to a hockey team as a plural, and that they were moving left to right (or right to left) across your radio dial.
The teenager with the mullet wore No. 76, for the year he was born. He was only 17 years old on Oct. 8, 1993 — too young to play in the NHL. His name was Radek Bonk. He would score 42 goals for the Thunder as a 17-year-old.
Radek Bonk had been invited to join the inaugural Thunder by a short man with a high forehead named Bob Strumm.
This fellow Strumm had coached the Regina Pats, a junior ice hockey team that had been around since 1917. Guys who coach the Regina Pats generally know a lot about hockey and hockey players.
Rod Buskas, No. 77 — not 61, for 1961, the year he was born — mostly patrolled the Las Vegas blue line in Salt Lake City on that night 20 years ago. Kevin Gallant called him The Pilot. Buskas had learned to fly airplanes while playing hockey in Medicine Hat, Alberta. I suppose that was the fastest way to leave.
Buskas is from Wetaskiwin in Alberta — one province to the left of Saskatchewan. Bob Strumm knew about Rod Buskas, too, but everybody this side of Boom Boom Geoffrion knew about Buskas, because Buskas had spent 11 seasons in the NHL with the Penguins, Canucks, Kings and Blackhawks.
Rod Buskas was 32, on his way out in Chicago. But Bob Strumm liked hockey players with hard noses (and elbows). So he called Buskas, told him there's gonna be minor league hockey in the desert. In Las Vegas.
It must have sounded like when Paul Newman started a rumor that the Charlestown Chiefs were moving to Florida, before he called his guys up to the Minnesota Nighthawks.
Only this was real.
So Rod Buskas came to Las Vegas to play hockey.
So did Ken Quinney, little Patrice Lefebvre, Mark Vermette, Marc Habscheid, Jeff Sharples, Jean-Marc Richard, Todd Richards, Brad Lauer and Bobby Joyce, whose wife, if I remember, had a gig dressing as Dorothy at the MGM Grand.
Jim Kyte, Steve Jacques, Randy Smith, Kerry Toporowski, Greg Spenrath, Marc Rodgers, who rode back to Las Vegas in the back of an equipment truck after a playoff game in San Diego, because Rodgers had thrown his stick into the crowd and broken a woman's nose and the cops were after him.
Clint Malarchuk and Peter Ing between the pipes. And Lyndon Byers, the ex-Boston Bruins enforcer, who followed me down Maryland Parkway early one morning, gunning the engine in his black Porsche, as if he wanted trouble. Only I didn't know it was Byers. And so when he pulled alongside and removed his sunglasses, we both had a laugh.
L.B. had this wild, glazed look in his eye, as if he were just going home.
That was the way the Thunder played that first season — with a wild, glazed look in their eyes. The Fort Wayne Komets never knew what hit 'em.
"We had a lot of fun on the ice and off the ice," Rod Buskas said of the inaugural Thunder, which won 52 games, lost 18 and averaged nearly 9,000 spectators at the Thomas &Mack Center, outdrawing Rollie Massimino and the UNLV basketball team.
The players on that first Thunder team in the 1993-94 season were like rock stars.
But the novelty of hockey in the desert eventually wore off. Crowds dropped off. UNLV charged the team an arm and two legs for leasing the T&M.
The Thunder proved that pro hockey in the desert could work. But Radek Bonk had moved on to center a scoring line in Ottawa.
The Thunder folded after six seasons. A few years later, so did the International Hockey League.
Rod Buskas and his wife, Debra, still live here.
"Twenty years ago, I said I would come to Las Vegas for nine months," Buskas said. "I'm still here."
His son, Blake, graduated from UNLV. His daughter, Paulina, graduated from Green Valley.
"I guess that makes me a local," Buskas said.
He no longer flies Cessnas with single engines. The Pilot now flies a big bird — an Airbus 330-200 — for Hawaiian Airlines.
He's Capt. Rod Buskas now, cruising at a maximum altitude of 39,370 feet. Twenty years ago, his skates were anchored to the blue line in Salt Lake City. Now his head is in the clouds.
Las Vegas Review-Journal sports columnist Ron Kantowski can be reached at rkantowski@reviewjournal.com or 702-383-0352. Follow him on Twitter: @ronkantowski.