Twitter adds character now that Scully's having his say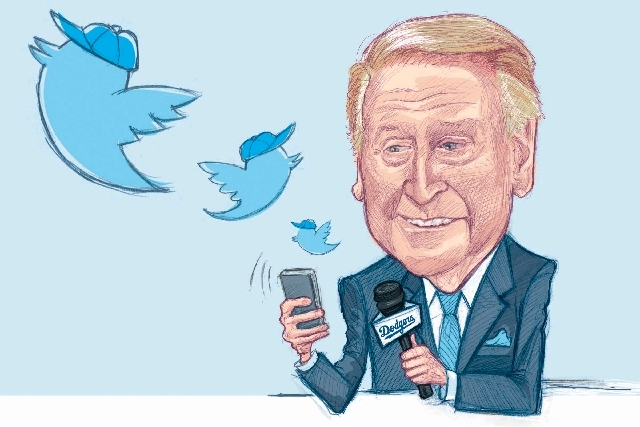 I saw where Vin Scully opened a Twitter account the other day.
This is what happens on getaway day when the most mediocre team that money can buy is 10 games under .500 and wallowing in last place in the National League West.
Actually, the great Vin Scully didn't open his own Twitter account. He just took over the Dodgers' official one for a couple of hours — 2 hours, 39 seconds to be exact, for those tweeting at home.
At 3:57 p.m., a couple of minutes before the second game of a doubleheader against the Yankees at Yankee Stadium, the Voice of So Many Summers tweeted "Hi everybody and a pleasant Wednesday evening to you, wherever you may be." -#VinScully.
And you knew it was him.
So there it was: The man who had called the perfect games of Don Larsen and Sandy Koufax, and Hank Aaron's 715th home run, and Rick Monday rescuing the American flag, and Bill Buckner letting that little nubber go between his legs, and Kirk Gibson's dramatic home run off Dennis Eckersley — a man who has called 10,000 baseball games or more, a man who could make a ground ball to shortstop on two hops by Billy Grabarkewitz sound like poetry — was reduced to 140 characters, or fewer, by the constraints of social media, and by the constraints of what society now considers hip.
So the Bard of the Basepaths, 85, played along for nine innings. If one had to guess, it probably was one of the nerds from the Dodgers online department who showed him how to use the hashtag symbol.
And, no, his second tweet was not an ad for Farmer John.
It was this: "I broadcast the Yankee/Dodger World Series in '53, '55, '56, '63 and '81. No way I could have imagined tweeting a game." -#VinScully.
By the bottom of the first, I'll bet he had the hashtag thing figured out. And when he posted about Ebbets Field being gone, and that he hadn't been to the new Yankee Stadium, and how New York had become mostly a city of memories for him, you could almost hear him leave a space in there. A dramatic pause for the roar of the crowd, or for reflection.
And then there was this, at 4:13 p.m., after one of the nerds told Vin he already was trending on Twitter, like a Kardashian:
"Wow! Hot diggity dog. Well, Puig just bunted for a base hit."-#VinScully.
Before it was over, the great Vin Scully tweeted he once played baseball against George H.W. Bush, who played 1B for Yale while Scully played CF for Fordham, and that both went 0-for-3. That's something you don't see retweeted every day.
And so I began to wonder: What if the other legends of the broadcast booth were given a Twitter account, and 140 characters, and were told to have at it, boys, like they do in NASCAR?
■ Harry Caray @CubsWin!CubsWin!: Twitter spelled backward is Rettiwt. H-o-o-ly Cow! And they're here from Schaumburg and Elmhurst and Arlington Heights. #BudManCubFan
■ Jack Buck @GoCrazyFolksGoCrazy: I can't believe what I just tweeted — er, saw! #Eckersleygroovesone
■ Russ Hodges @TheOldPoloGrounds: THE GIANTS WIN THE PENNANT! THE GIANTS WIN THE PENNANT! THE GIANTS WIN THE PENNANT! THE GIANTS WIN THE PENNANT! THE GIANTS WIN THE PENNANT! TH- via@bobbythomson, via@ralphbranca
■ Brent Musburger @OldSortaCreepyGuy: I'm tweeting live … and checking out photos of Alabama quarterback AJ McCarron's girlfriend, back in my hotel suite. View photo. View Photo. View photo. View photo.
■ Johnny Most @65NBAFinals: Havlicek stole my Twitter account! #WayBeforeLeBron
■ Al Michaels @We'rehavinganearthqu-: Dennis Miller just made another obscure reference, and I actually got it. Do you believe in miracles? Yes! @JimCraig @MikeEruzione @DanFouts
■ HowardCosell @MayICallYouMuhammad?: The Twitterverse seems a bit truculent tonight. I'm just tweeting it like it is. It's an unspeakable tragedy. Right there! via@BobConrad_BattleofNetworkStars #TexCobbtakesabeating
■ Curt Gowdy @TheAmericanSportsman: Joe "Willie" Namath has guaranteed that "Heidi" won't hijack my Twitter account. #OldAFL @AlDeRogatis
■ John Facenda @VoiceofGod: The Doomsday Defense just retweeted Norris Weese on his blind side. @TooTallJones @HarveyMartin #frozentundra
■ Keith Jackson @WhoaNellie: It's the third quarter. Still waiting for Herschel Walker to FUM-B-L-L-L-E! #BetweenTheHedges #BuckyDentHR
■ BobUecker @MrBelvedere: I must be tweeting from the front row. #UeckerSeats
■ Dick Stockton @PeopleForgetICalledFisk'sHR: I knew Lesley Visser when she still looked like Lesley Visser.
■ Billy Packer @CoachK_IsGod: This Twitter thing is almost as great as the ACC. #IMissAlMcGuire
■ The Real Larry Merchant @EverybodyIsTiredOfLarryMerchant: I wish I was 50 years younger; I would tweet your ass. @prettyboyfloyd #getoffmylawn
■ Lindsey Nelson @NotreDameFootballHighlights: Let's move ahead to further tweets in the second quarter. @paulhornung #plaidsportsjacket
■ Don Meredith @Danderoo/MondayNightFootball: Turn out the lights, the tweeting's over. @fredhammerwilliamson, @roonearledge @GuyWhoThrewTheFingerAtTheAstrodome
Las Vegas Review-Journal sports columnist Ron Kantowski can be reached at rkantowski@reviewjournal.com or 702-383-0352. Follow him on Twitter: @ronkantowski.