Unfortunately for Knights, the Stanley Cup is not a no-show
Updated June 8, 2018 - 12:31 am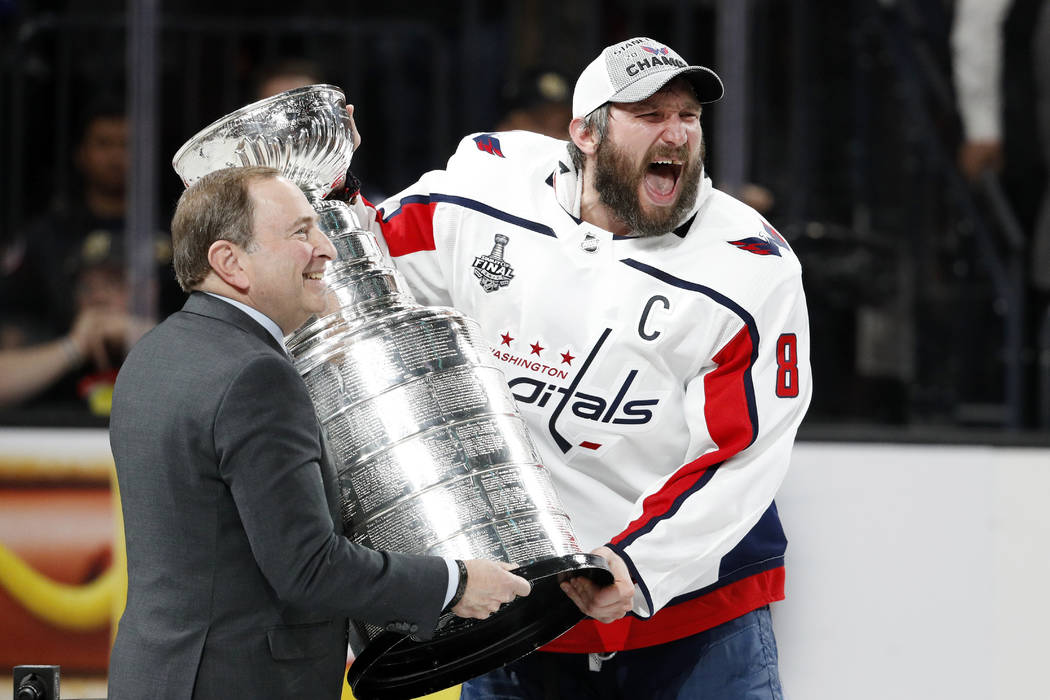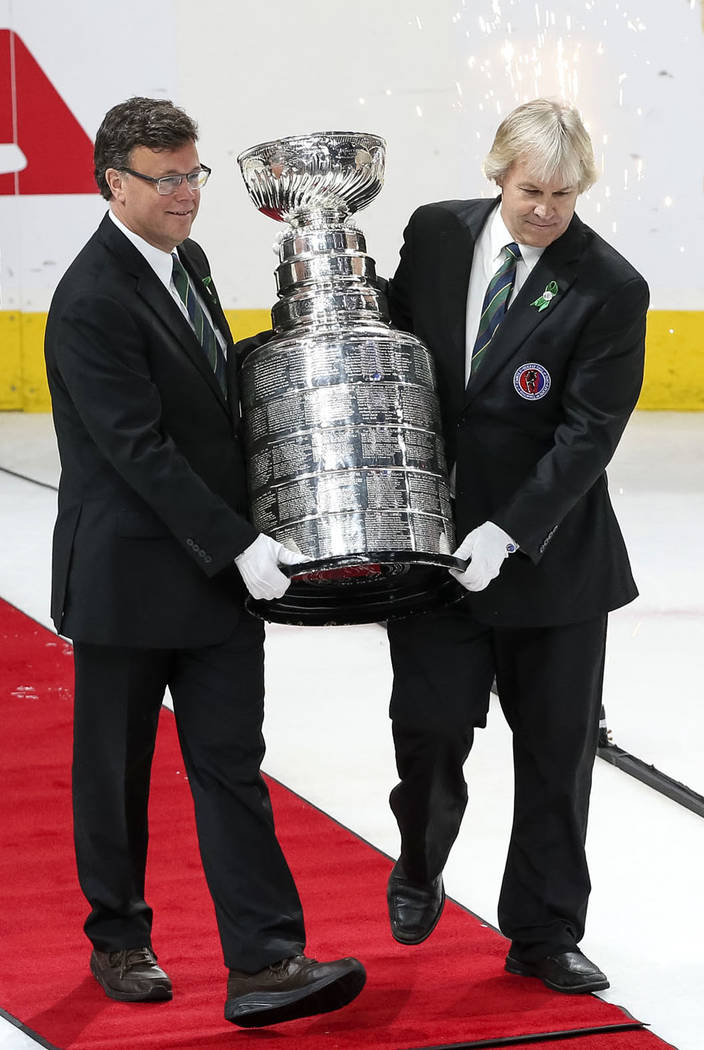 It was a dark and stormy night, and it led to a scene right out of the old "Blues Brothers" movie.
"There are 106 miles to Chicago, we have a full tank of gas, half a pack of cigarettes, it's dark and we're wearing sunglasses …"
Playing the part of Elwood Blues: Phil Pritchard.
"The Keeper of the Cup" — Lord Stanley of Preston's Cup — wasn't 106 miles from Chicago on the night of June 15, 2015. But he was far enough away that he and his precious traveling partner didn't quite make it to United Center in time for the victory celebration after the Blackhawks defeated the Tampa Bay Lightning in six games.
Phil Pritchard, curator at the Hockey Hall of Fame in Toronto and The Keeper of the Cup since 1988, had plenty of gas. He wasn't smoking cigarettes. Instead of sunglasses, he wore gloves. White cotton ones, so as not to smudge the Cup.
Torrential rains, a tornado warning and a funnel cloud south of town caused a traffic snarl.
When the game ended, the Cup had yet to arrive.
The Blackhawks celebrated on the ice, Cup-less. NBC did extraneous interviews, also Cup-less.
After a short delay and a police escort, the Cup arrived.
Cup check
"It was havoc on the roads but we made it, thanks to the Chicago police," The Keeper of the Cup said.
On Wednesday, he was speaking from an undisclosed location in an undisclosed Las Vegas hotel, because most everything about the Cup is on a need-to-know basis until it is presented to the winning team.
Gotta get my R&R in while I can. pic.twitter.com/WFnWszuwkm

— The Stanley Cup (@StanleyCup) June 6, 2018
"You can't see it, but I've got my fingers crossed," Pritchard said by cellphone about inclement weather or another unforeseen circumstance developing in the desert. I mentioned that last year we went 102 days without rain, and that there probably wouldn't be a funnel cloud south of town.
But you never know when there might be a storm of locusts. So Pritchard and the Cup planned to arrive at T-Mobile Arena long before the third period started.
As I was arriving around 4 p.m., so was the Cup. Phil Pritchard and another guy wheeled it in. Pritchard said hello. He wasn't wearing gloves yet.
He said the Cup had a couple of appearances to make before the puck was dropped — nothing as extravagant as Wednesday's float down a lazy river at an undisclosed hotel-casino swimming pool.
When the possibility arises for a team to cop the Cup in fewer than seven games, it is thought to be rude and impudent to put it on display in front of the other team and its fans. This is doubly true in Philadelphia, where hockey fans are known to be rude and impudent right back.
Cup to coast
Pritchard said he could only remember one situation like this one, where teams at virtual opposite ends of the hockey universe were paired in a final that potentially could have been decided by Game 5.
In 1994, the New York Rangers lost the first game to the Vancouver Canucks before winning the next three in the best-of-seven series. The Canucks won Game 5 at Madison Square Garden and Game 6 at Pacific Coliseum in British Columbia before the Rangers won Game 7 in New York.
Phil Pritchard and the Cup added to their frequent flyer miles. The Stanley Cup can hold 14 bottles of beer in its chalice but it doesn't much care for airline peanuts, Pritchard said. And it doesn't ride in the middle seat next to him, not even on Southwest after forgetting to check in. That changed after 9-11. The Stanley Cup now rides in a spiffy carrying case that is safely stowed in the special services section of the baggage compartment.
Phil Pritchard aka @keeperofthecup getting some rest with the #StanleyCup on the way to Russia to continue the @DetroitRedWings' championship celebrations in August 1997 #tbt pic.twitter.com/rQBGCDzCoQ

— Mike Commito (@mikecommito) May 31, 2018
The Keeper of the Cup said he was prepared for whatever happened here Thursday, and in the other "if necessary" games, if they transpired.
He said he packed five pairs of white cotton gloves. One pair for Thursday in Las Vegas; one for Sunday in Washington, if needed; one for next Wednesday in Las Vegas, if needed. Two extra pairs, also if necessary.
They weren't.
For once, the last guy the Golden Knights wanted to see on the ice Thursday night wasn't Alex Ovechkin.
It was Phil Pritchard.
At 8:18 p.m. PDT, The Keeper of the Cup appeared. He was wearing white gloves. He placed the Stanley Cup on a pedestal so NHL commissioner Gary Bettman could present it to Alex Ovechkin, knowing full well that the polish he had applied a few minutes earlier would never hold up.
More Golden Knights: Follow all of our Golden Knights coverage online at reviewjournal.com/GoldenKnights and @HockeyinVegas on Twitter.
Contact Ron Kantowski at rkantowski@reviewjournal.com or 702-383-0352. Follow @ronkantowski on Twitter.