Unlikely friends are teammates for life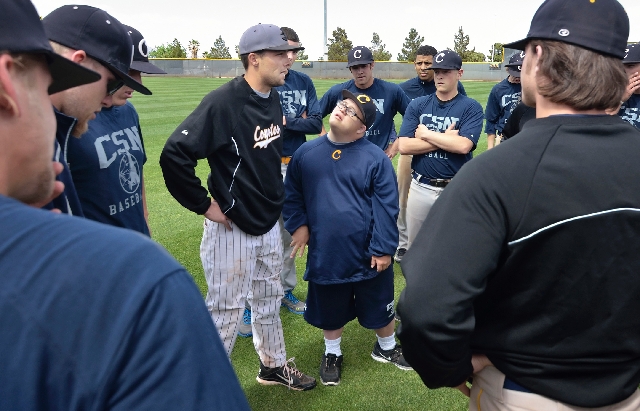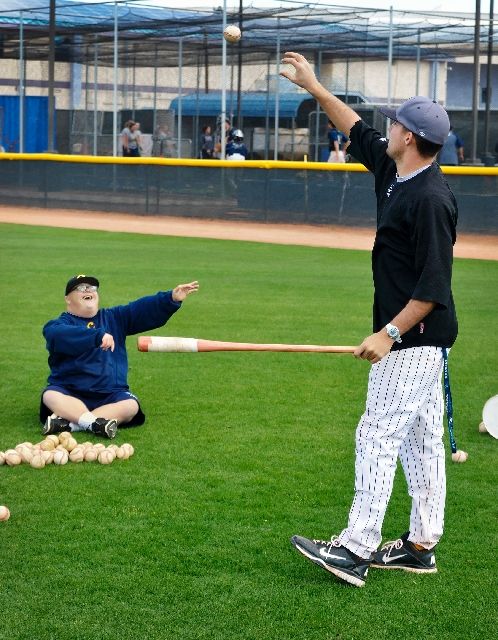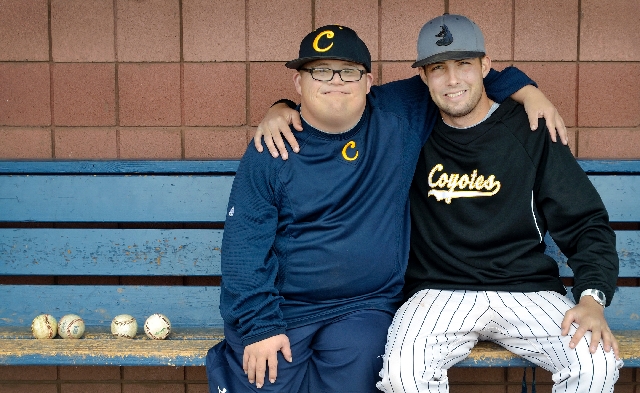 "C'MON! REALLY, REALLY, REALLY HARD!"
The first time I heard that directive, that booming voice, it was coming from behind the first-base dugout at a UNLV game. On Easter. It sounded like a foghorn in some forsaken harbor. Or when pans fall from shelves in the middle of the night.
Every so often, when the Rebels would put a man on base or needed a big out, you'd hear it again. "C'mon! Really, really, really hard."
I wandered over to the first-base side to investigate. The really, really hard guy was wearing a ballcap, black-rimmed glasses and shorts, and seemed to be having a really, really good time.
He was sitting in the midst of a bunch of twenty-somethings, young men with chin stubble, who also were wearing ballcaps and shorts, who also seemed to be having a good time.
They appeared to be friends.
The twenty-somethings with the chin stubble didn't seem to notice when the really, really hard guy repeated that whenever the Rebels had something going. Even cooler was they didn't seem to notice that Matt Cutler was born with Down syndrome.
■ ■ ■
It was 10 years ago when Lloyd Cutler, Matt's father, approached Nick Garritano, the former baseball coach at Green Valley High, and sort of sheepishly asked if Matt could hang around the Gators at practice. Maybe once a week or something like that.
Garritano had Matt in physical education class, part of the Individualized Education Program, or IEP, for special needs students. Lloyd Cutler remembered watching Garritano kick field goals for UNLV. He sort of felt like he knew him.
Nick the Kick said Matt Cutler would be welcome at practice. And at games, too. And not just once a week. He would be welcome at all the practices. At all the games.
Each year, Garritano picked one of his seniors to look after Matt, to make sure he had a bottle of Gatorade, whatever he needed, and maybe to make sure he didn't wander onto the field at the wrong time, like Dusty Baker's kid in the World Series. Because this was new to everybody.
This was how Sean Larimer — one of Garritano's seniors — started looking after Matty Cutler. It wasn't, to use Matty's favorite expression, really, really hard.
Like Matty, Sean had a burden to bear. He was 16 in 2003, the one behind the wheel, driving under the influence, when three friends were killed. He spent two years in juvenile detention. You don't move on from a tragedy like that, he said. You try to be a good person.
It didn't take long for Matty to figure out when it was OK to run onto the field and when he should stay in the dugout, because Larimer says Matty understands a lot more about baseball than people might think. Understands a lot about a lot of stuff, in fact.
It must have been 2005 when they met, Larimer says. When Garritano became coach at College of Southern Nevada in 2010, he took Matty with him. (Matty still goes to Green Valley games when CSN isn't playing at home). Garritano took Sean Larimer with him, too, as assistant coach.
Proving once again that where one finds a good person, one often finds another good person.
■ ■ ■
The players and coaches were out on the field the other day at Morse Stadium on the CSN campus in Henderson, and the Coyotes manager — because Guy Who Enriches Other Guys' Lives As They Do His won't fit alongside Matt Cutler's name in the program — was in the dugout.
He was wearing a navy blue ballcap with a big yellow "C" on front, navy blue long-sleeve practice shirt with a yellow "C" on the neckband, baggy navy blue athletic shorts with the Coyotes' logo on one leg.
He was encouraging the CSN player in the batting cage to "C'mon, really, really hard."
I asked Matt Cutler where Sean was, and he pointed to the pitcher's mound, where Larimer was throwing batting practice. Larimer nodded. He'd be over in a minute.
So I'm standing there with Matt Cutler, and I had planned on talking to him anyway, so …
"Who's that in the batting cage?"
"Chevas. C'mon Chevas!"
I asked Matty if Chevas Numata, an infielder from Hawaii, was any good.
"Yeah. That's my team. I like the Coyotes."
Maybe it wasn't exactly talking baseball with Tony La Russa. But it was still two guys talking baseball, and when Sean Larimer was done pitching B.P., it was three guys talking baseball, and movies, and other things.
Matt Cutler said his favorite movie was "Wreck-It Ralph." He has seen it like a hundred times, though I gathered from Larimer one can sort of get the gist of it after one or two screenings.
Sean takes Matty to a lot of movies, and on his 26th birthday he took him to a UNLV basketball game, and Matty got his picture on Redd Vision on the scoreboard because Sean knows a few guys.
Before I will leave CSN on this day, Nick Garritano will tell me how Matt Cutler has taught him more about life than winning or losing a baseball game ever could, and Sean Larimer will tell me how he considers Matty not a friend, but a brother.
And later, when I talk to Donna Cutler, Matt's mom, on the telephone, she will tell me how she loves those guys for loving her son.
Las Vegas Review-Journal sports columnist Ron Kantowski can be reached at rkantowski@reviewjournal.com or 702-383-0352. Follow him on Twitter: @ronkantowski.