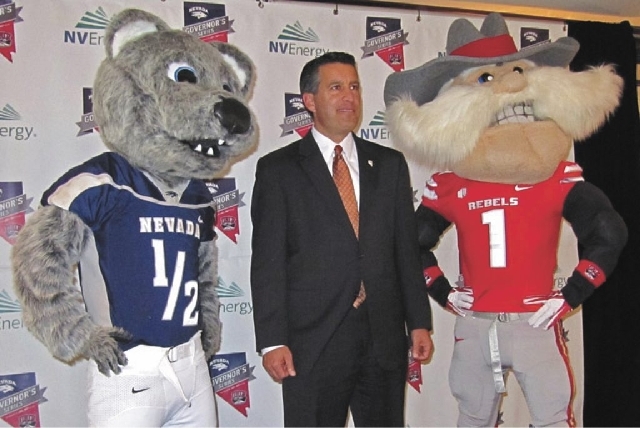 If one had to rank the Nevada Governor's Cup in the pantheon of cups, or even in the cupboard of cups, one probably would put it somewhere after hockey's Stanley Cup and somewhere before whatever protective device Yogi Berra wore while warming up Whitey Ford.
But it's nowhere as cool as Sir Herkimer's Bone, the trophy for winning the annual football game between Rancho and Las Vegas High.
I have yet to see so much as a picture of the Governor's Cup, which Nevada Gov. Brian Sandoval presented to UNLV president Neal Smatresk at this month's Board of Regents meeting in Reno.
UNLV earned the inaugural Governor's Cup by beating the wolf snot out of rival UNR in the inaugural Governor's Series. The final score, using a modified Stableford system (not really), was 37.5 to 10.5.
Actually, these are the rules: Each time the Rebels and Wolf Pack come together in the spirit of athletic competition and in the spirit of swearing at one another, three points go to the winner. Another three points are awarded to the rival with the highest Academic Progress Report at season's end. UNLV also won the APR.
(The APR is sort of like the NFL's passer rating in that nobody truly understands it. Here's how it was explained to me: Princeton and Stanford are like Aaron Rodgers and Peyton Manning, and the Connecticut men's basketball team is like Mark Sanchez. Or like "Bluto" Blutarsky in "Animal House" — 0.00 GPA, and there goes seven years of college down the drain. Might as well join the Peace Corps.)
In time, the Governor's Cup might grow in stature. Or it might become the Nevada equivalent of the MBNA/MasterCard Roger Crozier Saving Grace Trophy, presented annually to the hockey goalie with the highest regular-season save percentage, provided the goalie played at least 25 games.
What it means for now is that UNLV is better than UNR in every sport except football, cross country and indoor track and field — and women's soccer, which was a tie.
Some say that football is the only sport that matters between UNLV and UNR. But most of those people live in Reno or hail from one of the flannel shirt counties, and thus their opinions must not be taken seriously. Or so said former UNLV football coach Mike Sanford, who specialized in losing to UNR and complaining about lousy locker rooms.
"This should be a sense of pride for Rebels everywhere, inside and outside the state of Nevada," said Jim Livengood, UNLV's outgoing athletic director, in a statement.
"Thanks to Governor Sandoval for starting this series, and NV Energy and Barrick Gold for their sponsorship."
(Athletic directors are like stock car drivers. They never forget to thank the sponsors and rarely have anything nice to say about Danica Patrick.)
Perhaps the student-athletes — as well as the football and basketball players — from the winning school should get to spend a day with the Governor's Cup, the way hockey players get to spend a day with Lord Stanley's Cup.
They could drink Red Bull from it, maybe take it to a kegger at a frat house, maybe even escort it to some exotic location, such as backstage at the Electric Daisy Carnival, or to one of those stores across from campus that sells CliffsNotes and Birkenstocks.
And then someday there will be a Keeper of the Cup, and he'll wear white gloves to handle it, so he doesn't smudge the names of the tennis team and the swimmers and divers and all the UNLV basketball players who left school early or transferred so they could jack up even more ill-advised 3-point shots.
But as I said, these things take time.
I remember when Lefty Driesell, the former basketball coach at Maryland but a Duke graduate, said if the Terrapins were ever to win the Atlantic Coast Conference championship, he was going to strap the trophy to the hood of his car, drive around North Carolina all day and honk his horn.
Someday Neal Smatresk may do the same with the Governor's Cup.
Perhaps the UNLV president will paint his face scarlet and gray (again). Perhaps he'll tie the trophy to the luggage rack of a rented Prius like Aunt Edna in "National Lampoon's "Vacation," head south on U.S. 95 and keep honking until he gets to Tonopah.
When I asked Tina Kunzer-Murphy, UNLV's interim athletic director, about the whereabouts of the Governor's Cup, she said she should would have to call me back. She did, and said the Governor's Cup was in the mail. Like a check to the power company or something.
So I still don't know what the trophy looks like.
A Google search turned up only a Governor's Cup that appeared to be made of acrylic and resembled a vase. This was the Donald W. Reynolds Governor's Cup, awarded annually to a college with a novel business plan.
Don Reynolds was the former owner of this newspaper. This year, Arkansas-Little Rock won the Arkansas Governor's Cup for creating a high-quality organic fertilizer from Asian carp.
That might not be as difficult as containing UNR's vaunted pistol offense. But at least the Little Rock kids received one of those big checks and had their picture taken with the trophy.
Las Vegas Review-Journal sports columnist Ron Kantowski can be reached at rkantowski@reviewjournal.com or 702-383-0352. Follow him on Twitter: @ronkantowski.