UNLV finally breaks ceremonial ground on football complex
January 23, 2018 - 6:58 pm
Updated January 23, 2018 - 7:33 pm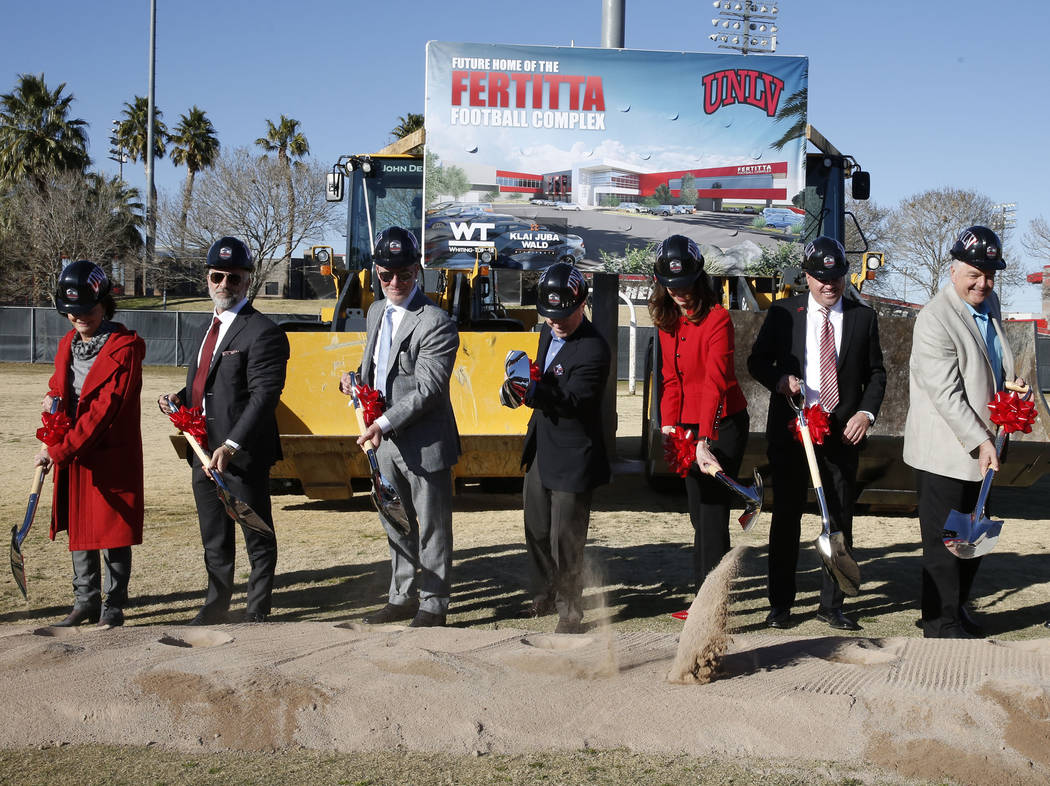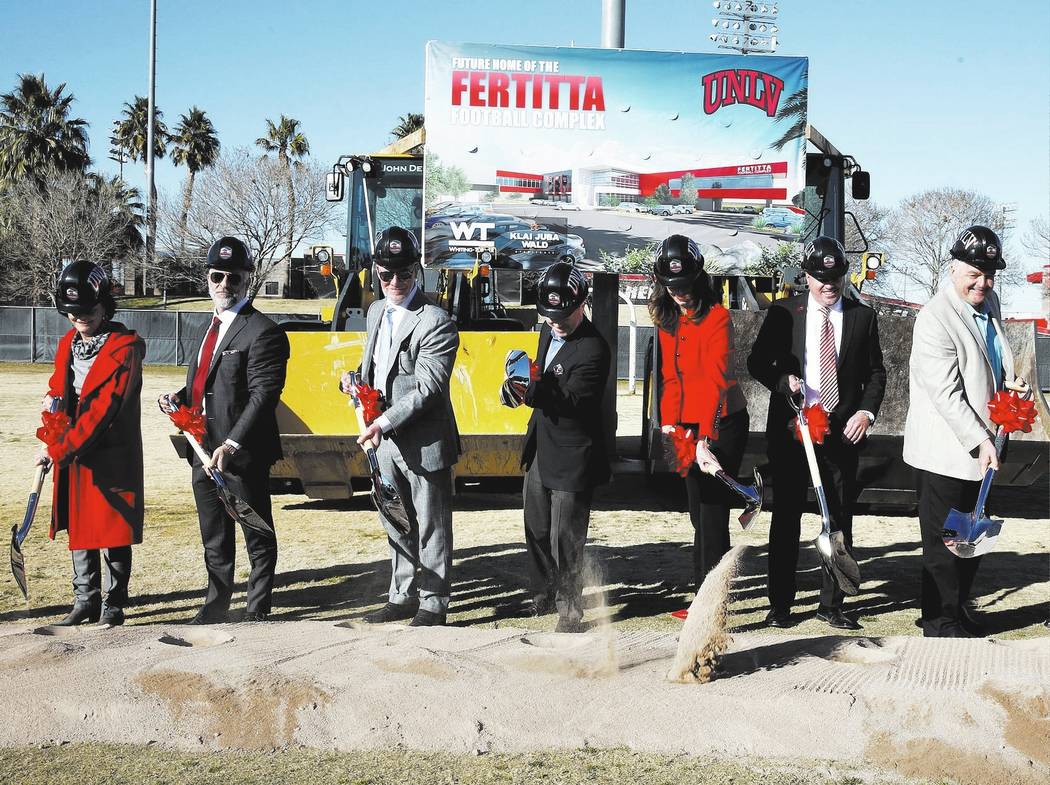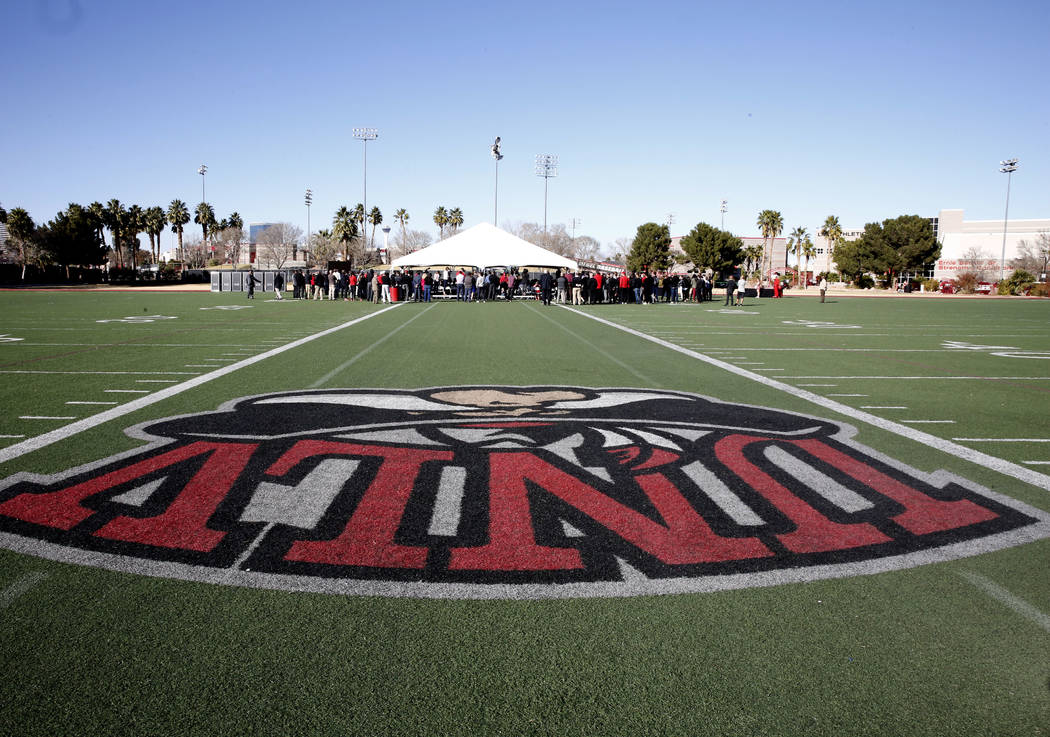 Ceremonial ground finally was broken on UNLV's proposed football building Tuesday afternoon .
Not just the ground for the fence posts and sign that said it would be coming in (insert year here). The actual building. Many expected this bit of pomp and circumstance would coincide with Tony Sanchez's arrival as coach from Bishop Gorman High three years ago.
Shiny silver shovels with scarlet and gray bows were at long last put into the ground. The $28 million Fertitta Football Complex was announced despite UNLV being about $6 million shy on private contributions it will take to finish the job.
You know what longtime observers of the program must be thinking: UNLV football has come up short again.
If the blueprint doesn't shrink like the one at Cox Pavilion, the football building will consist of 73,000 square feet and will be built on two levels overlooking UNLV's on-campus practice fields. It will include an academic center, locker rooms, offices, meeting rooms, a strength and conditioning center, media room, training table, nutrition bar, training center and player lounge.
And a barbershop.
It sounds really nice. It sounds really big. It sounds really clean shaven. It will have 3,000 more square feet than the football building at Boise State.
On the other hand, a skeptic or longtime observer of the football program (basically the same thing) would say it sounds much like the Lied Athletic Complex that was built next to the same practice fields in 1996.
A skeptic (or one's old man) would say that Walter Payton got himself into shape by running up and down sand dunes.
A skeptic would say that almost every Division I program has these facilities by now, and that when the new football complex is built, the UNLV football, basketball and baseball teams will have their own buildings, and isn't it about time the Rebels start competing for championships in the middling Mountain West?
An optimist, on the other hand, would say the new complex and paying rent to use the new Raiders stadium starting in 2020 is exactly what is needed to take the football program to the "next level."
Sanchez's vision
There were many optimists — Board of Regents chairman Kevin Page, UNLV president Len Jessup, athletic director Desiree Reed-Francois — who addressed a throng of invited guests that seemed larger than the attendance at last season's home opener against Howard.
The longtime observers said it was nice to see UNLV football on center stage. The Golden Knights and Columbus Blue Jackets wouldn't be dropping the puck for another four hours.
"A lot of days of missing meetings and putting on a suit and grabbing a briefcase with some one-page brochures and going out and talking about a vision," said Rebels coach and chief fundraiser Sanchez, whose teams have shown slight improvement but have yet to post a winning season and continue to play in a vacuum.
He said the new football building, scheduled to open in early 2019, will help change all of that.
"We're going to have a state-of-the-art weight training facility, we're going to have locker rooms that will match anybody that we recruit against, team meeting rooms — currently our team meeting rooms are our study hall, team meeting rooms and our position coaches' team meeting rooms. So that's going to be a whole different deal."
Sanchez continued checking off components with his usual enthusiasm and exuberance.
"These are tools that will allow us to be successful, to play at the highest level," he said. "We don't give out participation trophies around here, thank God; they do it too many places. We want to win."
On a table near the golden shovel contributor plaques, one-page brochures said naming opportunities for 37 of the 51 components of the football complex that will take the Rebels to the next level were still available for a price. The handout said naming rights to the barbershop already were spoken for.
The 2018 UNLV football season will mark the 32nd one I have observed. Only four have resulted in more wins than losses. But now there's going to be a football building with a barbershop whose naming rights already have been purchased.
Boise State had better watch out.
Contact Ron Kantowski at rkantowski@reviewjournal.com or 702-383-0352. Follow @ronkantowski on Twitter.
Fertitta Football Complex
Projected cost: $28 million
Money raised: $22 million
Square feet: 73,000
Estimated completion date: Early 2019
Components: Academic center, locker rooms, offices, meeting rooms, strength and conditioning center, media room, training table, nutrition bar, training center, player lounge and others, including a barber shop.