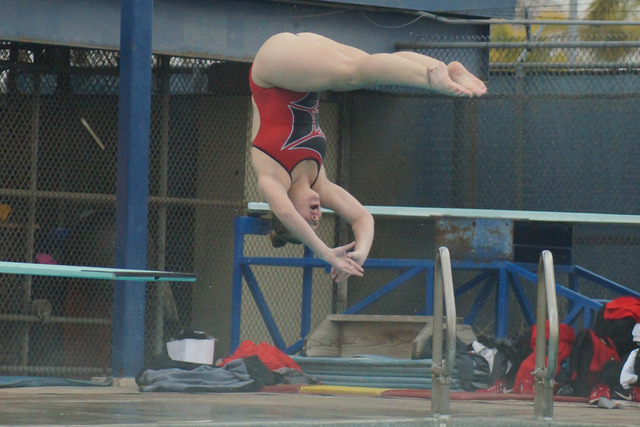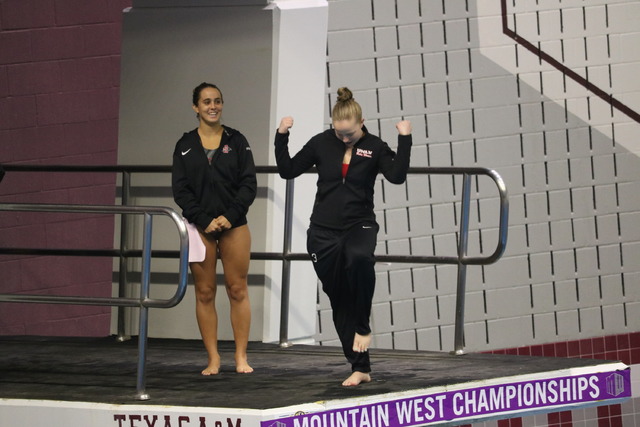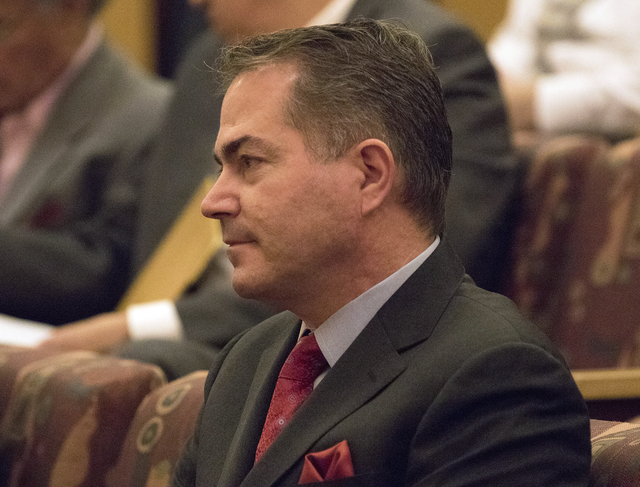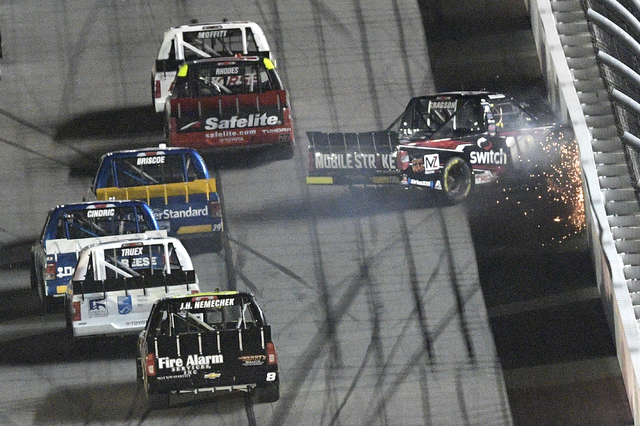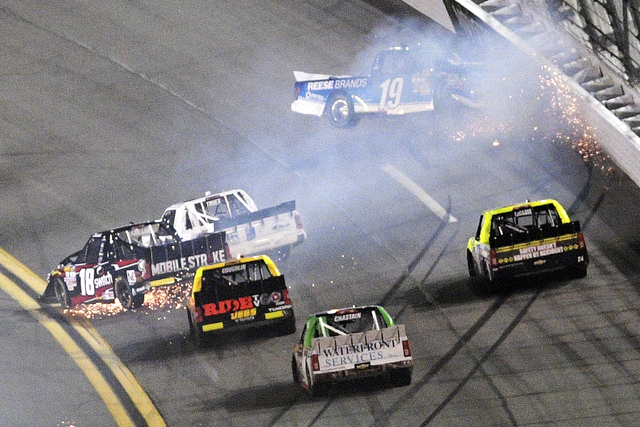 As an all-conference performer on the UNLV women's diving team, Alyssa Arnett is used to taking a plunge.
But the one she agreed to take at the Mountain West championships was not your ordinary dive into the deep end.
With cameras rolling at the Texas A&M Natatorium and Arnett watching from the pool deck, a young man wearing what appeared to be a military uniform ascended the high dive platform. He was carrying placards.
"Alyssa Arnett I Love You," said the first one.
"Will You Marry Me," said the second.
It did not include a question mark, but who cares about punctuation at a time like this?
The other Rebels swimmers and divers broke into screams when Alyssa Arnett's boyfriend held his marriage proposal aloft.
Someone with the TV crew handed Alyssa a microphone as she put her hands to her face to cover her mouth.
"Yes," was the answer from the 19-year-old sophomore from Spring, Texas.
Her young man — his name is Myles Groening, and he's in the Navy — clutched a jewelry box and nervously shifted his weight from side to side as the bride-to-be climbed the steps. They shared a long embrace and a short kiss.
No, they did not take the plunge into the pool. But I still give them a 10 or whatever a perfect score in diving is, because a proposal like that has a high degree of difficulty requiring tons of technical merit and artistic impression.
After qualifying for the #MWSD finals, @UNLVswimanddive's Alyssa Arnett says YES to her boyfriend's unique proposal. Congrats to the couple! pic.twitter.com/5s73XjHq2g

— UNLV Athletics (@UNLVathletics) February 18, 2017
ROYAL HAYES-ING
The words were brief, the message loud and clear.
"There's some serious problems with UNLV athletics," Regent Trevor Hayes said in a stinging assessment about the lack of performance by the school's football and basketball teams, part of colleague Gilbert Manzano's story in Friday's newspaper.
This is what is brought to light when one loses to Air Force by 23 points in basketball.
Outgoing athletic director Tina Kunzer-Murphy mentioned the Rebels' success in the Olympic sports, which is nice for those who play them, but is not relevant to this discussion given success in the Olympic sports does nothing to alleviate a near $5 million budget deficit.
Ongoing President Len Jessup mentioned a new football training facility that doesn't exist, and improved APR scores. APR stands for Academic Progress Rate.
Last year it was the outgoing athletic director who mentioned APR, which shows where talking up an improved APR will get you.
The average fan will trade three A's at the end of the bench for one C minus who can score and rebound or block and tackle.
In a perfect world, that's probably not the way it should be.
In the real world, that's just the way it is.
SHORT NIGHT FOR NOAH
For one lap, the kid looked pretty good.
Noah Gragson, the 18-year-old Las Vegan who was driving his first NASCAR Truck Series race in the Kyle Busch Motorsports colors, was running in the lead pack Friday night at Daytona when he was tapped from behind by fellow rookie Chase Briscoe. That set off the first "Big One" of the NASCAR season — roughly a third of the field went crashing out of control, and Gragson and six others were eliminated after having completed only one lap.
"I didn't want to end the race like this, but I had a good time for the lap I got," the personable teenager said of a race that was marred by big crashes, including a last-lap melee that sent Matt Crafton's truck flying through the air on the backstretch.
Spencer Gallagher, another Las Vegan, ran among the leaders before being assessed a pit road penalty for speeding. He was credited with 13th place.
Kaz Grala wins #NASCAR Truck Series opener after Matt Crafton flips #daytona @disupdates @NASCAR_Trucks #Speedweekshttps://t.co/rx5khOWYyl pic.twitter.com/lzGEskMVxi

— (((Mike Reader))) (@mreader) February 25, 2017
BOTH OARS IN WATER
In a little more sedate form of racing, the Lake Las Vegas Collegiate Invitational — billed as the first collegiate rowing regatta in Nevada history — is scheduled March 4 and 5 at the man-made lake and resort community on the outskirts of Henderson.
Men's teams from Oregon State, California, UC Santa Barbara and San Diego State, and nationally ranked women's teams from Washington and Southern California will compete, along with Nevada State College.
The Olympic, collegiate, club and high school sport was introduced in Las Vegas last year with formation of the Lake Las Vegas Rowing Club and Las Vegas Scorpions men's and women's programs at Nevada State under the guidance of noted rowing coach and enthusiast Jim Andersen.
Races are from 9 to 11 a.m. and 3 to 5 p.m. March 4, and from 9 to 11 a.m. March 5. Visit llvrc.com for details.
0:01
Former UNLV interim and current Southern Utah basketball coach Todd Simon, on the difference between the Mountain West and Big Sky conferences:
"I went from a one bid, No. 14-seed league to a one bid, No. 15."
Contact Ron Kantowski at rkantowski@reviewjournal.com or 702-383-0352. Follow @ronkantowski on Twitter.