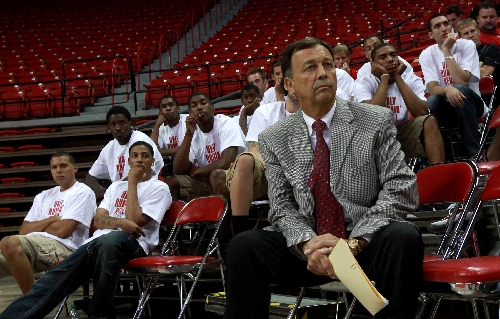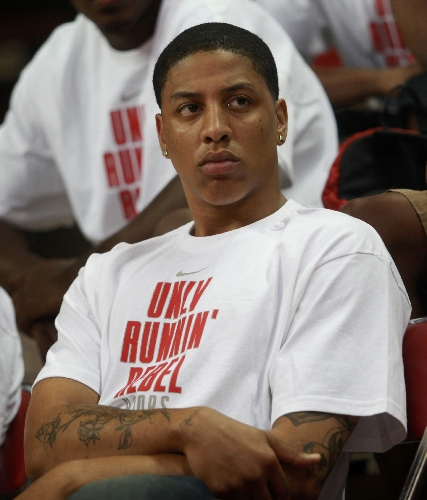 There were long ones, tall ones, short ones, brown ones. Black ones, round ones, big ones, crazy ones. (Well, crazy might be too strong a word to describe John Gianninoto, who led his fellow UNLV seniors in a rendition of the fight song that fluctuated between rousing and coerced under duress while being held hostage in an abandoned warehouse. Let's just label the outgoing offensive lineman "eccentric.")
It was billed as the first UNLV Athletics All-Staff, All-Student-Athletes Meeting, which pretty much described it. It sort of reminded me of that old song "Spill the Wine," by Eric Burdon and War.
I dreamed I was in a Hollywood movie. Out of the middle came a man — not whispering in my ear, or doing something else in it and telling me it was raining, a la his predecessor, but speaking over a microphone at the Thomas & Mack Center. Relatively new athletic director Jim Livengood was telling the long ones, tall ones, short ones, brown ones, black ones, round ones, big ones and John Gianninoto what was expected of them as student-athletes.
And what they should expect in return.
Actually, it was relatively new UNLV president Dr. Neal Smatresk who did most of the heavy lifting. He outlined the do's and don'ts that come with being a UNLV athlete. There were a few more don'ts than do's.
Some of it was rhetoric.
Some of it was required, by the Knight Commission, one of those heavy-handed commissions than uses catchwords and phrases such as "educational mission" and "public transparency" and "Where does Brigham Young get off, anyway?"
Some of it was just sound advice.
Smatresk vaguely alluded to off-the-field incidents that resulted in football recruiting coordinator Ty Gregorak losing his job and basketball star Tre'Von Willis retaining legal counsel.
"People are counting on you behaving the right way," Smatresk said. "If you fail to set this standard, it could be news. In many cases, it is news. That's not the kind of news you want to generate."
Although Smatresk was lecturing, it didn't sound like it. He has a lilting voice. He comes across like Mr. Van Driessen from "Beavis and Butt-head."
There might be a time, depending how these charges that a female acquaintance have levied against Willis play out, when he has to come across like that R. Lee Ermey guy on TV, or Sgt. Hulka from "Stripes."
But not on Monday. There was no need for an angry big toe on Monday.
Smatresk cautioned all those Rebels on the evils of gambling and that "the Mountain West Conference would be watching," at least when the Texas Christian-Utah women's basketball game doesn't go into overtime. He also commended one of last year's UNLV placekickers for taking a ginormous 21-hour class load, wondering how he managed. My guess: Poor field position.
I was seated between the UNLV football team, which still looked a little tired from training camp in Ely or UNLV orientation, I couldn't tell which, and the basketball team, which still looked tall.
At least in comparison to the football team. Smatresk wasn't looking directly at either team when he spoke. He didn't have to. It is those student-athletes' ability to combine athleticism with citizenship by which the UNLV athletic program will be judged. There was no need for the swimming team, or the women's tennis team, to be there. They already get it. For those who care.
When Livengood introduced the head coaches, I noted there were five new ones. Among 14 total. There is a relatively new president. A relatively new athletic director. A brand new journalism building, attached to a monolithic sign/nameplate thing on its facade that looks large enough to launch spaceships to distant galaxies. (Perhaps a sprig of ivy would reduce the ostentatiousness.)
There seems to be a new, palpable feeling within the athletic program. A feeling, or even a belief, that UNLV can be good. That it can be smart. That it can be both. That it can — that it must — abide by the rules.
Jim Livengood thinks UNLV can become the hall of the mountain kings. He thinks it can stand high by the mountaintops.
Spill the wine. Dig that girl. Beat BYU. Cover the spread against Wisconsin. (But don't bet on the game.)
On Aug. 23, anything seems possible.
Las Vegas Review-Journal sports columnist Ron Kantowski can be reached at rkantowski@reviewjournal.com or 702-383-0352.