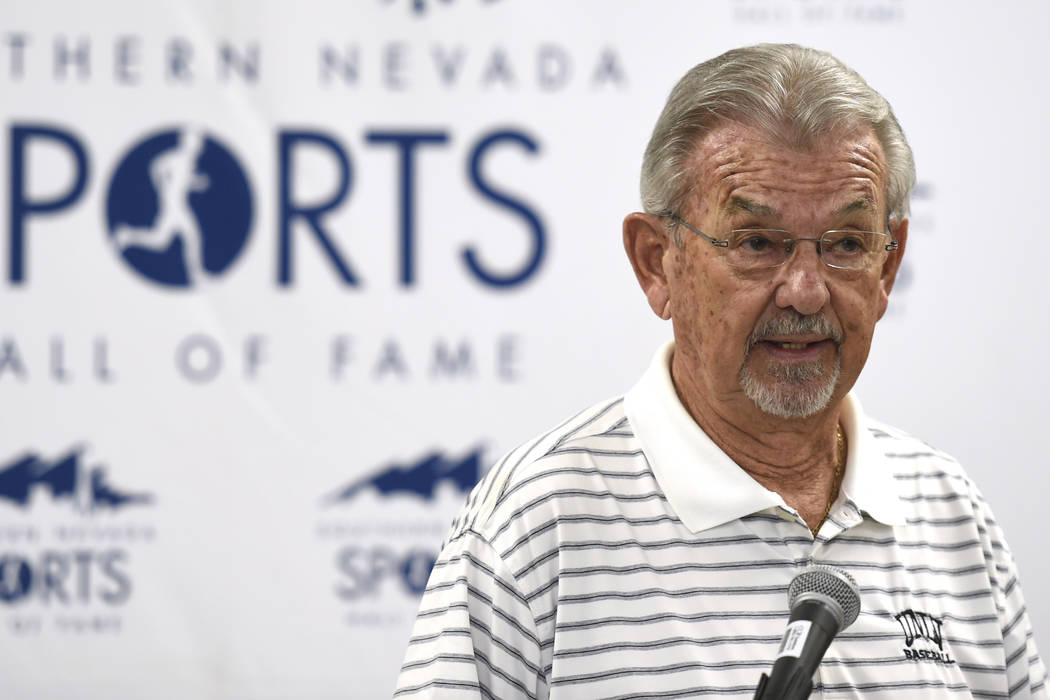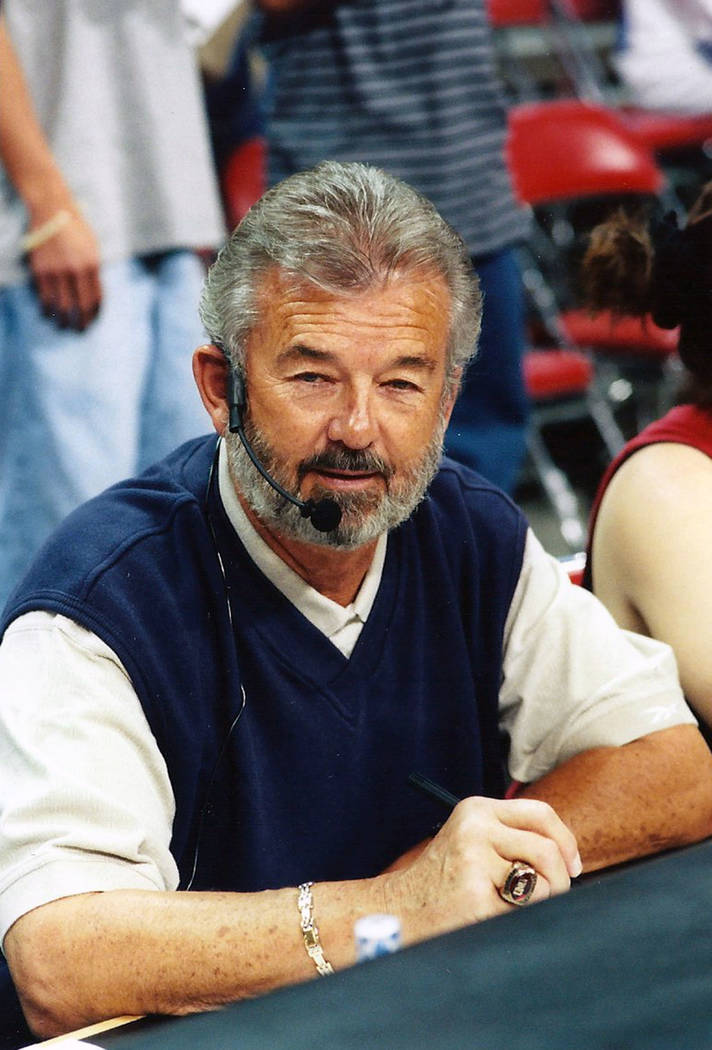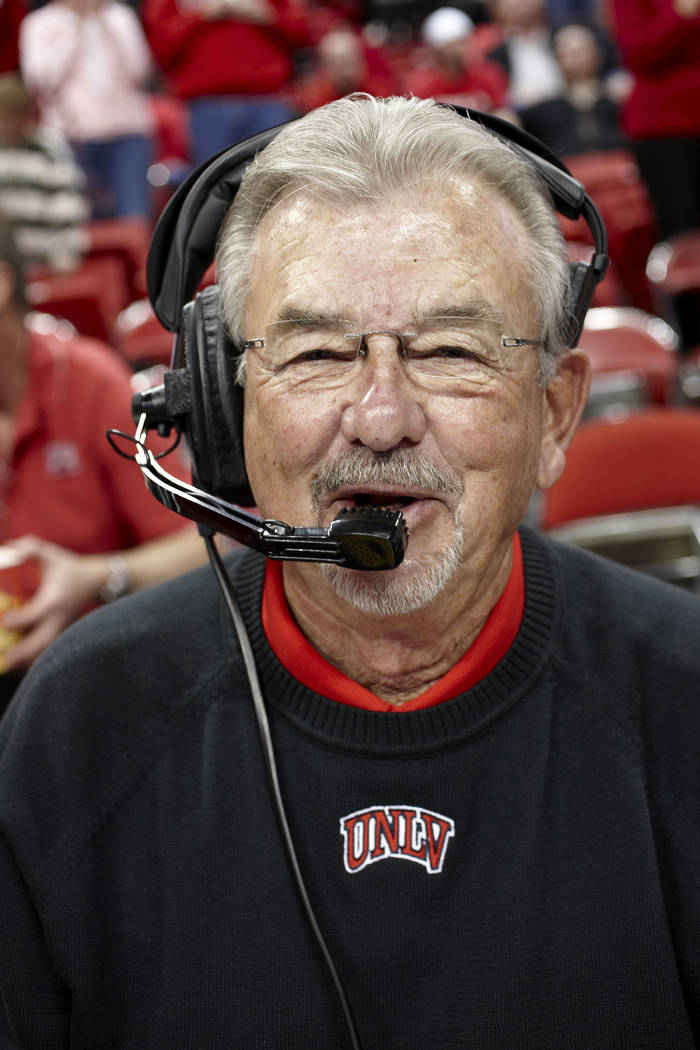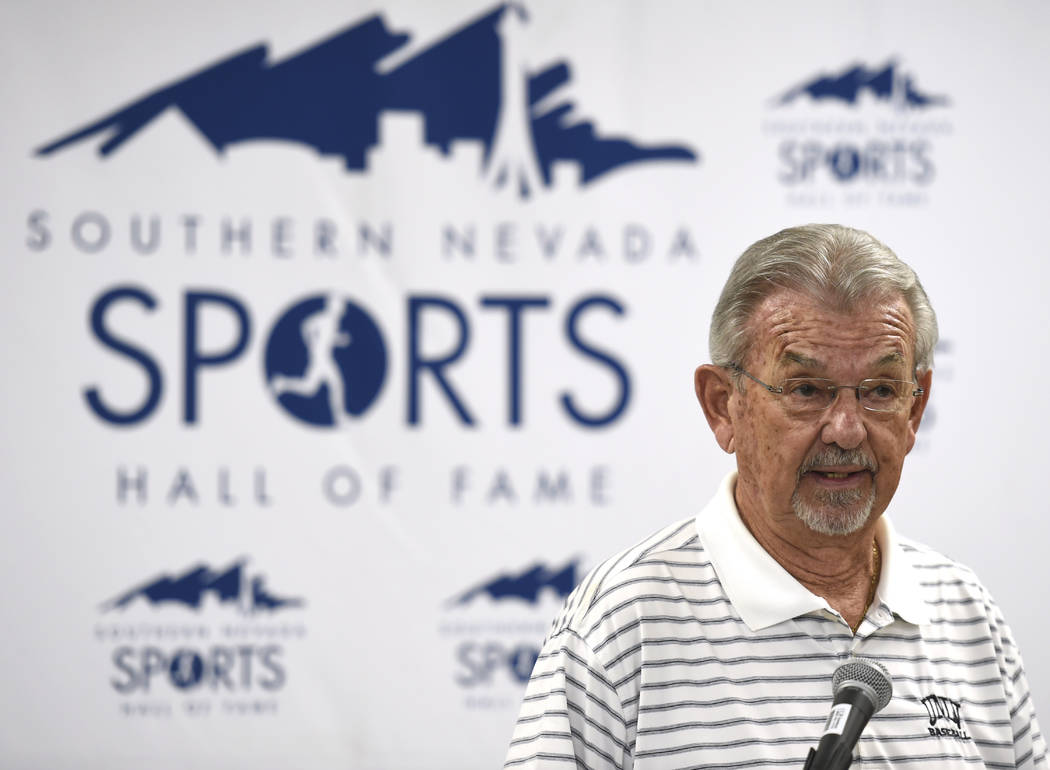 As you are reading this, a kid at Sunset Park probably is shooting baskets, and he (or she) probably is effecting an impression of Dick Calvert, UNLV's longtime public address announcer.
"THREE-point goal-l-l … (insert playground basketball shooter's name here)."
Remember when the Rebels were in their basketball heyday, and Calvert's catchphrase became part of the soundtrack for a national championship?
"THREE-point goal-l-l … Anderson Hunt."
There was a cadence to it, a high pitch followed by a low octave, and the Thomas & Mack Center would be rocking like Neil Young in the free world. And you would feel a little shiver down your backbone when Calvert confirmed Hunt had just hit another 3-pointer.
Calvert was inducted into UNLV's Athletics Hall of Fame on Thursday under the heading of "distinguished contributor," which is what he has been for the past 47 years — ever since he moved to Southern Nevada after serving as a Dodgers scout when Walter O' Malley still owned the team.
"You'd have a 3-point goal, and all these other announcers — they had all these flamboyant (histrionics), and (by the time they finished) the team would be up and down the court two more times. I needed something quick and to the point," Calvert said about the origin of his catchphrase.
"That's when it came about — it was Anderson Hunt. But when it really came to fruition, it was Reggie Manuel."
Calvert did a low-key impression of what he would say when Manuel, who made 155 of 435 3-pointers during the early 1990s, would sink one from beyond the stripe.
Calvert soon will turn a youthful 81, and says he still has a bucket list of sports (and other) things he would like to do.
"I'm not planning on dropping the microphone, so don't get me going in that area," he said, which should come as great news to Rebels-in-waiting shooting baskets at Sunset Park, and for legions of Rebels fans who have felt the little shiver down their backbone.
Hailey's second pitch
Those who are impressed by little girls with courage might remember a story about Las Vegan Hailey Dawson, who threw out the first pitch at a Baltimore Orioles game in 2015 with her "special" hand — a plastic robotic prosthesis that has helped her overcome Poland Syndrome, a rare condition that has left her with only a pinkie, thumb and palm on her right hand.
Thanks to an assist from fellow Las Vegan Bryce Harper, young Hailey is limbering up her pitching hand again. The two met before Harper left for spring training, and Bryce apparently has set it up for Hailey to toss out the first pitch before the Nats play the Rangers on June 11.
"Our goal is for Hailey to throw out a first pitch at every major league ballpark," said her mom, Yong. "UNLV is building Hailey a Nationals-themed hand for this occasion. For each pitch, we bring awareness to Poland Syndrome and the robotic hand."
0:03
— Remember when Lon Kruger was returning UNLV to basketball prominence by molding transfers from four-year schools into cohesive units, much to the chagrin of Wisconsin's Bo Ryan? The most scholarship transfers Kruger had in a season was five. UNR's Eric Musselman will have 10 next season. Since becoming coach, 14 of the 19 players Musselman has signed have been transfers.
— Monmouth College, an NCAA Division III school in Illinois, started a women's lacrosse program this year, and Amanda Green, a freshman midfielder from Basic High, scored 13 goals and added 10 assists en route to making the Midwest Women's Lacrosse Conference sportsmanship team for the Fighting Scots.
Proud of Kara-Jade Gordon & Amanda Green, named all-conference for women's lacrosse. #RollScots https://t.co/8GHz1bMVd2

— Monmouth Athletics (@MCFightingScots) May 4, 2017
— Readers without internet access have inquired about the big amateur wrestling match in the 74g (163 pounds) division at the U.S. Open wrestling championships at South Point. Three-time world champion Jordan Burroughs and four-time NCAA titlist Kyle Dake battled to a 2-2 draw, with Burroughs awarded the decision on criteria. A grappling pal said they should just put both guys' pictures on a Wheaties' box.
Champ some days. Daddy everyday. pic.twitter.com/bwtOUAffLt

— Jordan Burroughs (@alliseeisgold) May 5, 2017
Contact Ron Kantowski at rkantowski@reviewjournal.com or 702-383-0352. Follow @ronkantowski on Twitter.
The Calvert file
A look at the career of Dick Calvert, who was inducted into UNLV's Athletics Hall of Fame on Thursday:
Years of service: 47
Nickname: "Voice of the Rebels"
Job description: Public address announcer for UNLV football, basketball, men's and women's soccer, baseball and other events. Also has served as game announcer for the Mountain West basketball tournament, the Las Vegas Bowl and the NBA Vegas Summer League. Moonlights as a liaison for pro baseball scouts at Cashman Field.
Personal: Calvert and his wife, Anne, have four children and 10 grandchildren.
Did you know: Calvert was a pro soccer broadcaster for 18 seasons, working three World Cups, and once called a game from Sam Boyd Stadium featuring legends Pele of Brazil and Eusebio of Portugal?