UNLV's Sanchez already getting Hyde praise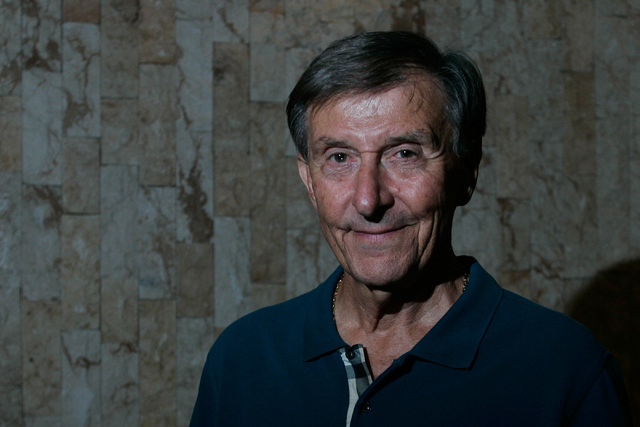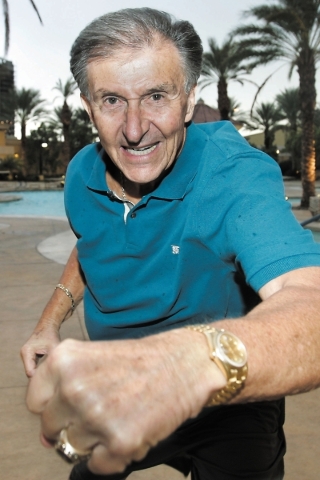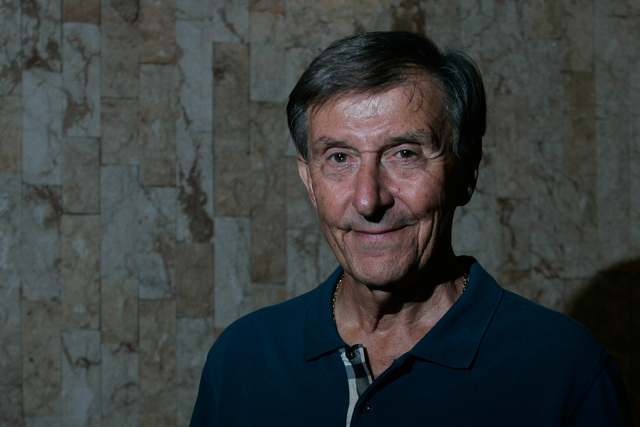 Twice in the past week Harvey Hyde's name has come up in conversations with sports pals. These were colorful conversations.
The first time was at the free Las Vegas Bowl/UNLV football clinic for kids. In speaking of Tony Sanchez, the new Rebels coach just up from the high school ranks, another longtime observer of the local football scene said "he had a little Harvey Hyde in him."
He thought this was a good thing, given the perennially sorry state of the UNLV football program.
Hyde hasn't coached the Rebels since the 1980s, when the Rebels weren't so perennially sorry in football.
It was the last time UNLV posted back-to-back winning seasons.
The NCAA later would "vacate" these winning seasons, or whatever the organization calls it when you use an ineligible player and it makes you take down a championship banner.
Clerical errors happen sometimes. Apparently, they happened with Sanchez and his first UNLV recruit. But they always seem to happen at places such as UNLV and rarely at places such as Alabama. I'm sure it's just coincidence.
Anyway, when you've been down for as long as UNLV has in football, you're going to have to take an occasional risk on the recruiting trail — you might have to accept an Alabama reject or two, or maybe go for a quick fix via the junior colleges. Longtime observers of the local football scene are aware of this.
They agree that when you've been down since Gatorade came in a glass bottle, and you don't have nice facilities, you might have to take a sketchy kid or two from the junior colleges — as Kansas State did when Bill Snyder was put in charge. Then you hope they don't steal a stereo from a dorm room. Most didn't at Kansas State.
The Mountain West is not considered one of the premier college football conferences. And yet UNLV's all-time winning percentage of .405 places it at the bottom of the bottom feeders in a league consisting of Boise State and 11 flounders.
My fellow longtime football observer said he believes Sanchez would do "whatever it takes" to improve that percentage.
So that was the first time Hyde's name up.
The second time was when a mutual friend forwarded a news release from Pasadena City College that said Hyde would be inducted into the Hall of Fame there.
As fate would have it, the old coach (in years only) is going in alongside Pasadena's undefeated 1938 football team. In the team photo that came with the news release, you can see the faces of three African-American players. So Pasadena CC was way ahead of Alabama on one count.
One of the African-American faces you can see is Jackie Robinson's.
So in the news releases and stories that go out before the ceremony, it will say that Jackie Robinson and the undefeated 1938 Pasadena CC football team are being inducted into the Hall of Fame. And then toward the end it will say that others being honored include Harvey Hyde, a Pasadena native who coached the Lancers to a 25-7 record in three seasons before moving on to UNLV, where he coached Randall Cunningham; and Matt Young, who pitched 10 years in the big leagues.
So now Hyde and Young know what it was like to be Farrah Fawcett, or at least the loved ones she left behind.
When the actress died of cancer June 25, 2009, Michael Jackson died later the same day — and that was the last you heard about Farrah Fawcett posing in that iconic red bathing suit for a while.
Robinson died in 1972, between when Harvey Hyde played and coached at Pasadena. They never met, but I knew Hyde would have a story.
He said Robinson played four sports at Pasadena — the three major ones and track and field — and that one time during a baseball game, Robinson went over to the long jump pit before you could say his name and won it.
"He'd pick up 10 points wearing his baseball uniform," Hyde said.
As for his legacy at Pasadena, Hyde recalls playing offensive tackle for the Lancers when he weighed about 280 pounds. He was a lot more svelte when he coached Pasadena CC, and when asked about going into the Hall of Fame there a couple of years after Jerry Tarkanian, he said he coached the football team with Tark's brother, Myron.
Hyde said he coached some great teams, and some great players, and that when he got the UNLV job, he brought three or four players from Pasadena CC with him.
UNLV would have back-to-back winning seasons. And when clerical errors were discovered and the Rebels had to leave a bunch of good players at home, they still beat Toledo in the California Bowl, 30-13.
Las Vegas Review-Journal sports columnist Ron Kantowski can be reached at rkantowski@reviewjournal.com or 702-383-0352. Follow him on Twitter: @ronkantowski.