UNR-UNLV TV deal still has some viewers in dark
September 25, 2011 - 1:00 am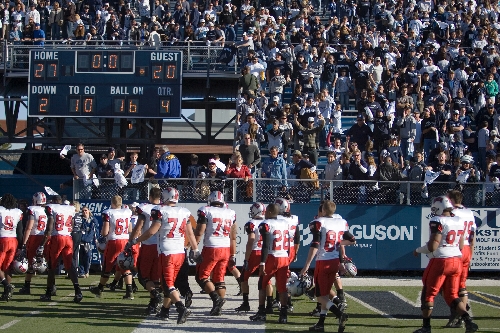 Whenever I mention that UNLV has a lousy TV deal and somebody disagrees — which isn't often — I also mention the 2009 UNR-UNLV football game from Reno was not shown here.
Then I usually make a new friend. Even if the Rebels did allow 773 yards and 63 points.
Any TV deal that does not provide for TV coverage of the UNR-UNLV game is a lousy TV deal.
UNLV athletic director Jim Livengood also thinks UNLV has a lousy TV deal, though when he speaks of it, it is in diplomatic terms — as stated before, when Livengood speaks about anything, it is always in diplomatic terms. Ask him about Marty Fletcher, The Mtn.'s garrulous basketball analyst, and he'll speak diplomatically. Livengood is Ward Cleaver among Mountain West athletic directors.
But at least when this year's UNR-UNLV football game was not scheduled to be televised, Livengood fired up his pipe and diplomatically did something about it.
Thus, the Oct. 8 game from Reno will be shown on Cox Cable 96, the channel on which town hall meetings and San Diego Padres games are shown, using an independent production company.
Tim Neverett, a former Rebels football radio announcer and the current voice of the Pittsburgh Pirates, will call the action; former NFL linebacker Brant Boyer will serve as analyst.
"Since the Wolf Pack's television rights-holders (ESPN) chose to not pick up the game, we jumped at the chance to bring it back for our fans in Southern Nevada," Livengood said. "We certainly want to thank Wolf Pack AD Cary Groth for her help in getting the rights clearance for us to show the game down here."
Don't you just love this new spirit of cooperation between the two athletic directors?
(I'm sure that the fact UNR and UNLV soon will be BFFs in the Mountain West had nothing to do with it.)
Mr. Gorbachev, tear down this wall! And hire a production crew. This is better than glasnost, except Molly Sullivan won't be reporting from the sidelines.
Of course, it's only better than glasnost for Cox Cable viewers. Satellite subscribers are pretty much out of luck, though maybe by then, DirecTV will add the Longhorn Network.
And then those viewers will be able to watch a rowing match featuring the Texas women, or former Longhorns fullback Roosevelt Leaks crochet an afghan, while what is left of the Big 12 twists in the breeze along with deposed commissioner Dan Beebe's hat.
THREE UP
■ One of those viral videos making the rounds shows delirious Ohio U. football players rolling on the ground after learning they would get to wear black jerseys for their big game against Marshall. This, for some reason, called to my mind the 1988 season when Ohio's Cleve Bryant and UNLV's Wayne Nunnely became the first African-American head coaches to oppose one another in what was then Division I. The Rebels won, 26-18. Nobody rolled around the ground in delirium.
■ Bryant and Nunnely, the defensive line coach for the Denver Broncos, were college football's third and fourth black Division I head coaches. Currently, 11 black head coaches are in the Football Bowl Subdivision. Four — Jon Embree at Colorado, Turner Gill at Kansas, Mike London at Virginia and Joker Phillips at Kentucky — coach at Bowl Championship Series schools. The other 116 are glad they aren't named "Joker."
■ I received an email from local auto racing enthusiast Mike Henle that said former Craig Road Speedway legend "Terrible" Tommy Montes has died. Montes, writes Henle, was a character with a flattop haircut who once got into a scuffle with a North Las Vegas police officer in a bar, before handcuffing said officer to a toilet seat with his own cuffs. Let's see Joey Logano try that.
THREE DOWN
■ UNLV can talk until it is blue in the face mask about not taking the Southern Utah football team lightly. But there was a reason tickets to Saturday night's game were 2-for-1.
■ No, UNLV basketball player Chace Stanback did not have an additional game tacked onto his drunken-driving suspension for wearing a tie that was way too short to Thursday's news conference.
■ Plot of "The Hangover III": Bradley Cooper, Ed Helms and Zach Galifianakis get loaded, stay out all night, party with Mike Tyson, don't remember any of it and get suspended for the Grand Canyon game.
Las Vegas Review-Journal sports columnist Ron Kantowski can be reached at rkantowski@reviewjournal.com or 702-383-0352. Follow him on Twitter: @ronkantowski.