UW-Stevens Point embodies purity of D-III basketball
December 29, 2013 - 11:35 pm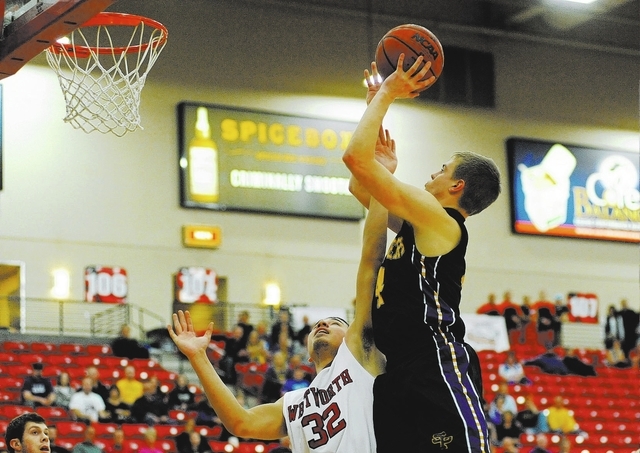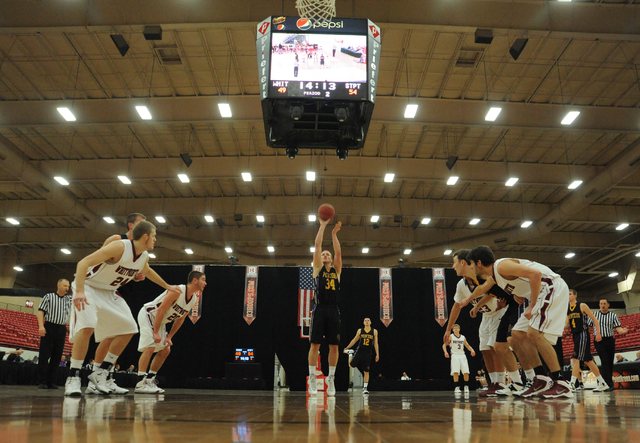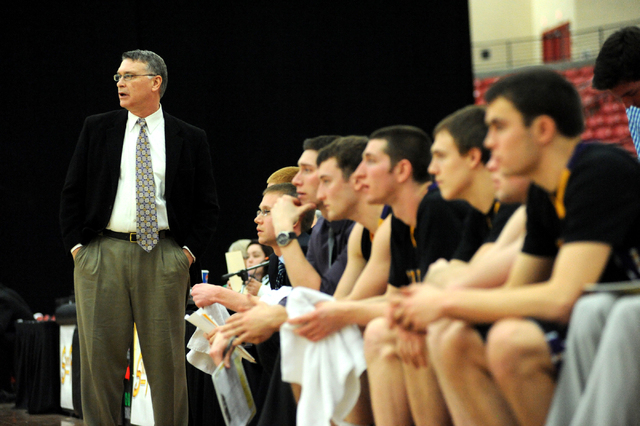 If you were at the South Point over the weekend and made a wrong turn at the Garden Buffet, you might have stumbled onto a basketball game that looked like 1964. Nearly all of the players had short hair, with the taller ones appearing to be 6 feet 3 inches. They did not dunk the basketball. They took care of it, though, and they ran plays. They set screens for each other, passed to each other, cheered for each other.
One team had a guy named Robby Douglas. He spelled his first name with a "Y" at the end instead of with an "IE." He still looked like he could have had brothers named Chip and Ernie and an Uncle Charley at home.
The other team was UW-Stevens Point. Wisconsin-Stevens Point. The Pointers. The best NCAA Division III basketball team in the land.
I had heard of Stevens Point. It was on the beer can.
Stevens Point is a town of around 26,000 that sits like a bull's-eye in the middle of Wisconsin. "It's two hours from everywhere," said a guy sitting next to me under the basket.
Chris Engler, the director of operations at South Point Arena, ought to know. He swam the butterfly at UW-Stevens Point. His wife Alissa swam distance events. She was sitting next to her husband in the seats under the basket. She was the one wearing the gray Pointers T-shirt with the purple and gold accents.
The Stevens Point beer can was either white or light blue. It was hard to tell on the dark side streets when my buddy Dan reached into the back seat and pulled a couple of cans of Point Special from the plastic ring.
Mike Royko, the famous Chicago newspaperman, said Point Special was the best beer he had ever tasted. But that's not the reason we were drinking it while riding around in Dan's old man's Plymouth. We were drinking it because it was cheap, and because Dan was going to school in Sheboygan, Wis.
According to Google Maps, it is 1 hour, 58 minutes from Sheboygan to Stevens Point if the traffic lights stay green in Fond du Lac and Oshkosh.
So Chris Engler was off by two minutes.
Anyway, that was the only time I had heard of Stevens Point, Wis., before Terry Porter.
Terry Porter played 17 seasons in the NBA. Before that, he played for Dick Bennett at Stevens Point, and with Brad Soderberg. Bennett went on to coach at Wisconsin, Soderberg at Saint Louis. In 1984, Porter and Soderberg led Stevens Point to the NAIA championship game at Kemper Arena in Kansas City. Dick Bennett made sure they ran the plays and got back on defense.
In the UW-Stevens Point media guide, there's an entire page devoted to Terry Porter. There's also an ad for a hardware store. "We support UWSP Hoops," it says. Why wouldn't they? UWSP Hoops has won three Division III national championships over the past 10 years. UWSP Hoops is the Duke of D-III hoops.
The Pointers run the plays and they get back on defense and they usually make about 80 percent of their free throws. They go to class. They graduate. Most stand around 6-3. None have scholarships, for scholarships aren't allowed in Division III.
Terry Porter grew up in Milwaukee, but most of the Pointers come from towns such as Baraboo and Winneconne and Iron River and Hales Corner and Wausau. Their parents may or may not operate dairy farms.
"Our guys do the same things they do in Division I. They work hard," says Bob Semling, the Pointers' coach, the guy who led them to the 2010 national championship. Like Dick Bennett and Dick's brother Jack, who coached the Pointers to their first two national titles, Semling has this quiet intensity. But he's also a nice guy. As such, he fits right in at Stevens Point.
Square pegs. Square holes. Run the plays, get back on defense. Go to class, make the honor roll, volunteer in the community. Make your free throws. Make a difference.
That's how it is done at places such as UW-Stevens Point and UW-Platteville, from the same conference, which won four national championships under Bo Ryan, the current coach at Wisconsin.
"The basketball is so pure at this level," Semling said during his postgame news conference Saturday, which consisted of him and me talking behind a black curtain that separated the portable dressing area from the portable playing surface. "Guys are holding down summer jobs, and they are great students. There are no issues when you coach at this level. No egos. These kids just play for the love of the game."
They don't put names on the backs of jerseys in D-III, so I had to look up No. 4 on Stevens Point on the stat sheet. This was Tyler Tillema of Randolph, Wis., which is 1 hour, 36 minutes from Stevens Point. Not two hours, but close enough.
Naturally, Tillema stands 6-3, and he is a step slow. He's left-handed, and he sort of reminds you of Chris Mullin, except he may know how to milk a cow. On Saturday, he scored 33 points as No. 1 Stevens Point remained unbeaten with a 93-75 victory over Whitworth University, a private liberal arts school from Spokane, Wash.
The Pointers ran the plays, ran up and down the court all day, scored 93 points. They turned the ball over only four times.
According to the media guide with the hardware store ad inside, Tyler Tillema's parents are named Bob and June, not Ward and June.
Tillema ran the plays as Bob Semling drew them up. He set screens for his teammates, he passed the ball to them. He cheered for them, and they for him.
That's the way they do it at Wisconsin-Stevens Point in D-III, where the basketball is pure and there are no issues.
Las Vegas Review-Journal sports columnist Ron Kantowski can be reached at rkantowski@reviewjournal.com or 702-383-0352. Follow him on Twitter: @ronkantowski