Vegas Golden Knights deliver on and off the ice
January 8, 2018 - 11:40 pm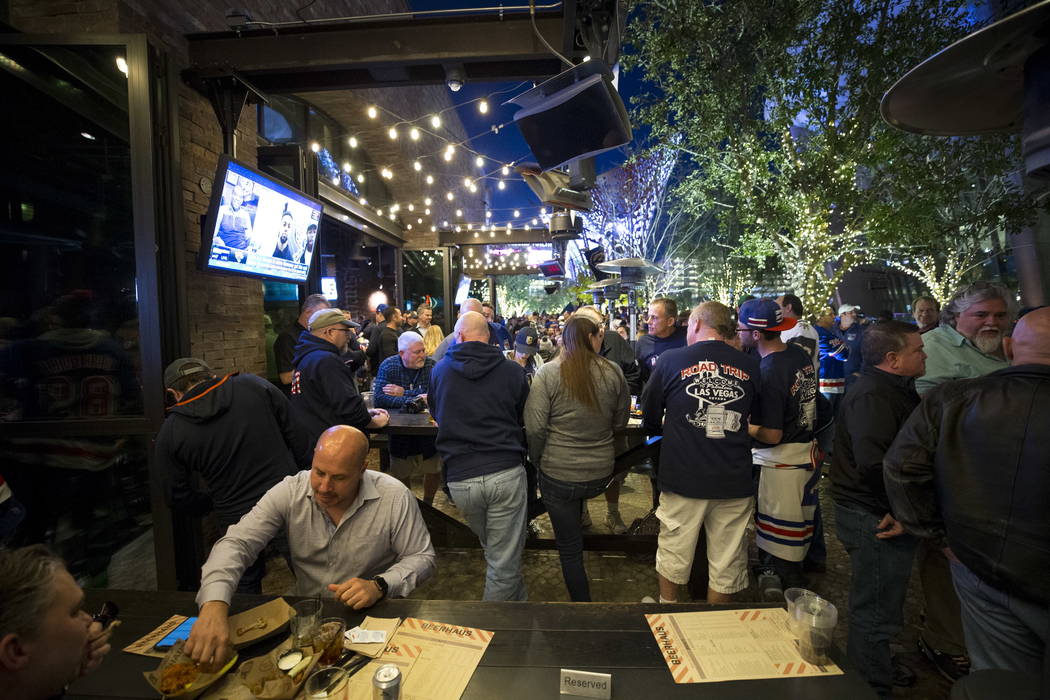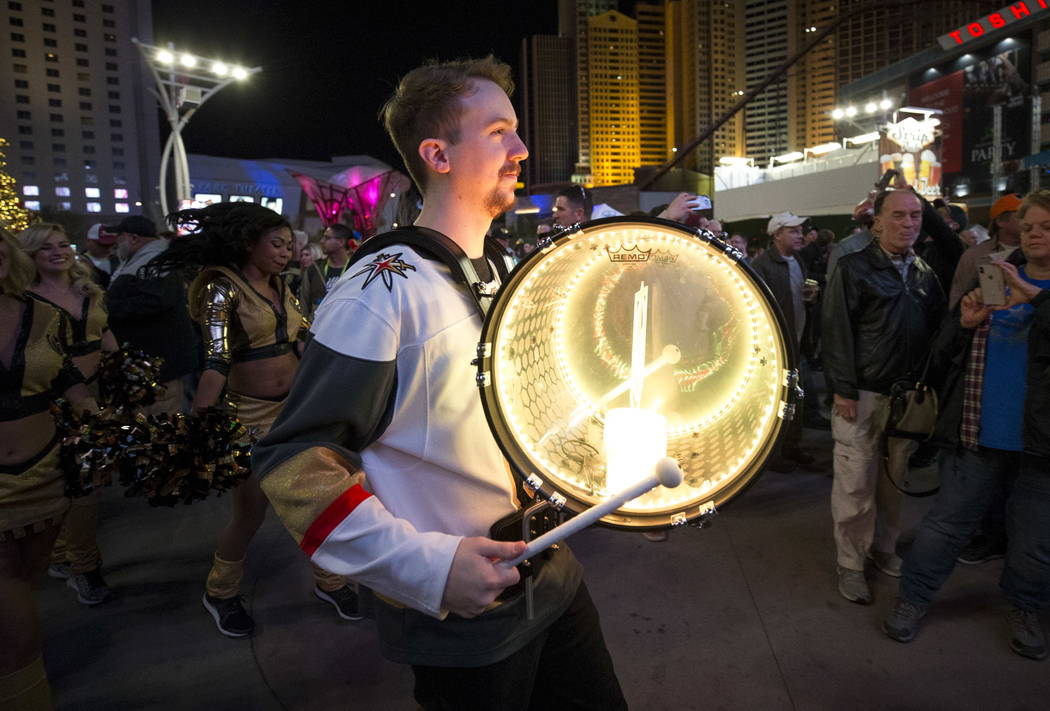 It was 4:30 p.m., and the puck wouldn't be dropped for another two hours. But the Jersey People already had gathered for the latest installment of Hockey Night in Las Vegas.
This is not a reference to puckheads who hail from New Jersey, though with the Rangers in town on Sunday, there was no shortage of those. They jammed into the bars and bistros that form a 100-proof corridor from The Park to T-Mobile Arena, home of the first-place (!) Golden Knights.
I'm talking about everybody who had a belly or some other body part pressed to the bar that was wearing a hockey sweater.
It was as if The Park had been transformed into the sixth New York borough. What a scene. Rangers jerseys easily outnumbered those of the Knights, but that was to be expected. The Rangers have been around since 1926; the Knights have been around since October.
There were a lot of Messiers and Lundqvists trying to forecheck their way into Beerhaus, situated in the neutral zone of the bars and bistros. There were no Vanbiesbroucks.
Closer to faceoff, the Messiers and Lundqvists were joined by the Fleurys and Karlssons. It was a helluva party. It was sort of like young Tom Cruise's house when his parents went on vacation, minus Rebecca De Mornay and her gal pals.
'You guys are the best'
Offering nearly a dozen watering holes and dining patios, none of which ever freeze over, The Park provides a perfect backdrop for a Golden Knights pregame party.
At Beerhaus, beyond the picnic tables on the promenade and out by the cornhole pits and the giant Golden Knights Connect Four game, Knights fan Ryan Francis was making merry with three guys and a woman wearing Rangers jerseys, one of which was his son, Collin.
"It doesn't matter where you come from, when you come here, we all get along," said the elder Francis, who grew up a Rangers fan.
"It's Vegas, so it's a little different than any other place," Chuck Tarantino of West Caldwell, New Jersey, said about the hockey vibe around T-Mobile Arena compared to the one at Madison Square Garden.
Wife Susan was impressed with the hospitality and demeanor of Knights fans. "You guys are the best, you're really nice people."
So, not like Flyers fans at all.
To paraphrase that Under Armour commercial, this is our haus, but we'll save you a seat at the bar.
Official Knights party haus
"Beerhaus is the official pregame fanfest for the Golden Knights, so we (do) a lot of marketing for that," said Anthony Olheiser, The Park's executive director, who was not wearing a hockey jersey and thus stuck out like a goaltender's sore thumb. "It's a great opportunity to let people all over the country know that we're here and hockey is for real."
Olheiser said the idea was to have fans go to a hockey game and have a party break out, but he never envisioned a soiree such as this.
"Having the team play so well, it's been a monster year for us," he said. "Having the locals and the away teams come, it's just been huge. Every game it gets bigger. We have drink specials, we have Golden Knight Ale, we've got 80 beers inside, and 30 on draft."
Who needs the checking line when you have 80 beers inside and 30 on tap?
By the time musical group Vegas Saints started their second set of familiar 1980s pop tunes, it appeared thirsty Rangers fans had sampled at least 65 of the 80, and all the drafts. It was much the same when Nashville was here Tuesday, when Vegas Saints performed a rollicking hat trick of "Jessie's Girl," "Hit Me With Your Best Shot" and "My Girl." Even Predators fans raised on the Grand Ole Opry tapped their toes.
Sunday's hockey party built to a crescendo as the Knight Line beat their flashing drums and the Knights' cheerleaders waved their pompoms during a procession through The Park. Those at the bars and bistros were encouraged to join the parade. A guy wearing a Syracuse Bulldogs jersey nearly tripped over the big toe of the 40-foot sculpture of the blissful dancer where The Park opens to Toshiba Plaza.
Chance the gila monster, the Knights' sometimes maligned mascot, led the Knight Line and the cheerleaders into the arena.
It had been such a great party that nobody wearing a Messier jersey made fun of his costume.
Contact Ron Kantowski at rkantowski@reviewjournal.com or 702-383-0352. Follow @ronkantowski on Twitter.