Wall of Fame adds pizazz to NBA Summer League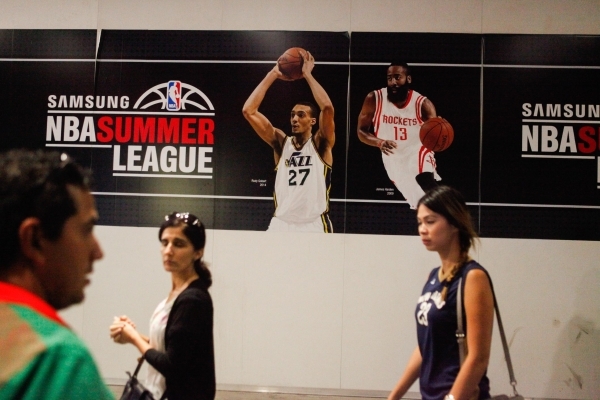 When I heard there was going to be an NBA Summer League Wall of Fame marking the circuit'€™s 10-year anniversary in Las Vegas, my first thought was cool.
Cooler, even, than having your picture taken with a hologram of Kevin Durant, which you now can do on the Thomas & Mack concourse for a small fee. The summer league has come a long way since 2004 when there were only six teams and no holograms.
Anyway, with the advent of the Wall of Fame, there finally would be a suitable final resting place for Nate Robinson'€™s summertime New York Knicks jersey.
If you were at Cox Pavilion on July 20, 2008, then you surely remember when Robinson'€™s No. 4 was hoisted to the rafters –€" er, about halfway up the wall behind one of the baskets at Cox Pavilion during an impromptu halftime ceremony.
It wasn't quite as poignant as €"This one'™s for John"€ or whatever the Denver Broncos'€™ owner said about John Elway winning the Super Bowl. But those who were there say that definitely was as high up on the wall as you could get with a standard stepladder.
Warren LeGarie, the former Mexican vegetable salesman who founded the Las Vegas summer league with his shirttail hanging out, said honoring Robinson was a spontaneous decision –€" as a lot of decisions about summer league hoops were in those early days.
He and a guy from the Knicks whose name he couldn't recall came up with the idea to tack up Robinson'€™s jersey on the wall. Then they split the atom. You can see a fire alarm in one of the old photos, which only adds to the spontaneity and the charm of it.
The call to honor Robinson was real and tongue-in-cheek –€" sort of like the summer league itself, when you get down to it. The maintenance crew didn'€™t appreciate the reality or the tongue-in-cheekiness of the moment, though.
A worker got the ladder back out and took down Robinson's jersey from the wall before the end of the day. Spoilsport.
Robinson had played in four summer leagues. To this day, in the estimation of many, he remains the poster child for summertime hoops; he parlayed the experiences into an NBA career that has lasted 10 seasons. Not bad for a 5-foot-9-inch point guard.
Some observers also mention Jeremy Lin as being a second NBA Summer League poster child. Or, if not a poster child, then at least one of those Fatheads you can buy on the Internet and stick on the wall of your den.
In 2010, Lin was just an unheralded guy from Harvard, of all places, trying to impress the coaching brass of the Dallas Mavericks and avoid a one-way ticket to Sioux Falls or Istanbul.
With 2:11 left in the game, he split a double team of Washington Wizards and executed an outrageous spin move –€" only to be called for a dubious offensive foul.
"€œOh, no ref –€" DON'™T YOU DO THAT!"€ shouted Chris Webber, the NBA TV analyst.
A lot of people said that was when "€œLinsanity"€ was born.
So at halftime of Sunday'€™s first semifinal pitting the summertime Spurs against the summertime Hawks in front of more thousands of spectators, I climbed the steps to the concourse. Had they gotten the ladder back out to tack up Nate Robinson'€™s jersey again as part of the Wall of Fame?
They had not.
Warren LeGarie said they had planned to find a nice place for it, in a trophy case or someplace like that. But sometime within the past year, he said somebody '"borrowed"€ the blue No. 4 shirt when it was in transit to the Thomas & Mack Center.
LeGarie said somebody also borrowed a big Warriors banner.
At some point, he said, a replica jersey probably will be made and maybe they'€™d even bring Nate Robinson in for another ceremony, and then maybe they'€™d find another file alarm by which to hang his jersey.
LeGarie said he'€™s also heard from Golden State'€™s Draymond Green, who would like to see his summer league jersey raised to the rafters –€" er, above the fire alarm.
No, Green is not a person of interest in the borrowed Warriors banner caper. The Wall of Fame consists of huge graphic banners upon which are shown about three dozen summer league alumni now starring or making headlines in the NBA: John Wall, James Harden, Klay Thompson, Damian Lillard, Jimmy Butler, Jeff Teague, Matthew Dellavedova.
Steph Curry'€™s picture is biggest '€" it'€™s a lifesize head-to-toe shot of him launching a 3.
Alas, there's no picture of Nate Robinson, a journeyman who has played for seven NBA teams but has yet to have one of his his fall/winter/springtime basketball jerseys retired, though he did win three slam dunk titles.
One also doubts very much they'€™ll be adding Hasheem Thabeet'€™s not-so-smiling face to the summer league Wall of Fame for next year €– not after the former 7-3 Connecticut standout and second overall draft pick was thrown out of a game on July 12 for getting two technical fouls. Thabeet later was heard taking out frustrations on a chair in the locker room area.
Well, there's always the cover of the Grand Rapids Drive media guide in the NBA D-League.
Las Vegas Review-Journal sports columnist Ron Kantowski can be reached at rkantowski@reviewjournal.com or 702-383-0352. Follow @ronkantowski on Twitter.