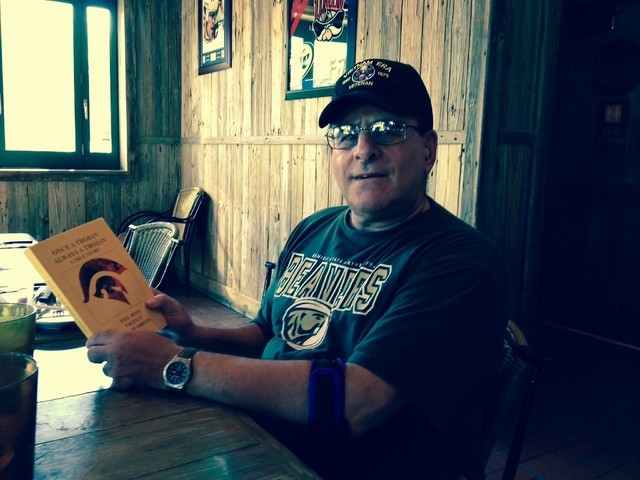 It was 64 yards, Chris Schenkel said. Sixty-four thrilling, captivating, collegiate football yards.
That's how the transcendent college football broadcaster of the time called one of the transcendent college football touchdown runs that ever has been saved to videotape. It was from the transcendent inner-city rivalry of the day, of any day. It was from Southern California vs. UCLA, 1967, Los Angeles Coliseum.
Many have said it was one of the greatest college football games ever played.
Keith Jackson said it was the greatest game he ever saw. And Jackson said this years afterward, after he had witnessed so many other great games. So Whoa, Nellie, and Hold the Phone.
Wrote Jim Murray, the legendary newspaperman: "Whew! I'm glad I didn't go to the opera Saturday after all."
There were like a hundred first-round draft picks who played in that game pitting No. 1 UCLA against No. 2 USC for the national championship and a Rose Bowl berth — the rivals meet for the 83rd time on Saturday — and there were two Heisman Trophy winners, and one was O.J. Simpson. The other was Gary Beban, the UCLA quarterback, who passed for 301 yards despite injuring his ribs.
The Juice? Well, The Juice, who was mostly called O.J. then, or Orenthal James, once Chris Schenkel and Bud Wilkinson ran out of adjectives to describe his singular running style, finished with 177 yards on 30 carries and scored two touchdowns.
Two absolutely stunning touchdowns.
On the first one, it is said that eight UCLA defenders put a hand on him, and Simpson dragged two with him into the end zone. This was from 13 yards. "Greatest run I ever saw," said Tommy Prothro, the UCLA coach. It was a run so remarkable that a man named Arnold Friberg painted a picture of it, called "O.J. Runs to Daylight."
But the second one is the O.J. touchdown that everybody remembers.
Trailing 20-14 in the fourth quarter on third-and-long, backup Trojans quarterback Toby Page called an audible at the line of scrimmage. He handed the ball to Simpson, which always was a pretty good idea. O.J. broke through the line and then weaved his way through the entire UCLA defense again. That cutback against the grain still amazes.
It was 64 yards, Chris Schenkel cried. Sixty-four thrilling, captivating, collegiate football yards. And then a guy named Rikki Aldridge kicked the extra point, and though it wasn't as captivating as those 64 yards by Simpson, it was straight-on, in the style of Lou "The Toe" Groza, and it gave USC a 21-20 lead and, ultimately, the national championship.
And John McKay, the USC coach, said that was the greatest run he ever saw, though the one in the first half wasn't half-bad, either.
I remember watching the 64-yarder on TV and getting goosebumps. And when I called up O.J. run's on YouTube 46 years later, I got goosebumps again, and the little hairs on the back of my neck stood up, the way they still do at the start of the Indy 500, or when The Edge from U2 plays the opening riff from "Where the Streets Have No Name" on his guitar.
What it must have been like to be at the Coliseum that day, with the multitudes wearing the white shirts with the short sleeves — and what it must have been like trying to deduce how much time was left in the game from that cryptic scoreboard clock.
I recently had lunch with a guy who was there among the short-sleeved multitudes, a guy named Phil Ross, who was a Review-Journal sports writer for a short time.
Ross has written a book about that 1967 USC season — actually, it's mostly about a guy who played on that team, a former Las Vegan named Joe Obbema, who founded a golf tournament for foster children at Stallion Mountain, who Ross portrays as a Forrest Gump-like character. But Ross devotes an entire chapter in "Once a Trojan, Always a Trojan" (available through Amazon, of course) to the UCLA game.
Ross got to see it in person because he was pals with Don Andersen, the old Trojans sports information guy, and Ross was home from the service that weekend. He even got to meet O.J. Simpson when he picked up his credential in Andersen's office on the Thursday before the game — only O.J. wasn't very happy, because this was when he learned that Gary Beban would be awarded the Heisman Trophy.
Simpson would have to wait a year for his Heisman, and by now you might have heard the rest of his story.
On Tuesday, Clark County District Judge Linda Bell denied The Juice in a way that UCLA could not: She refused his request for a retrial of his 2007 memorabilia robbery case at Palace Station.
I wonder if on the night he heard the news O.J. played poker for Camels, or whatever they do at the Lovelock Correctional Center to pass the time.
I also wonder if he ever lies awake late at night in his cell, thinking (among other things) about that fantastic game against UCLA in 1967, when he zigged and he zagged and he ran and he ran, until there was no place left to run.
Las Vegas Review-Journal sports columnist Ron Kantowski can be reached at rkantowski@reviewjournal.com or 702-383-0352. Follow him on Twitter: @ronkantowski.