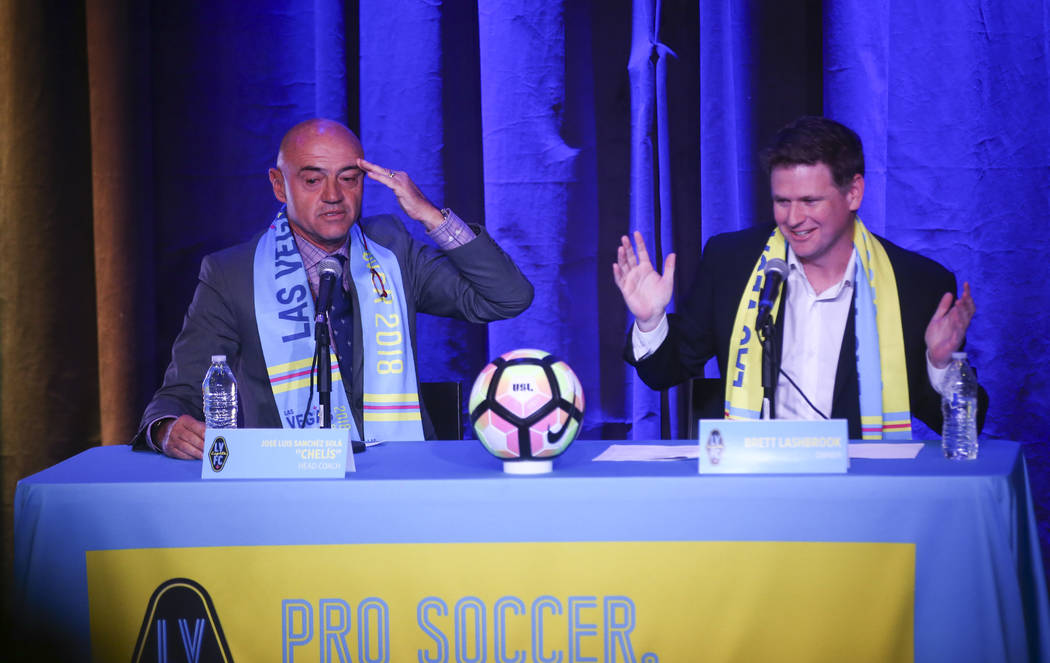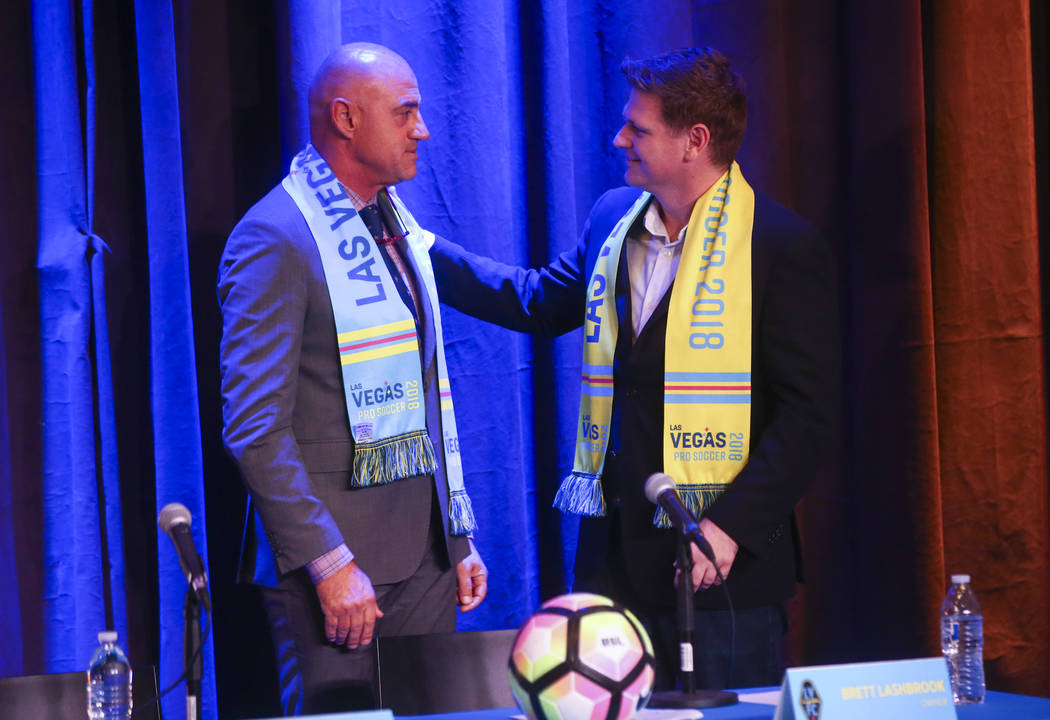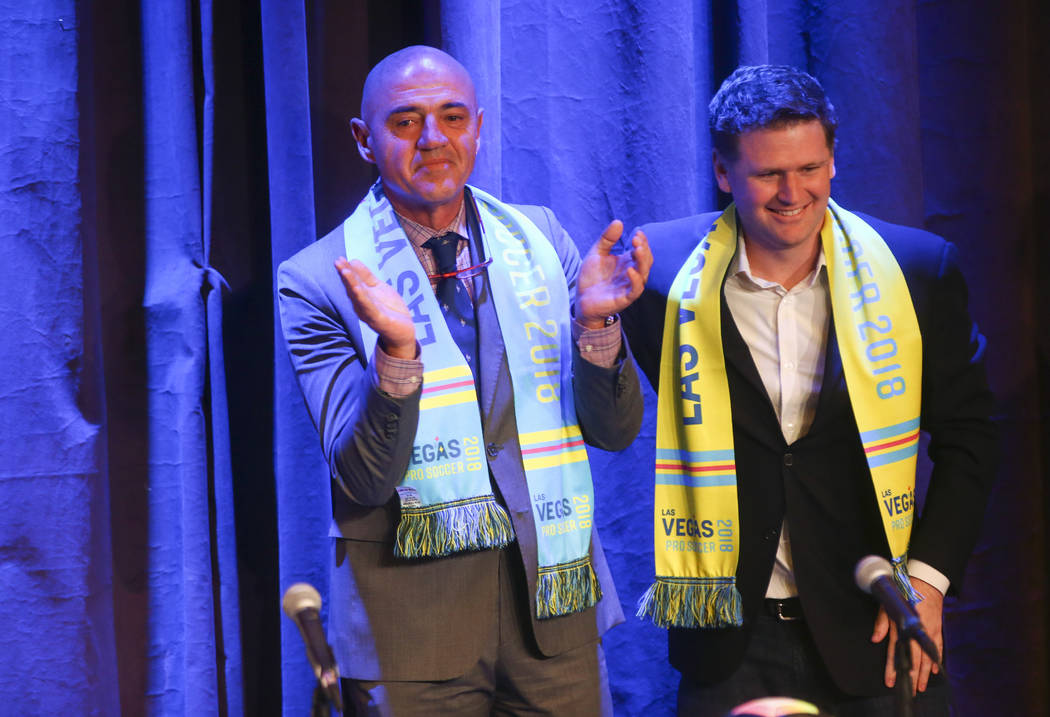 At 231 S. Third St. in downtown Las Vegas, there is an old church, or what once was an old church.
It opened in 1905. For almost 100 years, the First United Methodist Church was Las Vegas' first church, period. Then it became something else. Now it is headquarters for Las Vegas Lights FC, a United Soccer League expansion team that begins play in less than a month.
All of this might seem appropriate to skeptics who said minor league soccer doesn't have a prayer to succeed here, what with Las Vegas having become a major league sports town practically overnight.
That was exactly what I said when the Lights were first plugged in about six months ago.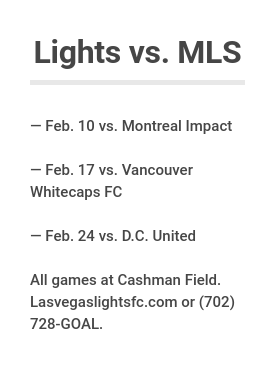 Brett Lashbrook, the team's effervescent and youthful-appearing owner, responded with a good-natured scoff.
I told him the Lights would be lucky to draw 3,000 spectators to Cashman Field, which the team will share with the 51s before the latter relocate to a new ballpark in Summerlin, after which the Lights will become Cashman's sole tenant if one doesn't count feral cats.
He told me my left back doesn't go all the way to the touch line. Or something like that.
The Lights now have season-ticket holders and about 30 employees. None was on their knees at the old church seeking divine intervention from the soccer gods or Lionel Messi on Monday with the season opener fast approaching.
Soccer at a reasonable price
"We've sold a few thousand season tickets already," Lashbrook said upon emerging from his cozy office in the vestibule and donning his Lights FC soccer scarf, which he wears even when the weather is pleasant. "Our expectations are we'll sell out every game. We've seen market after market after market that the closer you get (to the start of the season) the more tickets are being sold. And then the walk-up crowd.
"We know that if we can get everybody in this community just to come to one game — one game — then we know we're going to get you back. It is going to be the best dollar value you'll find in this city."
What about corporate sponsorships?
"That actually has been the best part of this project so far," Lashbrook said. "We've signed a multiyear, very significant deal with Zappos, right? Which is just synonymous in this community with wanting to do cool, fun, different, unique things right here in downtown. Our missions align perfectly."
As Lashbrook effervesced like two Alka-Seltzer on New Year's morn, there was a large banner above where the pews used to be in the old church. It was done up in pale blue and yellow, the Lights ubiquitous team colors. MISSION 10K it said in bold letters.
It had nothing to do with the old church, or a foot race. It is shorthand for 10,000, which is more or less the maximum capacity of Cashman Field for soccer.
Lashbrook thinks he can fill up the old girl with the leaky pipes 14 times, plus three friendlies against Major League Soccer sides.
"Smoke bombs, drums and trumpets," he says.
Face of the franchise
Say this for the Lights: They already have succeeded in creating a buzz before setting off the first smoke bomb.
In hiring colorful cigarette-smoking Mexican national Jose Luis Sanchez Sola — aka "Chelís" — to coach the team, Lashbrook landed a Page 1A cover story, and also provided the city's many Spanish-speaking soccer fans a familiar face with which to identify.
The former ESPN Deportes soccer analyst said he wants a team that "smells like Las Vegas."
Headline writers love Chelís.
The Lights also have made their presence known with "name the team" and "design the logo" contests, souvenir jersey and other giveaways, sponsor announcements, free-agent tryouts, the aforementioned schedule of friendlies against MLS sides Montreal Impact, Vancouver Whitecaps FC and D.C. United and regular-season tickets that will be sold at a reasonable price.
When there was no news, Chelís made some. He invited Lights fans to a downtown watering hole to have a Tecate with him, or whatever the hipsters at Gold Spike were drinking, which wound up costing Lashbrook about $2,000.
Downtown hipsters also love Chelís.
Payback starts Feb. 10 against the Montreal Impact.
Contact Ron Kantowski at rkantowski@reviewjournal.com or 702-383-0352. Follow @ronkantowski on Twitter.
Lights vs. MLS
— Feb. 10 vs. Montreal Impact
— Feb. 17 vs. Vancouver Whitecaps FC
— Feb. 24 vs. D.C. United
All games at Cashman Field. Lasvegaslightsfc.com or (702) 728-GOAL.