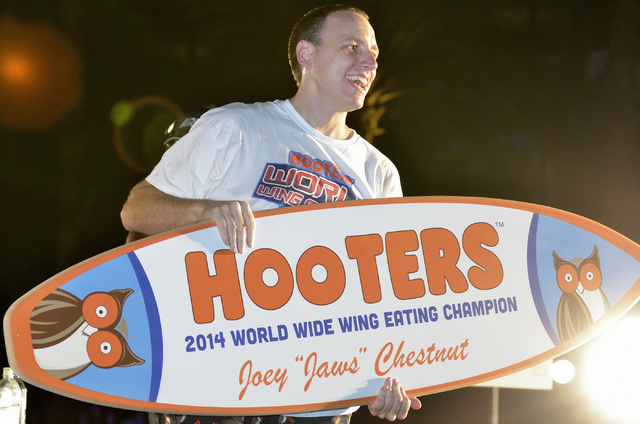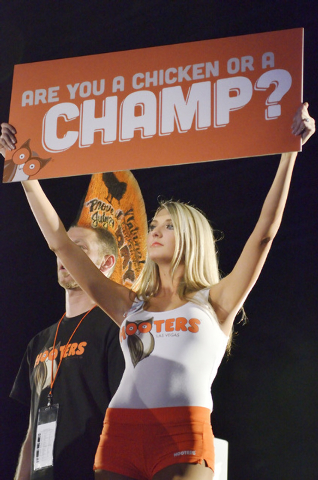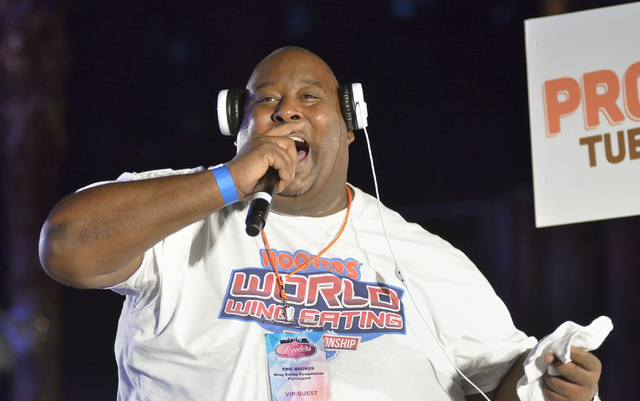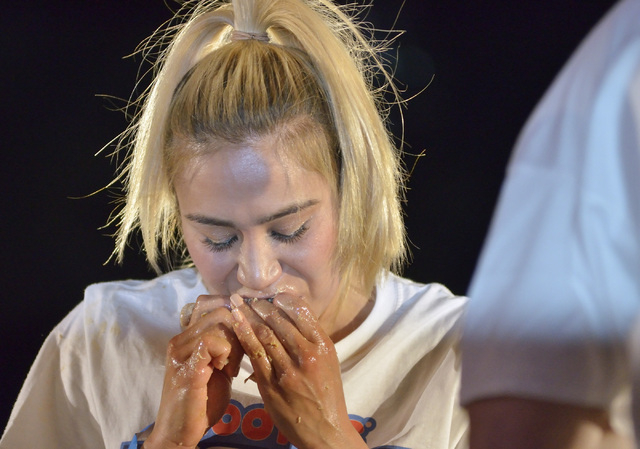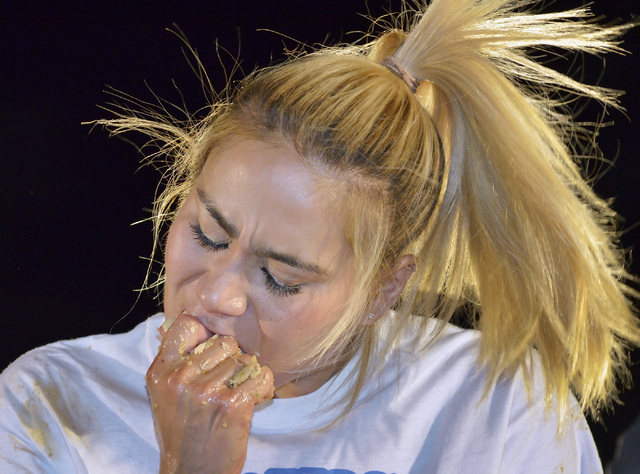 At a little past 8 p.m. Tuesday, just before the Hooters World Wing Eating Contest was to begin at the Hard Rock Hotel's Paradise Pool — perhaps the pool at the Hooters Hotel, which doesn't resemble paradise so much, was overrun with softball players or something — the lights were dimmed. The familiar opening strains of The Who's "Baba O'Riley" came blasting from the poolside speakers.
Yes, the stars of Major League Eating have their own walk-up music. Like in baseball.
And then he strolled onto the stage.
He waved his hand with a flourish, in the manner of astronauts riding in convertibles during ticker-tape parades. Only he was wearing black-and-orange Hooters shorts. The crowd cheered wildly.
The crowd knew it was Joey Chestnut, and for this, we can thank ESPN.
Chestnut is the Babe Ruth of competitive eating, or at least the John Kruk. It had been three weeks since he had scarfed down 61 hot dogs and buns in one sitting to successfully defend his Mustard Belt title for the eighth time at the Nathan's Hot Dog Eating Contest on Coney Island.
He looked ready.
He looked hungry.
The music stopped for like three seconds, and I swear I heard Chestnut's stomach making rumbling sounds.
A man wearing a white linen suit and a straw hat introduced the contestants, WWE-style, and spoke of remarkable feats of gastronomical strength: One, from New Orleans, was the crawfish eating champion of the world; another celebrated his 21st birthday by devouring 5.5 pounds of birthday cake in 8 minutes, 59 seconds; one had inhaled 90 hard-boiled eggs in eight minutes flat.
That one was 29-year-old Las Vegan Miki Sudo, who works in sales at the convention center. She won the women's division at the July Fourth Nathan's contest by gobbling 34 hot dogs and buns.
I was expecting Sudo to look like Cass Elliot, or Kirstie Alley during one of her non-Jenny Craig periods. She looks more like a Hooters girl. She weighs but a svelte 120 pounds, but that didn't preclude her from finishing second to Chestnut, who weighs 225, in the 2013 Hooters event.
The man in the straw hat said he liked her chances this year, in the wing-eating contest and in Tuesday's $12.99, all-you-can eat National Chicken Wing Day promotion at Hooters restaurants.
The man in the straw hat also introduced eating legends who were sitting at poolside, like they do in boxing.
Rich "The Locust" LeFevre and his wife, Carlene, are known as the "First Family of Competitive Eating." They reside in Henderson. Rich once consumed 1½ U.S. gallons of Stagg chili in 10 U.S. minutes. Afterward, they sent his large intestine to Los Alamos for testing.
The man in the straw hat said he once saw Rich LeFevre break a front tooth in a spare rib-eating contest. A lesser man would have quit eating, wiped the barbecue sauce from his chin, come back another day. Not Rich. Rich LeFevre kept right on going without so much as adjusting his napkin.
"It was a triumph of the human spirit," the man in the straw hat said.
Then it was time to Eat Mor Chikin wings.
Most of the major league eaters got chicken wing remnants all over their shirts. At least they were plain wings, not the ones dripping in hot sauce. But it was really no more repulsive than watching offensive linemen partake in pie-eating contests before college football bowl games.
I had expected worse. Nothing toxic wound up in the Hard Rock pool, at least nothing more toxic than what already was there following the last Rehab party.
Only once, when there were about two minutes to go and Erik "The Red" Denmark looked to be regurgitating water in an attempt to make room for an 89th helping of plain chicken wings, did I think about the kids in Africa.
When it was over, Miki Sudo had eaten 146 chicken wings in 10 minutes. She finished a disappointing fifth, but then it was announced she was dating Juan "More Bite" Rodriguez, another competitive eater from Las Vegas, whose bio in the media guide said he is noted for impeccable grooming, attention to hygiene and wolfing down 60.5 tamales in 12 minutes.
Remind me never to have these two over for Thanksgiving dinner.
Joey Chestnut won, of course, because Chestnut always wins. He ate a record 182 chicken wings, which even at the discounted price of $31.99 for 50 pieces, would have set him back $127.96 in a Hooters restaurant. Plus a small coke to wash it all down. Instead, they paid him first-place money from the purse of $17,500.
On the way to my car, I walked past a closed door where contestants in the 18th annual Hooters International Swimsuit Pageant were having makeup applied.
I imagined them gnawing on celery stalks.
Because what goes around comes around (eventually) in competitive eating, I couldn't help but notice a framed photograph of The Who's Pete Townshend on the way to the parking garage.
Townshend had his hand over his mouth because he was cupping a tiny cigarette stub. But from a distance you couldn't see the cigarette stub, and it appeared from the expression on his face that he might be trying to belch.
Las Vegas Review-Journal sports columnist Ron Kantowski can be reached at rkantowski@reviewjournal.com or 702-383-0352. Follow him on Twitter: @ronkantowski.