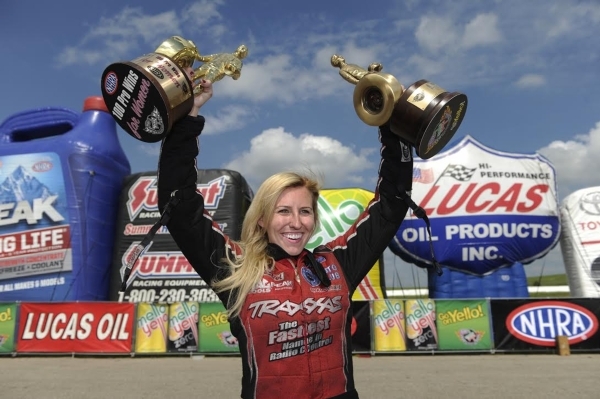 "I am woman, hear me roar
In numbers too big to ignore …"
— Helen Reddy, "I Am Woman"
You remember the anthem, don't you? It really wasn't about women having an impact on the NHRA drag racing tour.
It could have been, though.
Helen Reddy released "I Am Woman" as a single in 1972, three years after Shirley Muldowney competed in her first U.S. Nationals. Three years after the record went to No. 1, Muldowney won her first NHRA Nationals, at Columbus, Ohio. The next year, when she won the first of her three Top Fuel titles, Muldowney went to No. 1, too.
She was strong. She was invincible.
Women have been roaring up and down the drag strip ever since. Many have been successful. Way more successful than in the other forms of auto racing.
In NASCAR, Danica Patrick has entered 32 races this season. Her average finish is 23.41, her best finish seventh. Out of about a bazillion laps, she has led seven. When it happened, they put up a big graphic on "SportsCenter" and showed her passing Justin Allgaier, or whoever, on a continuous loop.
A woman has never won a NASCAR race.
Patrick won once in the IndyCar series, on a fuel-mileage run in Japan.
She has yet to earn the respect of a lot of stock car racing people who don't watch IndyCar races from Japan. But she has made tons of money — two or three tons — by peddling T-shirts with her picture on front and her car number on back.
By contrast, Courtney Force, one of drag racing legend John Force's myriad daughters who have driven NHRA hot rods, last summer won a milestone Funny Car race in Topeka, Kansas.
It was her fourth career victory.
It was the 100th NHRA victory by a woman.
That's right, 100 wins, by women. A total of 14 women have won 119 NHRA races heading into today's Toyota Nationals final eliminations at The Strip at Las Vegas Motor Speedway.
As the song says, the numbers are too big to ignore.
But people do ignore them, mostly because they've become so commonplace.
There was some fanfare when Courtney Force won No. 100, and a few pictures were snapped in front of a placard with pink lettering. But when a woman wins an NHRA race, it's not such a big deal.
If Erica Enders has a decent run today, she'll clinch the season championship in Pro Stock with one race still to run.
Enders this year has won eight races, a record for female drivers. If she wins the big trophy with NHRA founder Wally Parks' likeness on top, and the big check, it'll be a big deal for the 32-year-old racer, and her crew, and her sponsors.
It will be her second consecutive Pro Stock title.
It will not, however, be as big a deal as Danica Patrick finishing seventh. This isn't NASCAR, where women drivers still are considered interlopers, and, with the exception of Patrick, seldom get rides in the fast cars.
People have gotten used to women putting the hammer down in drag racing since Muldowney blazed a quarter-mile trail during the 1970s. She was the pioneer, the one who had to deal with the Neanderthal attitudes.
Muldowney had to beat Don Garlits for her championships. Now that was a big deal. When one beat "Big Daddy," it was always a big deal, regardless of which restroom in the paddock one used. That's probably why they made that movie about Shirley Muldowney.
"I'd say it definitely is accepted (in the NHRA)," said Leah Pritchett, another promising hot rod driver who made it to the dragster semifinals here last year.
"For the average fan, it seems like, 'Oh my God, there are all these women in drag racing. Where did they come from?' When really, if you look at the history of the majority of successful women in the sport right now, we've been here for a long time. This is my 19th year of NHRA drag racing."
Pritchett, 27, said when she was 5, she wanted to play volleyball. By the time she was 8, she wanted to drive race cars. That's when she started on the junior dragster circuit.
"It was like 40-percent female, 60-percent guys," she said after sneaking into the field with the 15th-best qualifying time late Saturday afternoon. "As I moved up through the ranks, it became less female, but then you get to the top, and then people say where did they come from?"
"I started when I was 8. Now the NHRA lets you start when you are 5."
In the junior ranks, boys and girls compete against each other on a level playing field. You don't see that in a lot of the stick-and-ball sports. So you don't have a lot of Annika Sorenstams competing against men on the PGA Tour, whereas in drag racing you have it all the time.
There are 10 women competing in the four pro divisions at the Toyota Nationals. During qualifying, Erica Enders set a track record. Courtney Force drove 325.77 mph in her Funny Car. In under four seconds.
Now those are numbers to big to ignore.
— Las Vegas Review-Journal sports columnist Ron Kantowski can be reached at rkantowski@reviewjournal.com or 702-383-0352. Follow him on Twitter: @ronkantowski