Women's Sweet 16 could use a boost from Las Vegas
Updated April 7, 2018 - 11:25 pm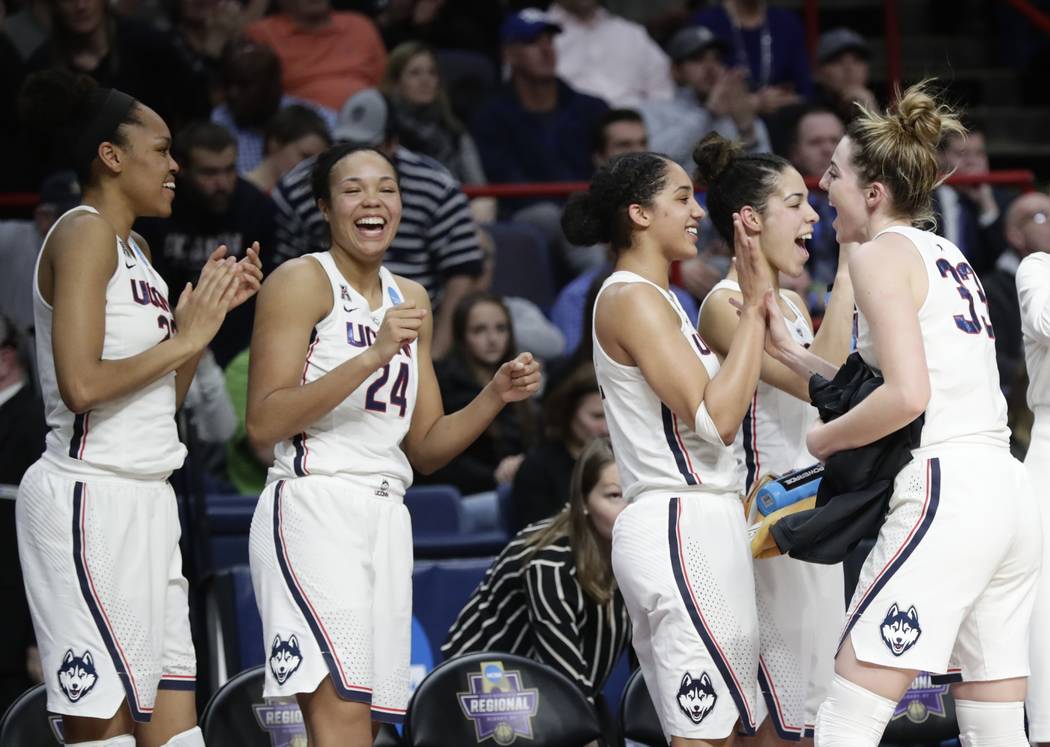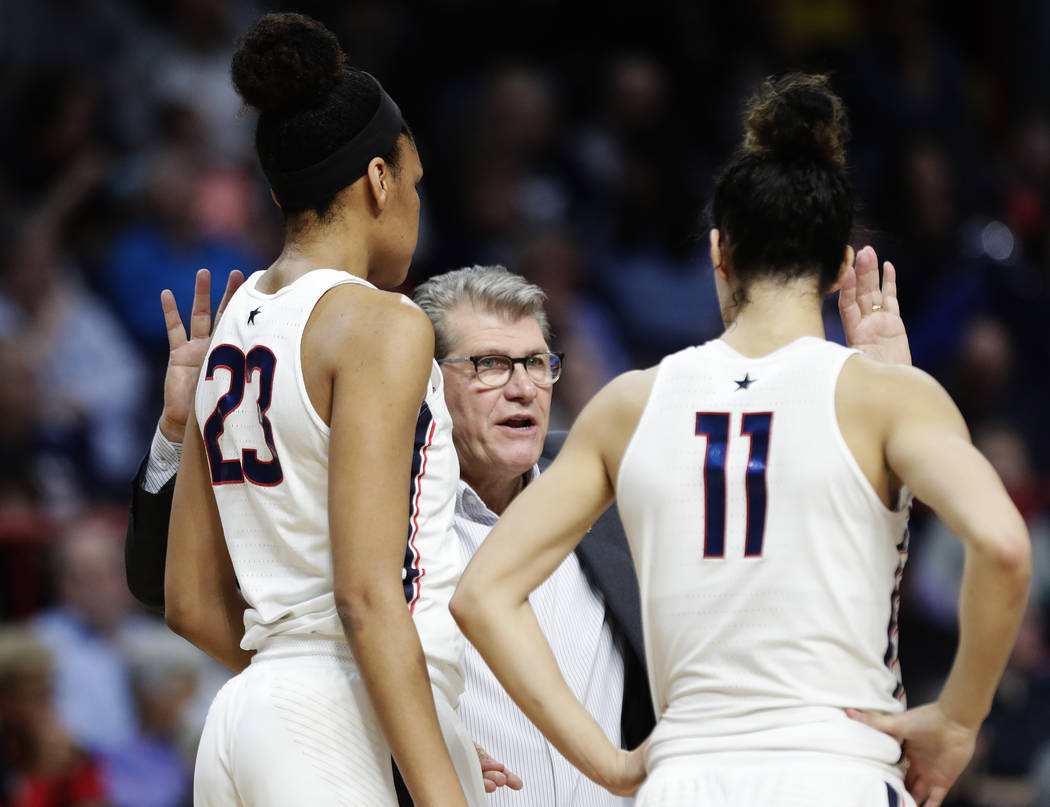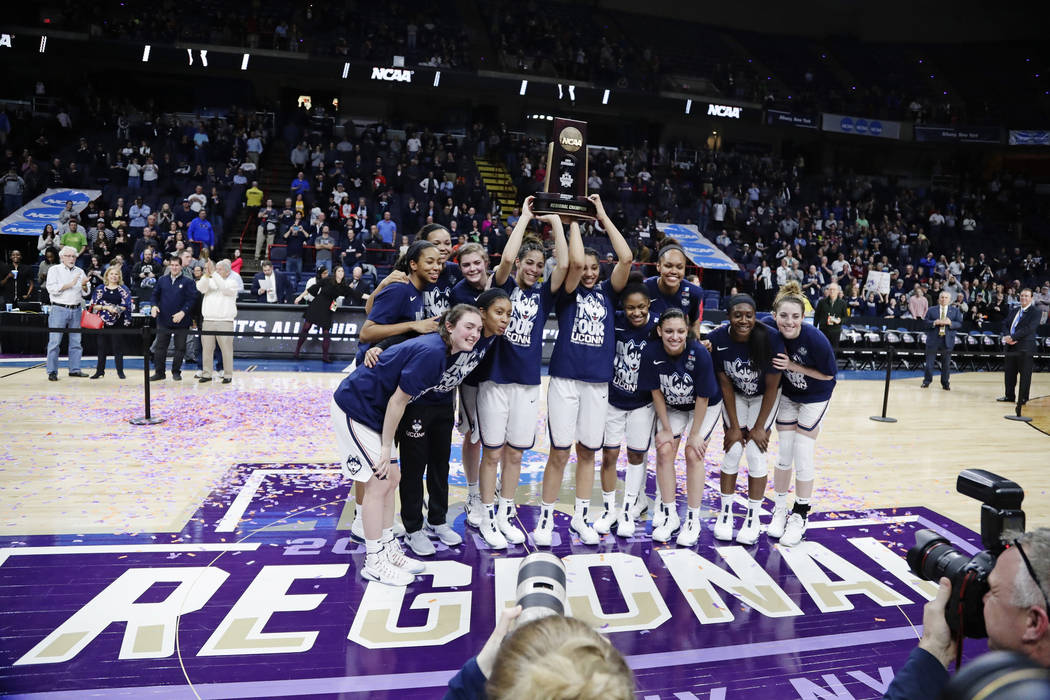 If you thought No. 16 seed Baltimore-Maryland County's upset of No. 1 Virginia during March Madness was an enormous upset, consider this:
I received an email this past week from a fan lamenting the demise of the Vegas 16.
"I really wanted it to succeed." wrote Johnny Parks of Ringgold, Georgia, of the one-and-done postseason tournament at Mandalay Bay won by Old Dominion in 2015.
So did Jim Livengood. The former UNLV athletic director and NCAA Tournament chairman founded the Vegas 16, and I still think his notion of turning a secondary postseason event into something resembling a college football bowl game was sound.
It also inspired a similar idea of Livengood's: to bring the entire women's Sweet 16 to Las Vegas.
"Still working on it," he said upon returning from the men's Final Four in San Antonio. "You and I have been talking about it for a long time, but it's gaining more traction than ever."
It might even become reality if the NCAA eggheads that form the Board of Governors adopt the stance of their pro sports brethren and the myriad conferences that already hold postseason tournaments here: that the supposed evils of regulated sports gambling have become nothing more than an old wives' tale.
This year's NCAA women's Final Four was way more compelling than the men's, with all three games decided by buzzer-beating baskets in front of sellout crowds.
The women's Sweet 16 wasn't nearly as thrilling or well-attended.
The Albany Regional final featuring women's hoops juggernaut Connecticut attracted a crowd of 9,522, but regional finals in Kansas City, Missouri; Lexington, Kentucky; and Spokane, Washington, produced only modest turnouts of 4,089, 6,268 and 5,226, respectively.
Ask Pac-12 commissioner Larry Scott if moving a basketball tournament to Las Vegas wouldn't dramatically improve those numbers.
"It would be a sellout," Livengood said about the possibility of the women's Sweet 16 and other NCAA championship events moving to Las Vegas. "It's going to happen. It just needs to happen sooner rather than later."
0:03
■ During a 2007 interview, then-Raiders owner Al Davis told me he ran the old American Football League out of a Las Vegas hotel room for a couple of weeks, and that this is where the framework for the AFL-NFL merger was developed with former commissioner Pete Rozelle.
So perhaps it should come as no surprise that a similar secret meeting to move the Raiders to Las Vegas also was set up in a surreptitious location in the shadow of the Strip.
ESPN reported this past week that Mark Davis, who inherited the Raiders upon his father's death, met with former Raiders running back Napoleon McCallum and Bo Bernhard, executive director of the International Gaming Institute, in February 2015 at the Stan Fulton Building on UNLV's campus to lay groundwork for the monumental relocation.
The meeting resulted in a 113-page report that apparently so alleviated fears associated with legal betting on football that none of the NFL owners even asked about it during the Raiders' relocation vote in March 2017.
■ Former Nebraska football coach Tom Osborne said recruiting David Humm, the Las Vegas football legend whose life was celebrated at South Point Arena on Friday, was nearly as memorable as The Hummer leading the Cornhuskers to three consecutive major bowl game victories.
"One night Tom (Humm, the quarterback's brother), Dave and I were out at a place called Circus Circus, about 2:30 in the morning, on a school night. And I was fairly young then. And I kept saying, 'Don't you think it's time to go to bed now?' "
"I guess nobody goes to bed in Las Vegas," Osborne said. "That was the strangest recruiting experience I've ever had."
Saddened to hear of the passing of David Humm…as a member of Oklahoma's biggest rival, I had nothing but complete admiration and respect for his fierce competitive spirit: A good man….#RIP #Godspeed pic.twitter.com/7mtmhAk4PL

— Larry in Missouri (@missouri_in) March 28, 2018
The late #Raiders QB David Humm with Coach Osborne and AL DAVIS. pic.twitter.com/5oauoN0Me8

— AFL GODFATHER (@NFLMAVERICK) March 28, 2018
■ After being the last of six speakers who spoke at the eulogy, South Point Arena general manager Steve Stallworth shared an anecdote that showed how much David Humm's friendship meant not only to him but also to his family.
Stallworth's only son had called from Adams State in Colorado, where Stetson Stallworth plays football, to say that jersey No. 10 was available, the number his father wore as UNLV's starting quarterback.
"Instead he chose No. 11 — Hummer's number on the Raiders," Steve Stallworth said.
The #SNSHF is saddened by the passing of David Humm. He will be forever remembered for his kindness, compassion and courage in the face of the many obstacles that he faced. David will be missed, and we offer our deepest condolences to his family and many friends. RIP Hummer. pic.twitter.com/kLwVd8tRCb

— S. NV Hall of Fame (@SNSHF) March 28, 2018
Contact Ron Kantowski at rkantowski@reviewjournal.com or 702-383-0352. Follow @ronkantowski on Twitter.