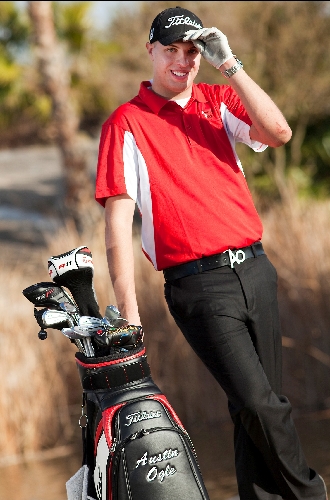 Professional golf generally is thought of as a genteel sport, for people of significant wealth, or stature, or both.
Put another way, there are a lot more Shooter McGavins on the PGA Tour than Happy Gilmores.
Perhaps Las Vegan Austin Ogle, who is managed by a shark – The Shark – will change that.
Ogle, 21, is a former state champion golfer at Las Vegas High School. He stands 6 feet 5 inches and weighs 220 pounds. Big hitter, this kid. Knocks the tiles off the roof of the clubhouse at Rio Secco Golf Club in Henderson with a 3-wood from 325 yards on the practice tee, when he can get a tee time. Which isn't all that often.
Because whereas Ogle is a big hitter and a lot of people think he's good enough to play golf for a living, he has another job. A real job.
He helps his dad build police cars.
Ogle's father, Wally, owns a company called Advanced Technology LLC, that has been building police cars for 35 years. No, Wally Ogle did not build the 1974 Dodge Monaco in "The Blues Brothers" that Elwood picked up at the Mount Prospect (Ill.) city police auction. Wally never would've left those cables attaching the large speaker to the roof of the trusty black-and-white exposed like that.
Because Austin Ogle can knock tiles off clubhouse roofs with his 3-wood – as a youngster, he also went deep with and against Bryce Harper on the baseball diamond – he could have played college golf just about anywhere.
"USC, Georgia Tech, UNLV – I was recruited by every college you could think of," he says.
But then the economy found a fairway bunker. So Austin stayed home and helped his old man build souped-up police cars. And when he could, he'd try to sneak in 18 holes at one of the pockmarked municipal courses, or perhaps a quick nine at Angel Park.
You really can't see TPC Sawgrass from the back nine at Angel Park, which explains the photo of Ogle on his minimal website (austinogle.com). It shows Ogle lining up a chip shot at Sawgrass. Actually, it's a picture of him lining up to chip at one of the local munis with Sawgrass photoshopped into the background.
That was The Shark's idea.
The Shark is Kenny "The Shark" Heuer, Ogle's manager.
The Shark is a mixed martial arts fighter with a 3-1 record who says he is being mentioned as a possible opponent for MMA legend Ken Shamrock, if Shamrock decides to fight again. And if James Toney, the boxer, is busy that weekend.
The Shark also owns a window tinting company, is a partner in an energy drink business and coaches Pop Warner and high school football at Del Sol, where he helps with special teams.
The Shark knows next to nothing about golf.
"The only thing I know about golf is that Tiger Woods and I slept with the same girl," The Shark says of Jamie Jungers, who supposedly has photos of herself and Tiger sans woods covers.
Austin Ogle is LDS and has rosy, cherubic cheeks and seems about as far away from that sort of thing as John Daly is to a pair of khaki slacks and a round of 4 under par.
Besides, The Shark says, that was a long time ago. He's 37 now, settled, married. With kids. So now he's trying to raise $75,000 on Ogle's behalf, or $125,000, which will get him started out on the tour. Or even $20,000, about what it costs for a membership at one of the posh local clubs where Ogle could play golf all the time, on a well-manicured track, which is what aspiring pros need.
It also might keep him out of sketchy hotels in Gallup, N.M.
It costs $3,000 to travel to some of these Web.com Tour events, and even if you qualify on Monday and make the cut, sometimes you only get a check for around $800. So you travel with another struggling pro, and you bunk in places such as Gallup.
"Golf really is like gambling," Ogle says, "because when you put up three grand to play for a weekend, and you don't make the cut, you're just out three grand."
So maybe The Shark can put something together for him, and Vic Wilk, his coach, will help him develop a short game to go with those booming drives that break tiles on clubhouse roofs.
And then perhaps Austin Ogle can strike it rich on the PGA Tour or, at the least, bypass Gallup and spend the night in Albuquerque.
Las Vegas Review-Journal sports columnist Ron Kantowski can be reached at rkantowski@reviewjournal.com or 702-383-0352. Follow him on Twitter: @ronkantowski.