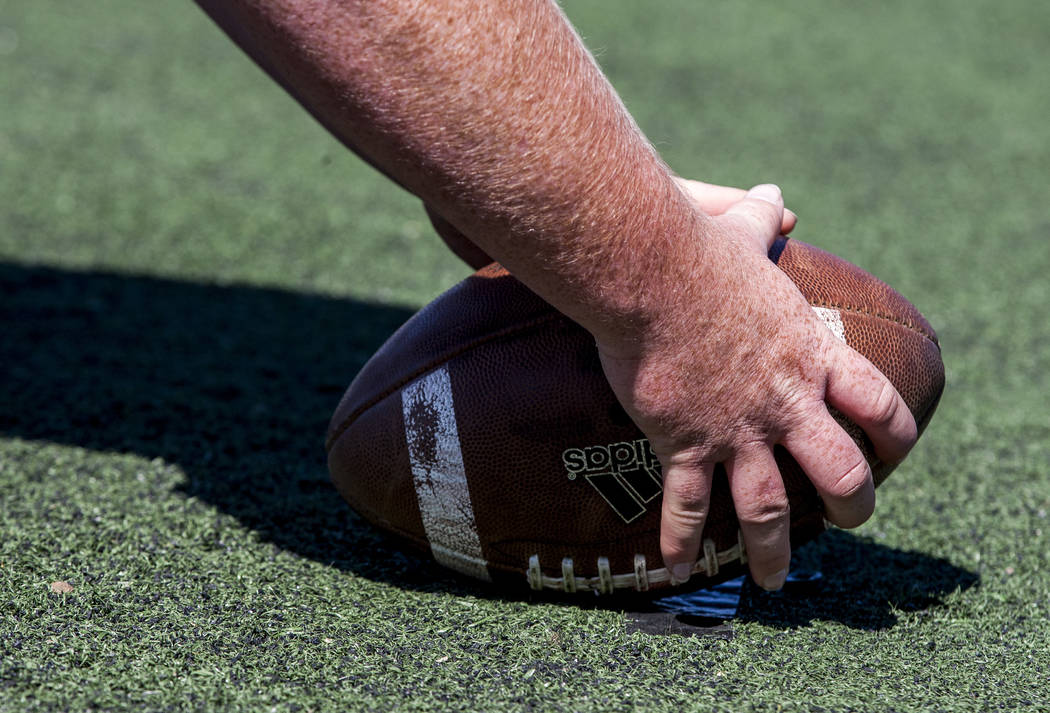 On Mother's Day, around 640 aspiring football punters, kickers and long snappers traveled to Las Vegas for the second of two annual Chris Sailer Kicking/Rubio Long Snapping camps administered in town. Brunch with mom would have to wait at least 4.5 seconds for hang time.
Many mothers, in fact, watched from the sidelines at the Las Vegas indoor/outdoor soccer complex on North Rampart Boulevard in Summerlin.
The outdoor field was overrun with high school-aged players attempting to kick footballs into a stiff breeze or a net, and long snappers who were doing the same. It looked like so much organized chaos before one of the instructors, a former punter from UCLA named Aaron Perez, put it into perspective.
The Bruins' career leader in punting yards said Nick Folk, a former Pro Bowl kicker, was Chris Sailer's first student, and that Bryan Anger of Tampa Bay was another Sailer protege. And that Anger had recently signed a five-year, $17 million contract extension with the Bucs.
This would greatly explain why a lot of mothers were watching their sons attempt to kick footballs into a stiff breeze and long snap them on Mother's Day.
Manning camp for special teams
From first blush, and second blush, it would appear the Chris Sailer Kicking/Rubio Long Snapping camp is to aspiring special teams players what the Manning Passing Academy is to aspiring quarterbacks. Aaron Perez pointed to where Archie Manning — er, Chris Sailer — was standing at the far end of the field, near a makeshift tent.
When the former UCLA kicker and punter was approached, he was scraping a Subway sandwich the wind had blown away off the artificial turf. It was not a good day for fair catches.
"There was a big need for it," Sailer said about why he started his camp in 2003. He added that hundreds of his proteges have earned college scholarships, and that many were now kicking in the pros.
But what really brought me out was the long snappers, and that there is an instructional camp for them. This almost certainly would have blown the mind of Chuck Bednarik, who played center on offense for the Eagles and linebacker on defense and also sold concrete during the off-season before Tom Landry created nickel backs and whatnot.
Among other things, I would learn that a good long snapper gets the ball back to the punter between .65 and .80 seconds, that the football should travel in a tight spiral that is easy to handle, that John Dorenbos, long snapper for Philadelphia, moonlights as a professional magician and was a finalist on "America's Got Talent," Season 11.
It also was made clear that football long snapper is a thankless job, much more thankless than being an offensive lineman, some of which occasionally are recognized by a 1,000-yard running back, or referred to as "hogs" in an endearing fashion.
I mean, what can you say about a job which begins with one putting his head between one's legs?
Keeping a low profile
About the only time you hear about a long snapper is when he screws up in a playoff game or, in the case of John Dorenbos, when he pulls a rabbit from his hat on network television.
Chris Rubio, a gregarious former long snapper at UCLA and Chris Sailer's partner in the organized chaos, said he once was assessed a personal foul for hitting an Arizona State player in the private parts for trying to jump over his head. That is another way for a long snapper to hear his number called over the public address system, Rubio said.
He also teaches long snappers that if they pursue punts in a plodding style, they can be last to the pile and then jump on top. He said you would be surprised how often the last man on the pile gets credit for the tackle from the press box spotters.
"It's almost like a sniper," Rubio said when asked about a long snapper's mentality. "You have to do one job, you have to be perfect, you get one shot at it. It's one of those things where you want no one to ever know your name."
And yet a lot of college coaches already know the name of Oscar Shadley, who will be a senior at Golden Gate High in Naples, Florida, in the fall. Shadley, a polite young man, is the nation's top-rated long snapper and has offers from Oregon and Marshall.
Whichever school he chooses, it's highly doubtful he will be selling concrete during the off-season.
How to get your kicks
To register or for more information regarding upcoming Chris Sailer Kicking/Rubio Long Snapping camps in Las Vegas and elsewhere, go to www.chrissailerkicking.com.
Contact Ron Kantowski at rkantowski@reviewjournal.com or 702-383-0352. Follow @ronkantowski on Twitter.