Former Liberty star returns to Las Vegas as bona fide NBA prospect
Updated March 7, 2023 - 2:02 pm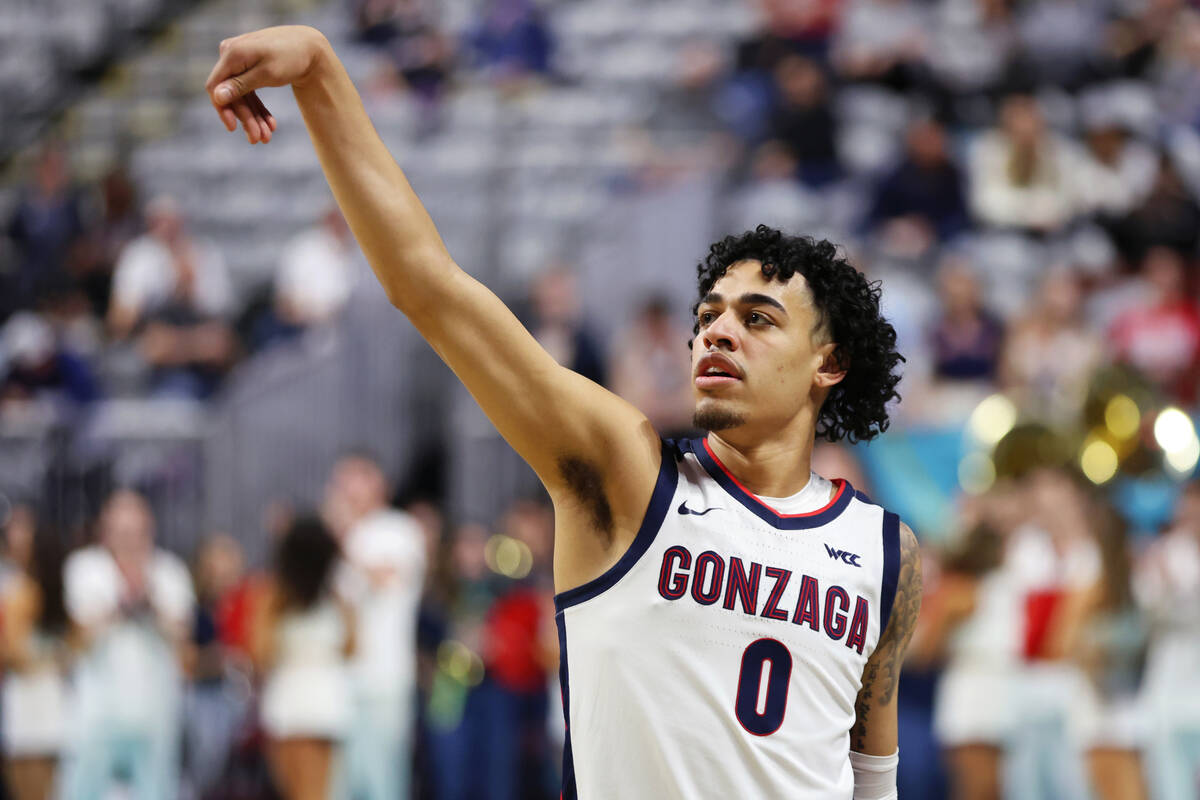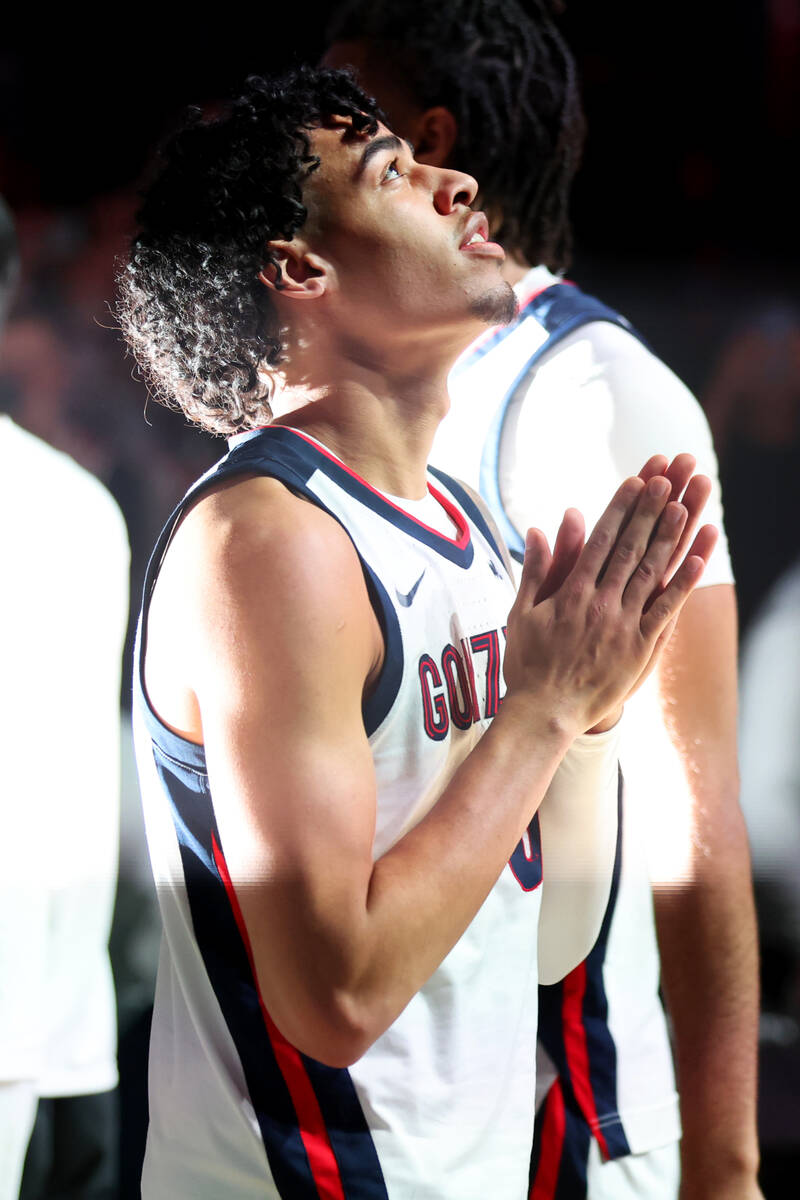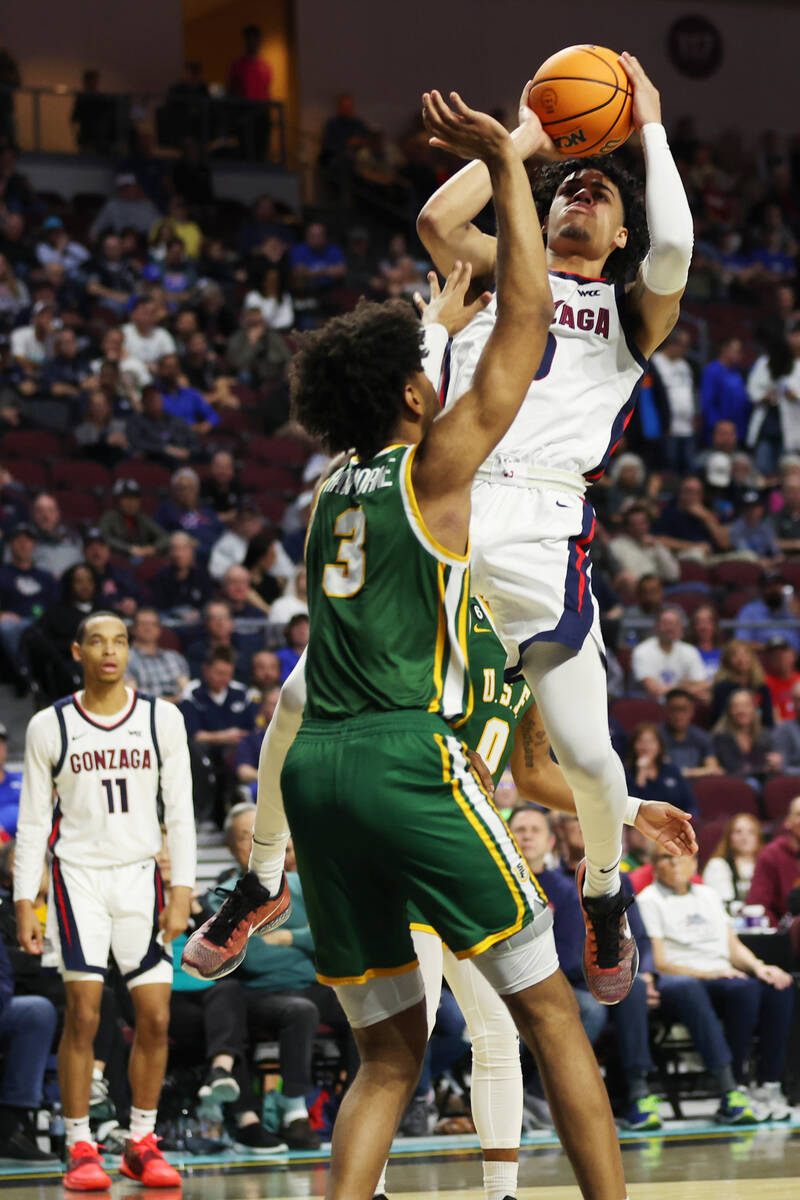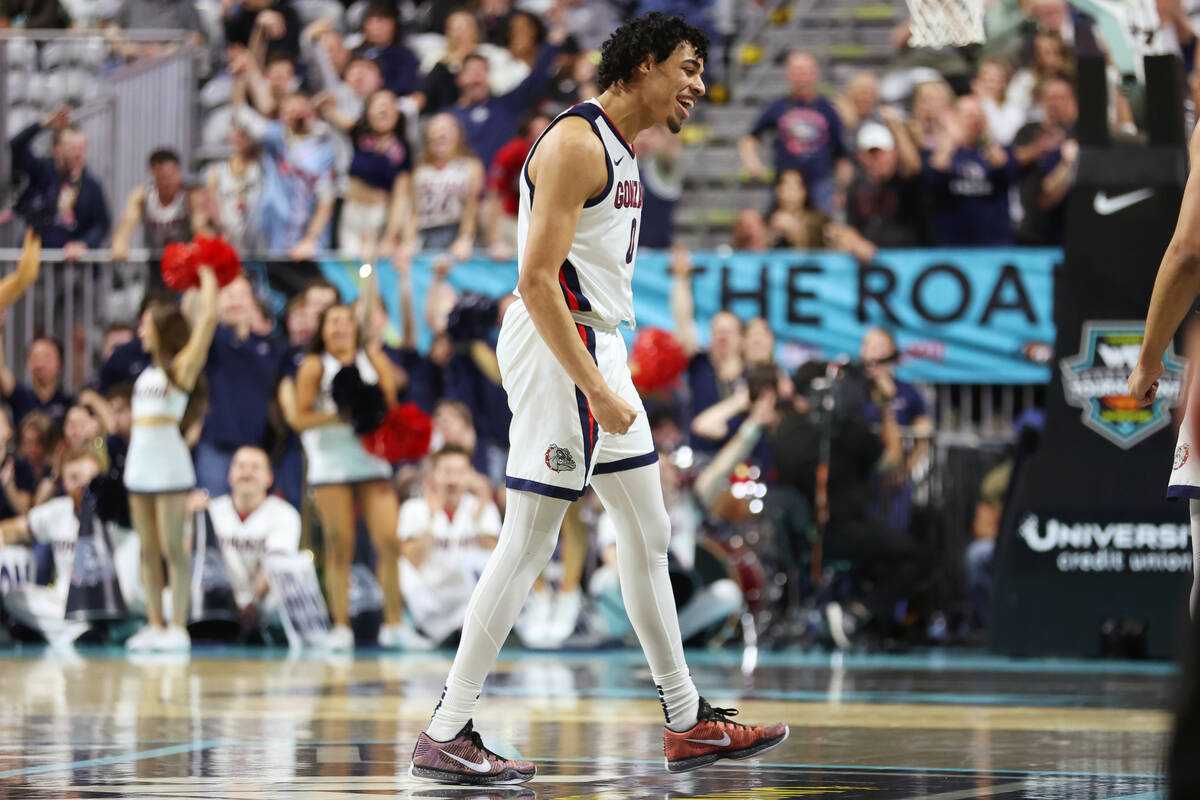 It snowed Monday morning in Spokane, Washington, making Julian Strawther's annual West Coast Conference tournament trip home to Las Vegas even more timely than usual.
He evaded the elements. Returned to his element.
Perhaps for the final time as a college basketball player.
"All my family and friends get to see me. Especially now that I've got a bigger role on the team," said Strawther, a Liberty High graduate. "I'm super excited to have everybody. It just feels like everybody that I know in the city (tried to) make it out to the game."
Consider it a curtain call for the soon-to-be 21-year-old small forward, who relished the atmosphere inside Orleans Arena once more Monday in the WCC semifinals against San Francisco — this time as one of the stars of the show.
He considered entering the NBA draft a year ago but opted to return to Spokane to prove he could absorb more responsibilities.
He did just that, earning first-team All-WCC honors as Gonzaga's second-leading scorer.
"The only thing missing is just to get a national championship," said Strawther, whose Bulldogs are projected by ESPN to be a No. 3 seed in the NCAA Tournament's West Regional — the conclusion of which is at T-Mobile Arena.
A bigger burden
Strawther played well enough as a sophomore last season to consider a leap to the NBA while preserving his final two years of eligibility. He participated in the predraft process and utilized the feedback he obtained from NBA decision-makers to become a better player and prospect this season.
They wanted to see him do more, he said.
Last season, he averaged 11.8 points and 5.4 rebounds, proving a reliable shooter by converting 36.5 percent of the 4.6 3-pointers he attempted per game. But he was playing next to eventual No. 2 overall draft pick Chet Holmgren, Andrew Nembhard, a fellow rookie starting for the Indiana Pacers, and Drew Timme, the WCC's newly minted two-time Player of the Year.
What would he do, scouts and executives wondered, while bearing more of the offensive burden?
Gonzaga coach Mark Few and his assistants were supportive of Strawther while he waded through the draft waters but made clear to him upon his withdrawal, "there's no more hiding in the shadows anymore."
"They weren't asking me to be that guy," said Strawther, who, like a prototypical NBA wing, stands 6 feet, 7 inches. "They were telling me that I have to. … That fired me up, and I was ready to go for the jump."
That would mean using more possessions as a primary ball handler while improving his 3-point accuracy off the catch and off the dribble while maintaining a standard on the other end of the floor.
He was good in nonconference play against the rugged schedule Gonzaga typically plays, averaging 12.9 points, 7.7 rebounds and converting 41.3 percent of his triples. Even better in the WCC, averaging 17.9 points and 5.1 rebounds while making 50 percent of his field goals and 44.2 percent of his 3-pointers against defenses skewed a bit more in his direction.
Burying Brigham Young with a game-winning 28-footer and hanging 40 points on Portland.
"My phone was off the hook after that game." said Strawther, who had his fair share of 40-balls while playing for Liberty.
Living in the moment
He came, he sat, he started, he starred, beginning his freshman season nearly three years ago as a reserve on the best team in Gonzaga history — and likely leaving as a featured forward on another NCAA Tournament-bound team.
Fulfilling the vision he had when he committed to Gonzaga, then as a junior for the Patriots.
Loving basketball as much now as he did then.
"I think I'm doing a good job of enjoying it," Strawther said. "The team, we've all been through so (many) ups and downs. … I feel like we're all being able to soak in every moment. Just ready for the next."
And ready for the next level.
Contact Sam Gordon at sgordon@reviewjournal.com. Follow @BySamGordon on Twitter.