Gordon: 10-year-old boy lives dream with Raiders at Pro Bowl
Updated February 5, 2023 - 5:40 am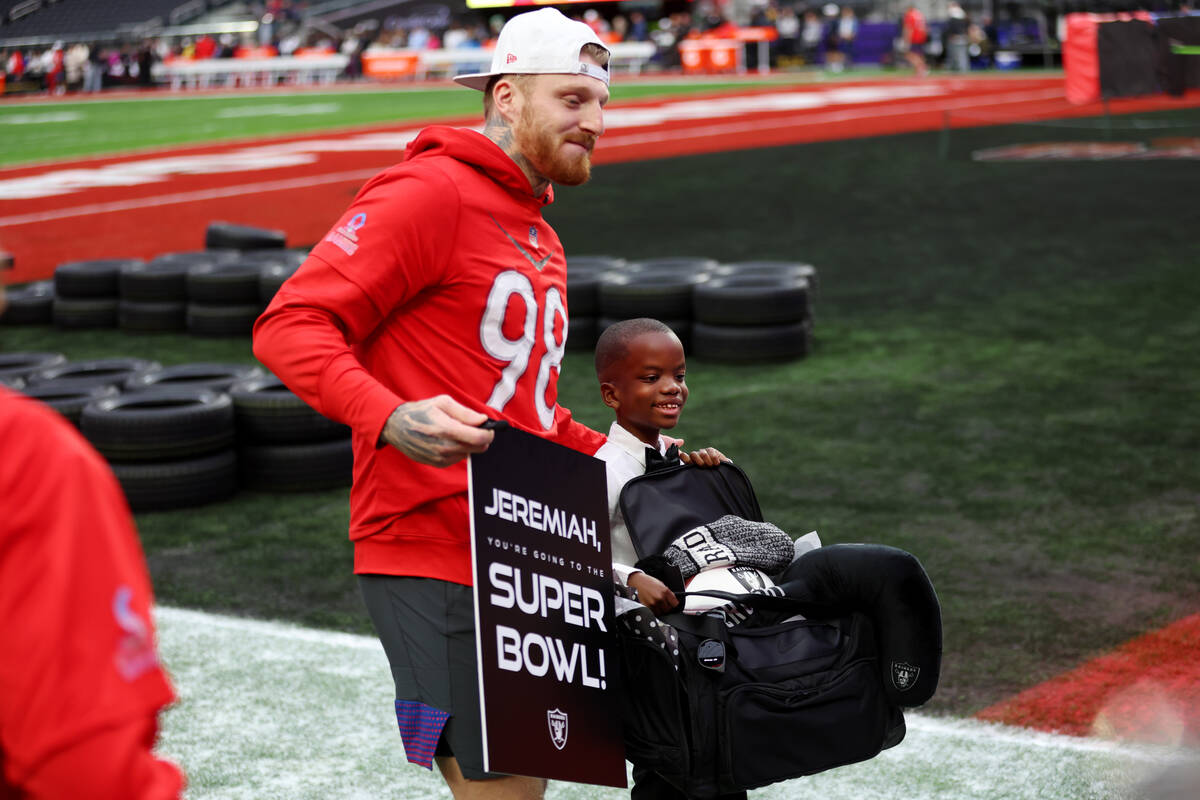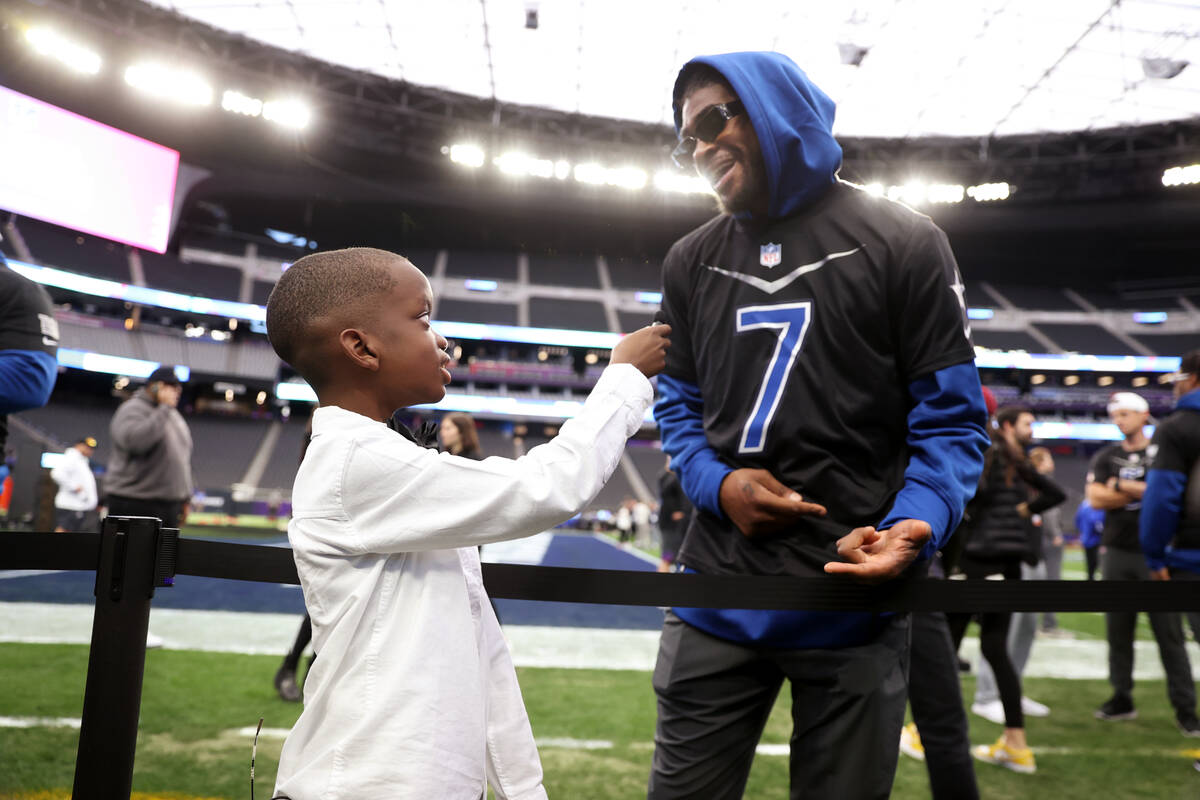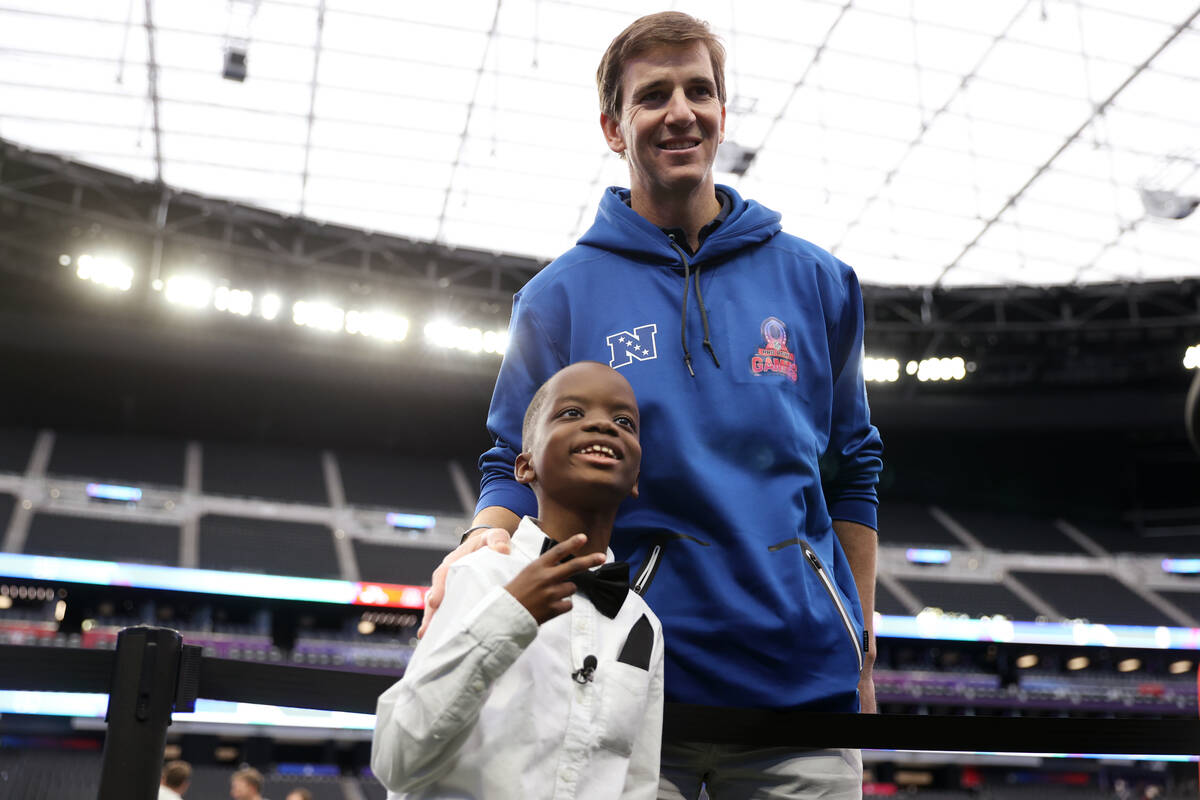 Jeremiah Fennell unsheathed his tiny microphone Saturday inside Allegiant Stadium as he walked toward Minnesota Vikings wide receiver Justin Jefferson. He with the 128 receptions, 1,809 receiving yards and eight touchdowns this season — as Jeremiah would remind him before asking a pivotal question about his first career TD catch.
As if he was watching the play live, the 10-year-old detailed to his 23-year-old counterpart the opponent, down and distance and the two defenders Jefferson eluded en route to paydirt.
Justin Jefferson's first career TD is a 71 yd gem pic.twitter.com/lT2cbzgAh9

— Vikings Blogger (@firstandskol) September 27, 2020
"As you're on your way to the end zone. You do the Griddy. Did you think the dance would take off the way it did?" he asked, raising the microphone toward Jefferson's chest.
"Whose son is this?" Jefferson asked through a grin, prompting acknowledgement from Jeremiah's mother, Lorraine Golden, and laughter from everybody nearby. "How he like this?"
"He was born like that," she replied.
Jeremiah is a burgeoning sports broadcaster — with a YouTube channel to show for it and an ever-evolving reel that'll include exclusive interviews (and a Griddy lesson) with Jefferson, George Kittle, Saquon Barkley, Trevon Diggs and several other Pro Bowlers who attended Saturday's practice.
The Las Vegas native goes by Jeremiah One and Five, dons a black bow tie on the job and was invited to the stadium by the Raiders, with whom he went viral after his pregame interview with Davante Adams in Week 18 circulated throughout the internet.
Our newest (and cutest) reporter on the job with @tae15adams 🫡

🎤: IG/jeremiahoneandfive pic.twitter.com/vZEYavX5cQ

— Las Vegas Raiders (@Raiders) January 11, 2023
Jeremiah made sure to maximize Saturday's media availability.
"It was so exciting. I was like, 'Mama, 15 more days, 14 more days, 13 more days,'" said Jeremiah, his notes and jottings curled in his hands. "I had a countdown. It was great. I've been doing my homework. I've got the stats, literally every single stat right here."
Born to broadcast
Jeremiah was 2 when he watched his first NFL game. It featured the Raiders, and he fell hard for the Silver and Black. He also enjoys the NBA — supporting the Phoenix Suns — but a detached bone in his right shoulder and a rare brain defect prevent him from playing the sports he loves.
He parents were transparent with him about his condition, though, prompting acceptance and a subsequent pivot toward broadcasting and the proximity to sports that it naturally provides.
"He still wanted to be in the environment," Golden said. "So he just started practicing and practicing," simulating play-by-play and analysis while watching games since he was 4."
Years of talking louder than the TV would trigger the launch of his YouTube channel, sanctioned by Golden only after the Raiders relocated from Oakland to Las Vegas. Jeremiah had pleaded with her for years, and she finally relented, perhaps nudged by his penchant for straight A's at Ronzone Elementary School.
Launched in 2020, his channel sports more than 1,270 subscribers and dozens of videos in which Jeremiah analyzes Raiders games and interviews youth athletes in Las Vegas through a collaboration with Sports4Free Youth Media. During the 2022 NFL season, "somebody sought favor on us," Golden said, explaining that someone wrote a letter to the local Fox affiliate seeking to highlight her son's coverage.
The station helped connect Jeremiah with the Raiders, who invited him to the season finale against the rival Kansas City Chiefs to interview Adams. They also invited him Saturday to exclusively interview Maxx Crosby, Josh Jacobs and Derek Carr — and to attend the Super Bowl on their dime next weekend in Phoenix.
Crosby surprised Jeremiah with a sizable black cardboard invitation — and a duffel bag filled with Raiders merchandise and memorabilia.
"When they first did the groundbreaking at Allegiant Stadium, he told me, 'I'm going to work there," Golden recalled.
Even sooner than she thought.
Or maybe not.
Contact Sam Gordon at sgordon@reviewjournal.com. Follow @BySamGordon on Twitter.