Gordon: Aces need to respond to Hamby's allegations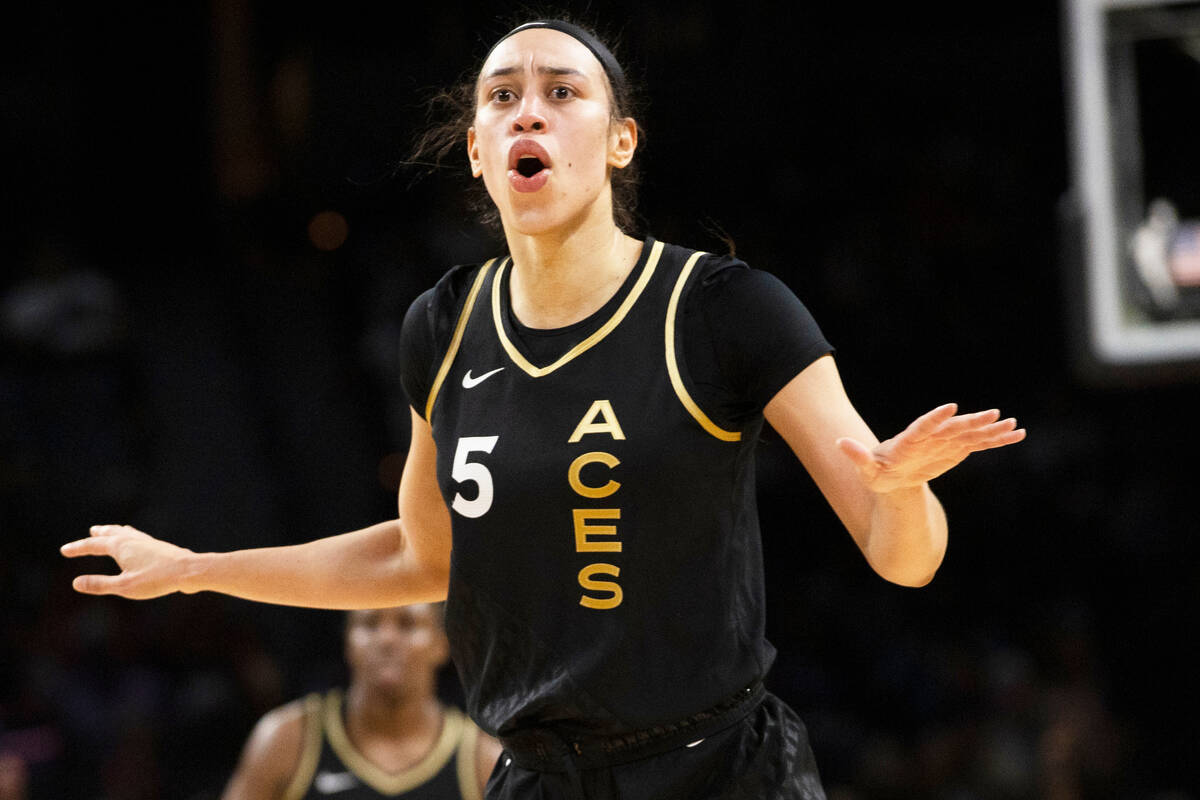 Dearica Hamby on Saturday issued a statement about her trade from the Aces to the Los Angeles Sparks and the reason behind it. The WNBA Players Association did likewise, saying it would investigate her claims.
But the defending WNBA champions remain silent on the matter.
Their silence is as deafening as the sounds of their celebratory championship parade on the Las Vegas Strip.
That the Aces haven't addressed Hamby's allegations of discrimination because of her pregnancy marginalizes the very message they sent by including her daughter, Amaya, her first child, in promotional reels that played on the video board during their home games at Michelob Ultra Arena.
It was OK for Hamby to be a mother. Until it wasn't.
The Aces haven't yet disagreed.
Hamby issued her statement via Instagram, detailing a position that her second pregnancy was weaponized against her by the franchise amid its unfulfilled promises.
Subsequent requests to the Aces for a comment or explanation from the Review-Journal have not been returned.
"Being traded is part of the business," the 29-year-old former Wake Forest standout wrote, noting the heartbreak and trauma that have accompanied the trade. "Being lied to, bullied, manipulated and discriminated against is not."
Hamby deserved better
Hamby has not spoken publicly beyond what she wrote on Instagram and the Aces obviously haven't addressed her allegations, either. So some elements of this situation are unclear. One isn't: she deserved better — even if she had not been an eight-year veteran of the franchise, two-time Sixth Player of the Year, two-time All-Star and indelible fan favorite.
Due to give birth in March, Hamby announced her pregnancy at the parade and from the outset made clear that she planned to play this season — telling WNBA insider Khristina Williams of Girl Talk Sports TV so in an October interview on Spotify.
There's a personal precedent. Amaya, her first child, was born Feb. 5, 2017, and Hamby returned to play all 34 games that season for the San Antonio Stars. She's an even better player now, proving the last five years that motherhood hasn't marginalized her impact.
With Hamby playing a key role, the Aces emerged as one of the WNBA's best teams as she became one of its better and more versatile players. Her All-Star status didn't stop her from chasing loose balls or battling on the offensive boards.
Her hustle and energy often galvanized home crowds, namely the one she frenzied Sept. 15, 2019, at Thomas & Mack Center with her game-winning 37-footer that propelled the Aces to a 93-92 win over the Chicago Sky in the second round of the league's postseason.
While it's fair to contend that trading Hamby could ultimately bolster a team that won a title during a postseason in which she averaged only 8.5 minutes in six games, she contends that her pregnancy, not future fit or production, triggered the trade.
"I was traded because 'I wouldn't be ready and we need bodies,'" Hamby wrote, referencing dialogue with key decision makers. "The unethical way that I have been treated is traumatizing."
A new start in LA
Hopefully Hamby can heal in Los Angeles, where she was sent Saturday with a 2024 first-round pick for center Amanda Zahui B.
Hamby signed a below-market contract extension last June, tweeting to Richard Cohen of Her Hoop Stats that "peace of mind & happiness" was greater than the $169,000 she was due to make this season. Much of that money has been cleared from the Aces' salary cap, and they're reportedly courting another mother — free agent forward and WNBA legend Candace Parker.
Wrote Hamby: "To be treated this way by an organization, BY WOMEN who are mothers, who have claimed to be 'in these shoes,' who preach family, chemistry, and women's empowerment is disappointing and leaves me sick to my stomach."
And the Aces confoundingly silent.
Contact Sam Gordon at sgordon@reviewjournal.com. Follow @BySamGordon on Twitter.