Gordon: Don't overthink this. Aces' Wilson is clearly WNBA's MVP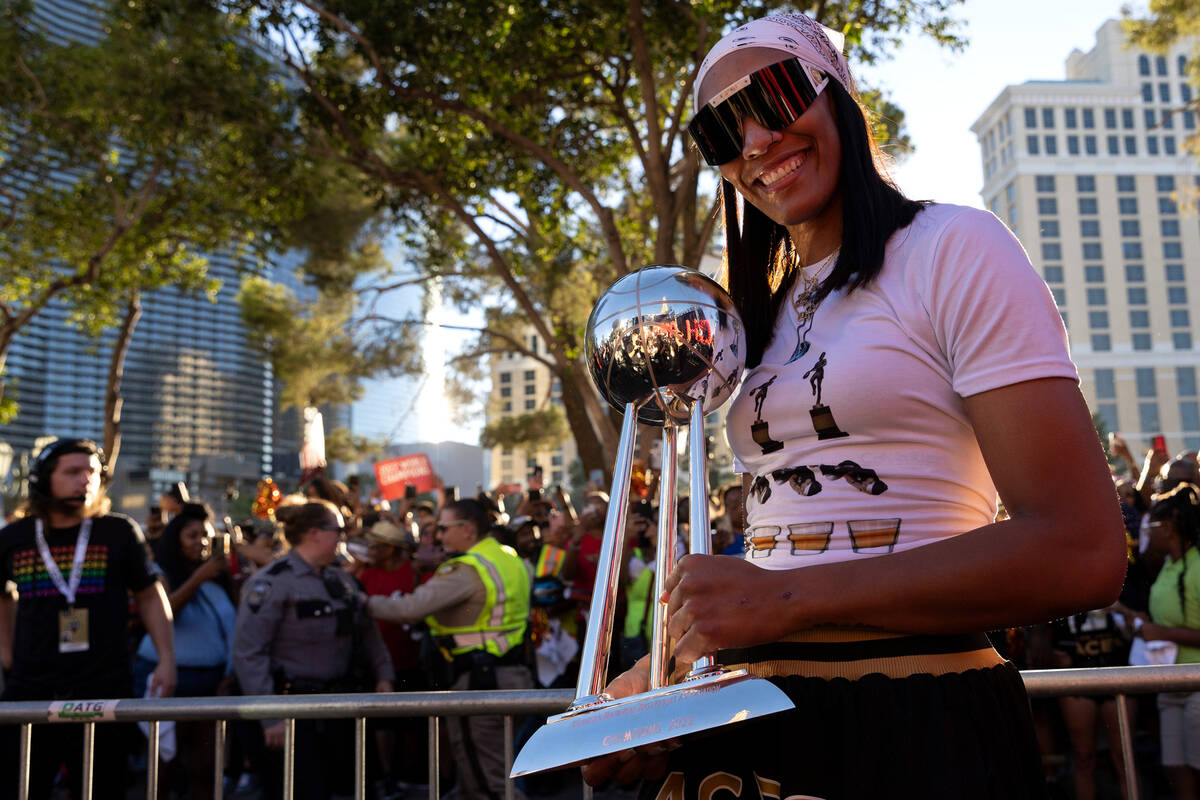 The expectations for the WNBA's best player has become so impossibly high that her worthiness to repeat as MVP is in question during the finest season of her increasingly all-time great career.
That shouldn't be.
For the third time in four seasons, A'ja Wilson should be the WNBA MVP.
Now 27 and approaching her apex, the superstar forward and reigning MVP has powered the Aces to one of the greatest single seasons in the WNBA's 27-year history, and should be rightfully rewarded for her two-way dominance for the second straight season.
The defending WNBA champions bring into the regular-season finale Sunday the league's best record (33-6), offensive rating (112.6 points per 100 possessions, second in league history), defensive rating (97.4 per 100 possessions) and net rating (plus-15.2 points per 100 possessions, third in league history).
Wilson brings into the season finale career-high averages of 22.5 points on 55.2 percent shooting, 9.5 rebounds and 2.2 blocks, playing all 39 games at one of the most physically demanding positions. That includes one of the top outings in WNBA history: a league-record 53 points Aug. 22 against the Atlanta Dream on 16-of-23 shooting and 20-of-21 free-throw shooting.
Said teammate Chelsea Gray, who should earn All-WNBA first-team honors as the league's best point guard: "I'm playing with the best player in the league right now."
A bigger burden
Kudos to New York Liberty forward Breanna Stewart (23.3 points on 47.1 percent shooting, 9.4 rebounds, 1.5 steals, 1.6 blocks) — a shoo-in for All-WNBA first team and Wilson's chief MVP competition — but her degree of difficulty this season hasn't matched that of Wilson, who bore the bigger two-way burden on a nightly basis.
New York is deeper than the Aces, who've played more than half the season without injured frontcourt standout Candace Parker, lost in July to a foot injury and without a target return date. Postseason hero Riquna Williams also sat out the season for the Aces because of injuries and domestic violence charges that have since been dropped.
The Liberty— also rife with All-WNBA caliber talent in Sabrina Ionescu, Jonquel Jones, Courtney Vandersloot and Betnijah Laney — have maintained relative health throughout Stewart's spectacular season.
Without Parker beside her to ease the responsibility in the interior, Wilson has raised her production and efficiency — averaging 24.9 points on 58.1 percent shooting to go with 9.8 rebounds, 2.3 blocks and 1.5 steals since July 7 when she last played.
The Aces are 15-4 since, essentially maintaining the pace of record they established with Parker in the lineup.
Wilson's dominance on both ends preserves the spacing for Gray and fellow prospective All-WNBA honorees Jackie Young and Kelsey Plum to operate freely offensively. Her function as the league's best rim protector preserves for the Aces their defensive integrity, ensuring coach Becky Hammon can play the optimal lineup — regardless of the opposition.
"She's the anchor for the No. 1 offense and No 1. defense," Hammon said Friday before Wilson hung 30 points and nine rebounds on the Phoenix Mercury in three quarters.
"It all revolves around her. … She's been at another level this year."
Unmatched efficiency
That despite leaving playing time and production on the proverbial table. In the same breath, Hammon also relayed that Wilson willfully sits fourth quarters of blowouts or if another unit is rolling.
"The type of superstar she is," Hammon added, selfless and more concerned with championships than MVPs. Wilson ranks 24th in minutes per game (30.7) — Stewart is fourth (34.1) — amplifying the efficiency with which she's able to produce and better preserving her for the postseason.
Her PER (player efficiency rating) of 32.1 bests Stewart's of 29.3 and ranks fifth in WNBA history, per Basketball Reference,
Said Hammon: "She plays both ends and she dominates both ends."
Honor her accordingly as the WNBA MVP.
Contact Sam Gordon at sgordon@reviewjournal.com. Follow @BySamGordon on X.
Up next
Who: Aces vs. Mercury
When: Noon Sunday
Where: T-Mobile Arena
TV: ESPN2
Radio: KWWN (1100 AM, 100.9 FM)