Gordon: Knights bring Mamba Mentality to Stanley Cup Final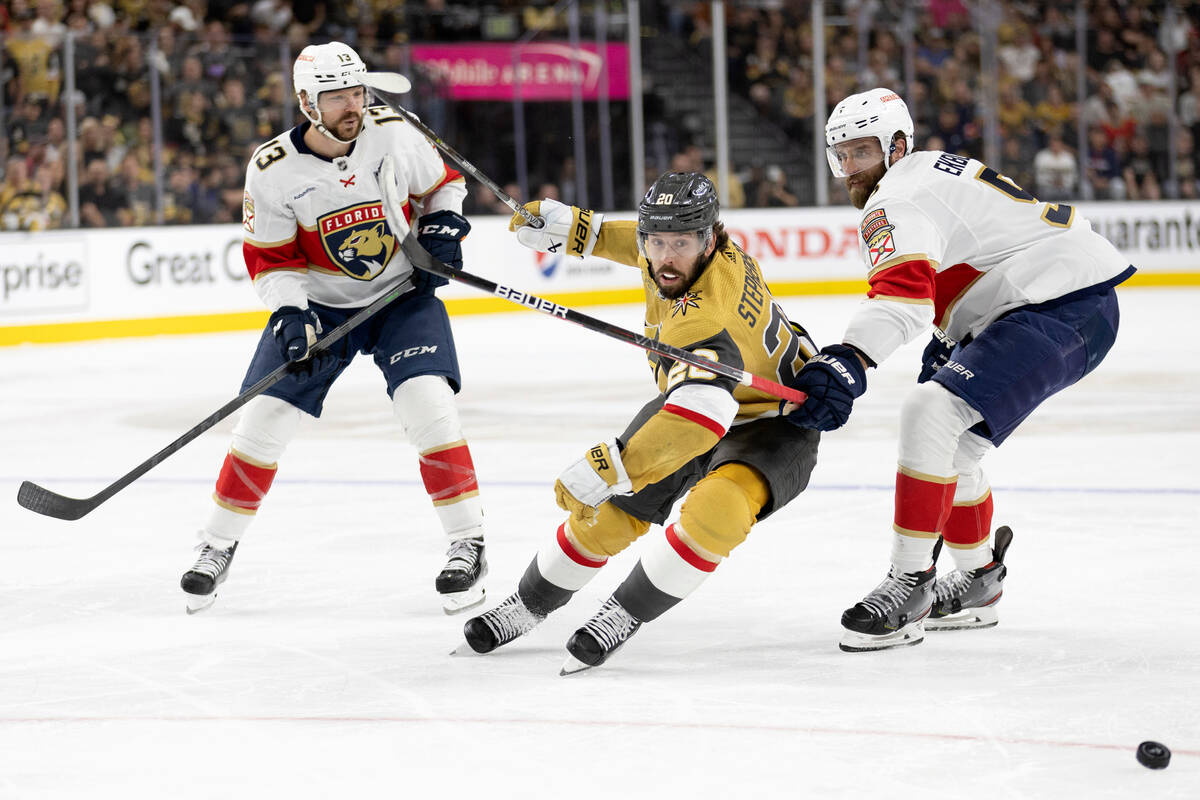 Practice on Sunday morning at City National Arena was optional for the Golden Knights after their 5-2 victory over the Florida Panthers in Game 1 of the Stanley Cup Final at T-Mobile Arena.
Yet 10 key contributors elected to join their reserve teammates to skate before a smattering of fans.
Their bumps and bruises, aches and pains, tired legs be damned.
"We've been there the first time. It didn't work out," said winger Jonathan Marchessault, among the six holdovers who played the Washington Capitals in 2018 for Lord Stanley's 3-foot silver trophy.
"We're a little bit more humble in the situation now. We know it doesn't mean anything, winning one game in one series. For us, the focus is on the next game. And that's all that matters."
The original Knights — Marchessault, William Carrier, William Karlsson, Brayden McNabb, Reilly Smith and Shea Theodore — learned that the hard way against the Capitals, to whom they lost four straight games after winning Game 1.
Hence the stoic display in their locker room Saturday at T-Mobile Arena — and their equally ardent approach Sunday at their practice facility.
"We're three away," goaltender Adin Hill said after Game 1.
"The job's not finished."
Far from it
The late Los Angeles Lakers great Kobe Bryant said something eerily similar after a Game 2 victory in the 2009 NBA Finals over the Orlando Magic, whom the Lakers would beat in five games to win their 15th championship.
"What's there to be happy about? Job's not finished," Bryant said to a reporter who noted he wasn't smiling.
"Job finished?" he would ask, rhetorically.
"I don't think so."
All the Lakers had done to that point was what they were supposed to do: Defend their home court the way the Knights defended their home ice.
Exactly what they're supposed to do again Monday in Game 2.
"Listen, before you can get to two, you've got to win one, right? We're happy to get it done," coach Bruce Cassidy said. "We've found ways to win when we're not at our best. Stayed in the game to fight through the parts where we're maybe not executing as well as we'd like and whatnot. … We were able to get to the finish line, do enough things right."
Among those things: Limiting penalties and activity in front of Hill, whose stick save of Nick Cousins will live in Las Vegas lore … if the Knights successfully channel the Black Mamba and win their first Stanley Cup.
"We're in the thick of it. Job is far from finished," defenseman Nicolas Hague said. "We did what we had to do in Game 1, but you almost have to cut that loose and start at 0-0 with Game 2 in another big game. So it's about refocusing and resetting, making sure we're ready to play tomorrow."
'Keep pushing'
Know this much: The Panthers will be, too, given their penchant for the peskiness that upended the record-setting Boston Bruins and paved their pathway to Las Vegas.
Their extracurriculars — paging Matthew Tkachuk — didn't faze the Knights in Game 1.
Cooler heads, one way or the other, should prevail in Game 2.
"Every year we learn different stuff," Carrier said. "We had that San Jose (series in 2019) where we were up 3-1, and I think it was big last series there (against Dallas). We didn't panic, and guys knew exactly what to do. Every year when you lose that last game, you take a lesson out of it.
"I'm sure all the boys that were here the first year, we know that the first game, you're not winning it right off the bat, right? You got to keep pushing."
No, the job's not finished.
In fact, it's just beginning.
Contact Sam Gordon at sgordon@reviewjournal.com. Follow @BySamGordon on Twitter.