Gordon: Lady Rebels raise standards with 2nd straight MW title
Updated February 17, 2023 - 10:29 am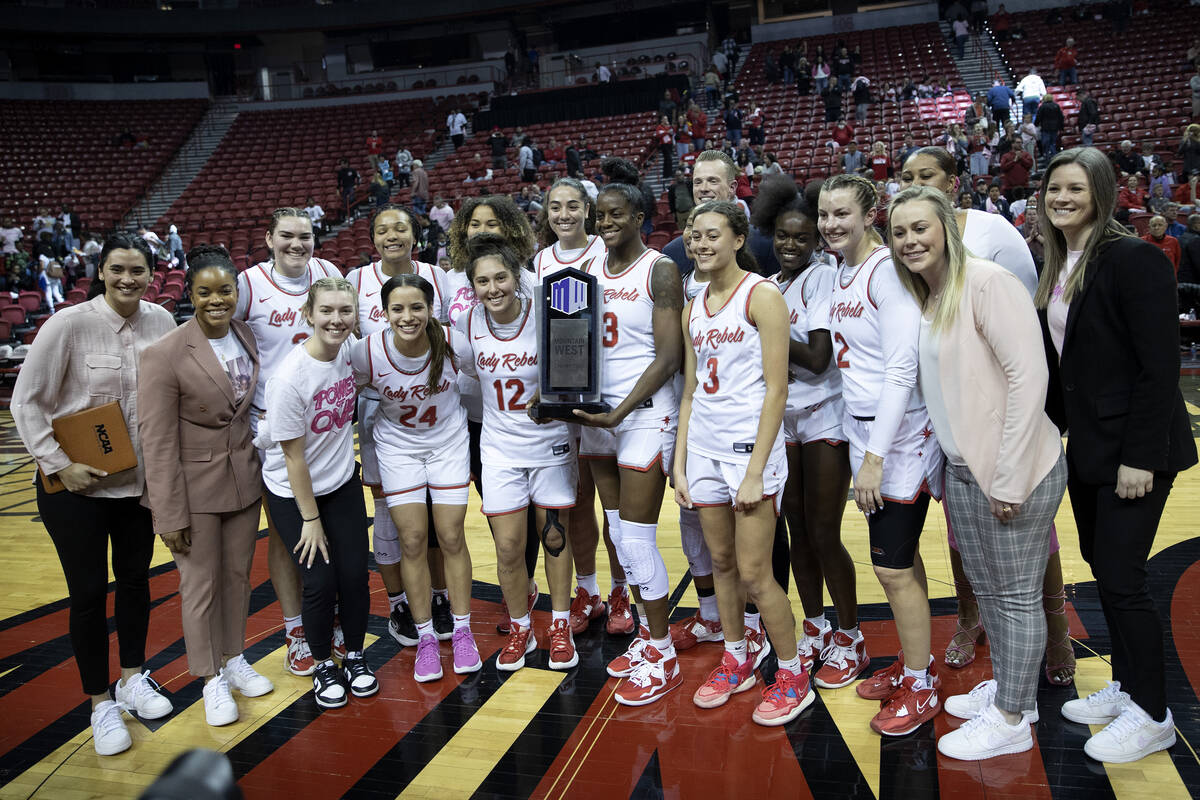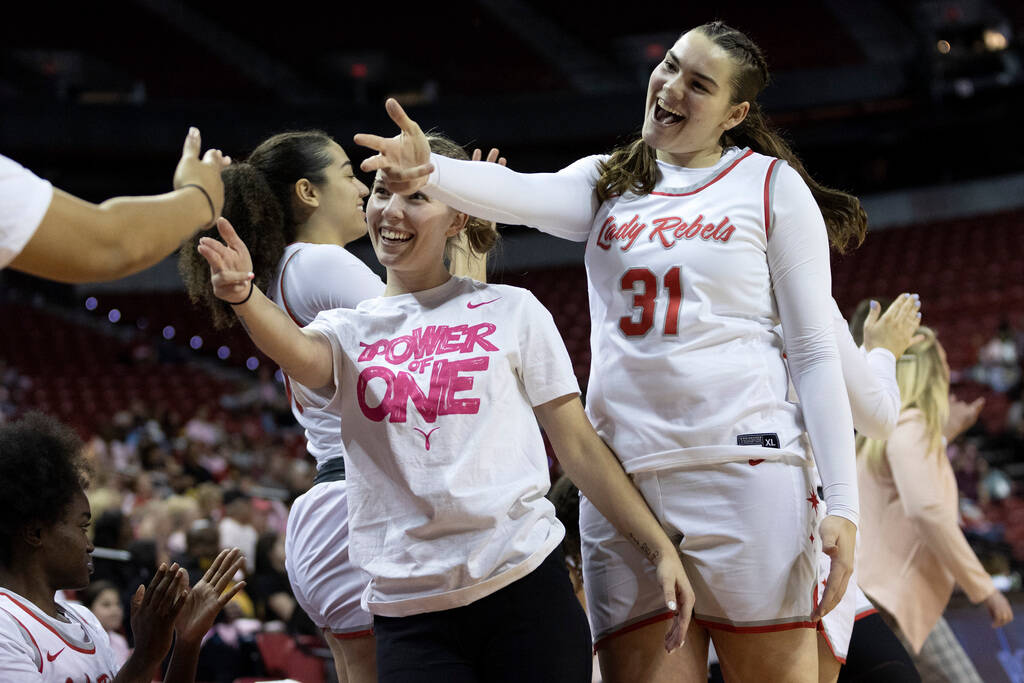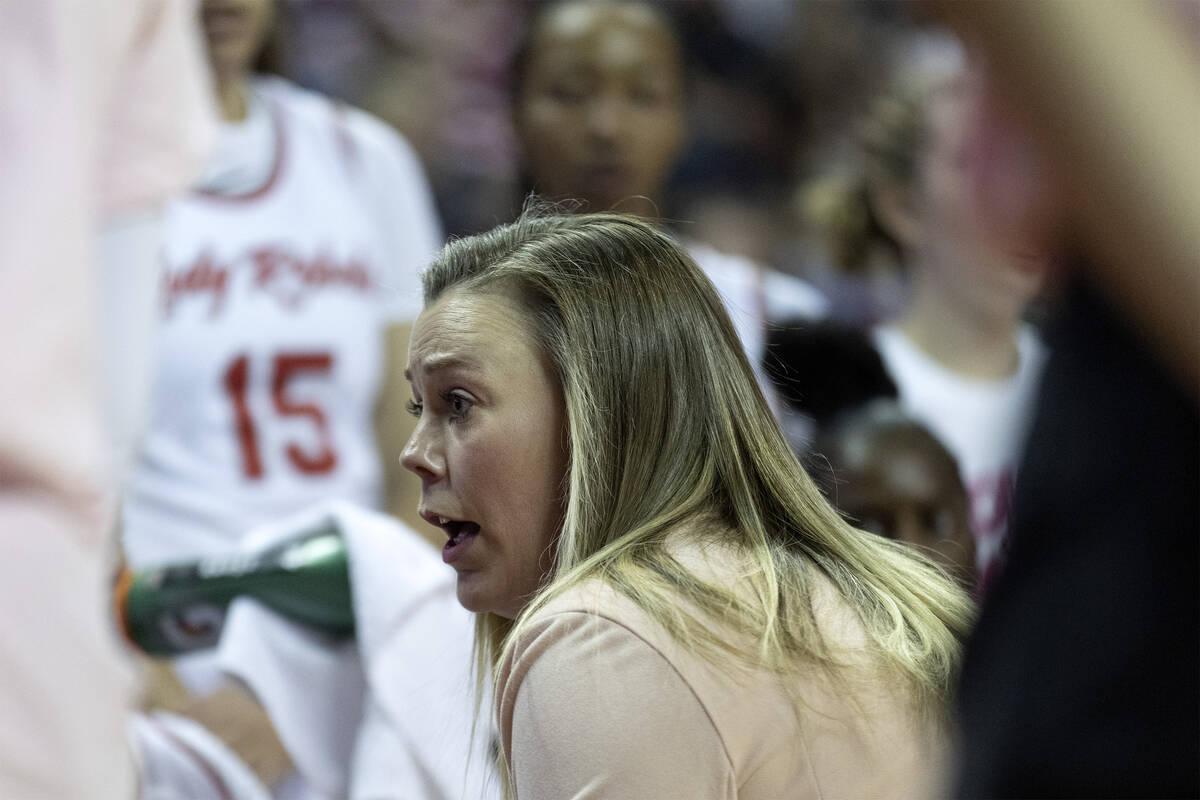 Before the announced crowd of 2,520 could leave the Thomas & Mack Center on Thursday night, UNLV women's basketball coach Lindy La Rocque took a microphone from the public address announcer and invited spectators to come on the court to celebrate with the Lady Rebels — allowing her enthusiasm to reverberate through the speakers.
"It was total coincidence, but what a great game in the Thomas & Mack," she said amid the sea of supporters seeking autographs or photographs with players on the nation's 23rd-ranked team.
"This is how we get people to come back for more, and that's what our team is about. We're not superstars."
Even better: They're the Mountain West champions for the second consecutive season.
The Lady Rebels cruised to a 77-60 victory over San Jose State, christening the ranking they garnered this week for the first time since 1994 and preserving their unbeaten record in conference play.
Sophomore forward Alyssa Brown had 17 points, 12 rebounds and at least a dozen signatures to fans who accepted La Rocque's invitation. Reigning Mountain West Player of the Year and junior center Desi-Rae Young added 16 points, 10 rebounds and her own assessment of the culture she's helped establish.
But only after supplying signatures and smiles for another sector of supporters.
"Our culture is to play together. Our culture is to play strong. Our culture is to control the things we can control," said Young, a Desert Oasis High graduate. "(We) just listen to Coach Lindy. She has a great mindset, and she's really building the culture for UNLV basketball."
A championship culture
Their culture is conducive to championships.
That much they solidified last season en route to the Mountain West regular-season and tournament crowns and their first NCAA Tournament berth since 1994. But a conference title isn't an aberration for La Rocque, a Durango High graduate who has a 66-18 record in her two-plus seasons at her hometown university.
It's the expectation.
"It's a little nice, honestly, to get this one over with," La Rocque said. "Let's get back to preparing to win the real championship and the one that really, really matters even more importantly than this.
"They're young people, and that's my job to kind of keep them straight and narrow and focused."
Hence why she called a timeout midway through the second quarter after a three-on-one fast break ended with an errant pass and dead-ball turnover. The stoppage would precede a 15-0 run from the Lady Rebels (25-2, 15-0 MW), who uncorked their full-court 1-2-2 and half-court 2-3 zone defenses against the Spartans (3-22, 1-13) to generate turnovers and ignite their transition offense.
Senior point guard Essence Booker had a career-high 12 assists, ensuring the ball flowed freely for a team that would assist on 24 of its 31 baskets.
The second half simply preceded the coronation.
"We're trying to do this every year," Young said. "We're trying to make history for UNLV, especially for women's basketball here."
Setting standards
They're succeeding — and raising the standards associated with the program. They know there's more they can accomplish in March.
In the Mountain West tournament.
And the big one, too.
"We have a little bit bigger of a chip on our shoulder. We know we're really going to get everybody's best game, starting now," Brown said. "We know what it takes, what it looks like, what it feels like.
"Having so many returners, we had an expectation of how we wanted this to go."
Just like this.
Contact Sam Gordon at sgordon@reviewjournal.com. Follow @BySamGordon on Twitter.