Gordon: Marchessault's play has him in Conn Smythe conversation
Updated June 6, 2023 - 7:35 pm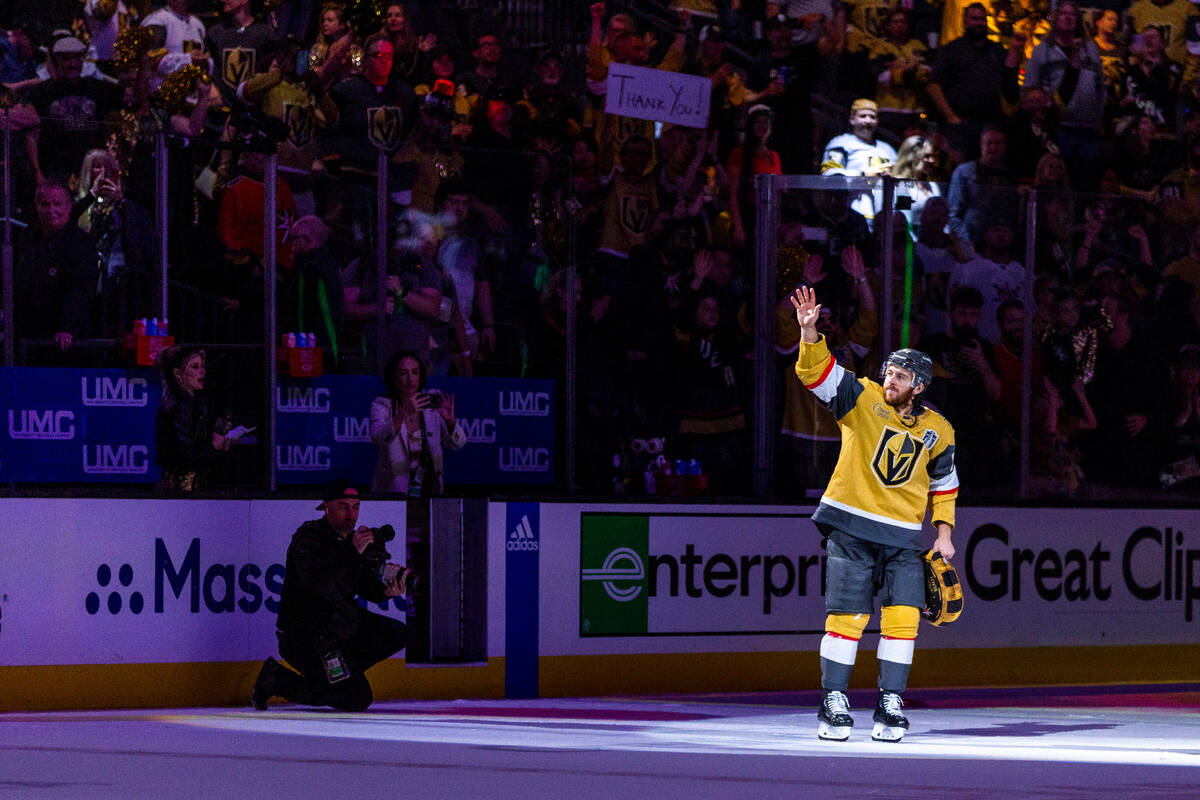 Remember when Golden Knights forward Jonathan Marchessault was struggling to score in the first round of the Stanley Cup playoffs?
Neither do I.
Neither do his teammates.
"Sometimes, you know, if you struggle in the first round, then you're going to be hot later on," linemate Ivan Barbashev said. "Since then, he's been really hot. He's done a really good job for the team. He's scoring some big goals for us. He's just been one of our best players out there."
The Knights are two wins from the Stanley Cup — and Marchessault is perhaps two wins from the Conn Smythe Trophy, awarded since 1965 to the MVP of the NHL's postseason.
The 32-year-old has nine goals in his past nine games, leading Vegas with 12 in 19 playoff games.
Plus the best plus/minus (16) among postseason players across the NHL.
If Marchessault sustains that mark for the remainder of the series, he'll join Jari Kurri, Paul Coffey, Wayne Gretzky and Henrik Zetterberg as the only players in NHL history to tally 12 goals and a plus/minus of 16 or better in a postseason.
Not that it necessarily matters to him.
"We've done a great job so far," Marchessault said, "but we're still pretty far from our goal."
Best for last?
So, too, was Marchessault when the postseason began. When he wasn't but a bystander while his teammates disposed of the Winnipeg Jets in five games in their first-round series.
He finished with two assists — and without a goal on 12 shots.
The luxury of depth is a lavish one.
"The biggest reason we are still here," coach Bruce Cassidy said.
But a second-round series opposite the Edmonton Oilers allowed Marchessault to reclaim the swagger he also touts away from the ice. He scored two goals in Game 3 — and seemingly hasn't stopped scoring since. There's the hat trick in the clincher, and the point streak that started in the second game of the Western Conference Final, during which he tied the game in the third period to set up a 3-2 overtime victory.
He's tallied a point in every game since, tactfully passing the puck to his teammates in their free-flowing offense — and shooting it as accurately as ever before.
His postseason shooting percentage of 17.4 percent represents a career high and far betters his top regular-season mark of 15.5
"He's a true goal scorer. He's come up big, and it's not just scoring goals, but he's scoring big goals in big situations," defenseman Alec Martinez said Monday. "Coming to mind is that last Edmonton game, that one in Dallas that Jack gave him, obviously tonight. He's one hell of a talent.
"It's good to see him have success."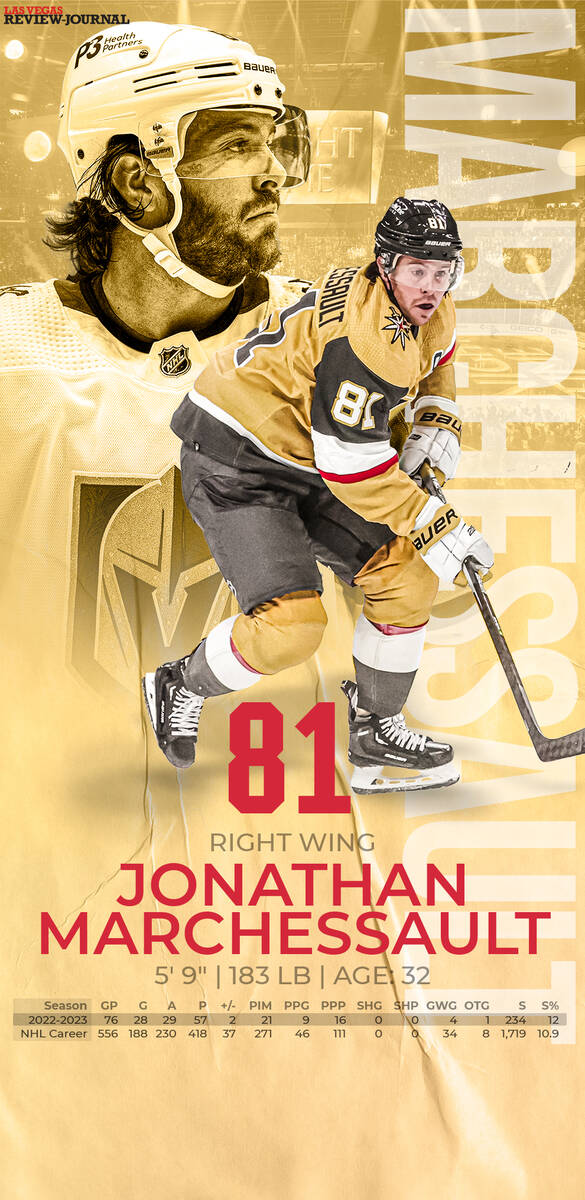 'Reason why he's scoring'
Good indeed for the Knights … and not so good for the Panthers, for whom Marchessault played in 2016-17 before he was rerouted via the expansion draft to Las Vegas.
As one of six players remaining from the incredible inaugural 2017-18 team, he's the franchise's career leader in goals (150), assists (198), points (348) and playoff points (67) — and precisely the type of player the Panthers could use during a Stanley Cup Final in which they have nearly twice as many penalties in minutes (130) as shots on goal (66).
Their offense has slowed in two games against the Knights and their rugged group of blue liners, who have aided the heroics of goaltender Adin Hill.
Imagine if they still had Marchessault and the aggression he offers.
"Marchy's been unbelievable for us all year," Hill said. "I have to face his shot every day. It's unbelievable. When he gets in tight, he's probably one of the hardest guys in the league to stop. There's a reason why he's scoring."
Can't remember when he wasn't.
Contact Sam Gordon at sgordon@reviewjournal.com. Follow @BySamGordon on Twitter.