Gordon: New UNLV linebacker is all football, all the time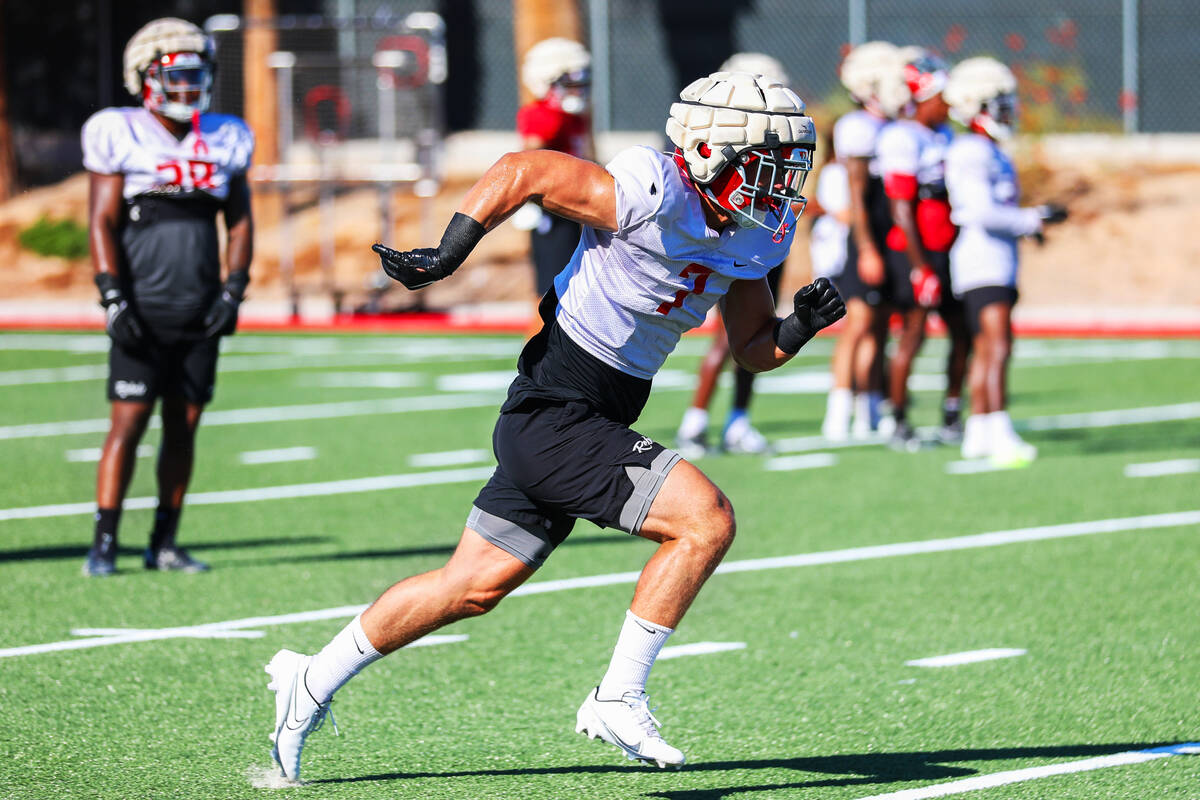 Jackson Woodard loves to play football.
And when he's not playing football, he's preparing to play football. And when he's not playing or preparing to play, he's usually watching football — or film of his team and opponents playing football.
And when he's done playing football, he wants to coach football.
"It's just really a lifestyle," he says through a drawl, his blue eyes brimming with eagerness and ambition. "Down South, that's what it is — eat, sleep football."
Out West, too, as far as he's concerned.
Woodard is bringing his unbridled enthusiasm from Little Rock, Arkansas, to UNLV, where he's a fourth-year junior linebacker and the leader of its defense, having played three years at the University of Arkansas under Rebels coach Barry Odom, formerly the Razorbacks' defensive coordinator.
He also brings with him three years of experience in the prestigious SEC and an appreciation for the variety of dining establishments in Las Vegas that aren't available in Little Rock or Fayetteville, Arkansas.
"That's what's nice here about Vegas," the 230-pounder said with a grin, his hunger not confined to the football field.
One dream fulfilled
Woodard loves food almost as much as he loves football, fancying pizza when he deviates from the disciplined diet he follows.
Lean proteins and clean carbohydrates are the fuel of choice for Woodard, who packed 30 pounds of muscle onto his 6-foot-3-inch frame in three months after committing to Arkansas as a preferred walk-on. He did that while training daily with weights in his family's garage during the onset of the COVID-19 pandemic.
He first thought he'd play baseball in college and didn't develop a tape of his football highlights until his senior season at Little Rock Christian Academy.
But the Razorbacks remained undeterred, offering him a spot on their roster in 2020 and with it, the opportunity to walk their campus as a student like his father, Ernie, his mother, Tacy, and his brother, John, before him.
"As soon as they started talking to me, it was over, I was going to Arkansas no matter what," the younger Woodard said. "I didn't even have a question about it. And that's how it kind of is in the South, I think. You grow up being a fan, and as soon as they reached out it was 'Hey, I'm coming.'"
Three years, one scholarship and 16 tackles later, he was leaving because his redshirt sophomore year "didn't go as planned, like I wanted it to go."
Odom's departure in December solidified his desire to depart, and he entered the NCAA's transfer portal days after a 55-53 victory over Kansas in the AutoZone Liberty Bowl, his final game in a Razorbacks uniform.
Among the first coaches to reach out to Woodard was Odom.
Early in his recruiting process at Arkansas, Woodard said as soon as Odom called, he knew he was going to play for the Razorbacks. "I knew what type of man he was and the type of coach he was."
He felt the same way this time.
Another one identified
Odom has the same respect for Woodard, who earned that of his new teammates during the spring and the summer with his work in the weight room and ferocity on the field.
He wants only to win and to play football beyond college. To that, he says this: "It comes back to winning. So if I win and I do my job here, I know the next level will be taken care of."
He's also studying kinesiology on a pre-dental track because his parents are dentists and they inspire him, too.
But football comes first. At least for now.
"You know with great belief what you're going to get from him every day," Odom said. "He will have great success as a player. He's also going to have great success in his line of work someday when football is over because he does have great work ethic. He relates well. He's able to earn the respect of those around him and he's very very consistent.
"We sure are counting on him to have an impact for us."
Like he hasn't already.
Contact Sam Gordon at sgordon@reviewjournal.com. Follow @BySamGordon on X.