Gordon: Parker's absence looms large for Aces in losses to Liberty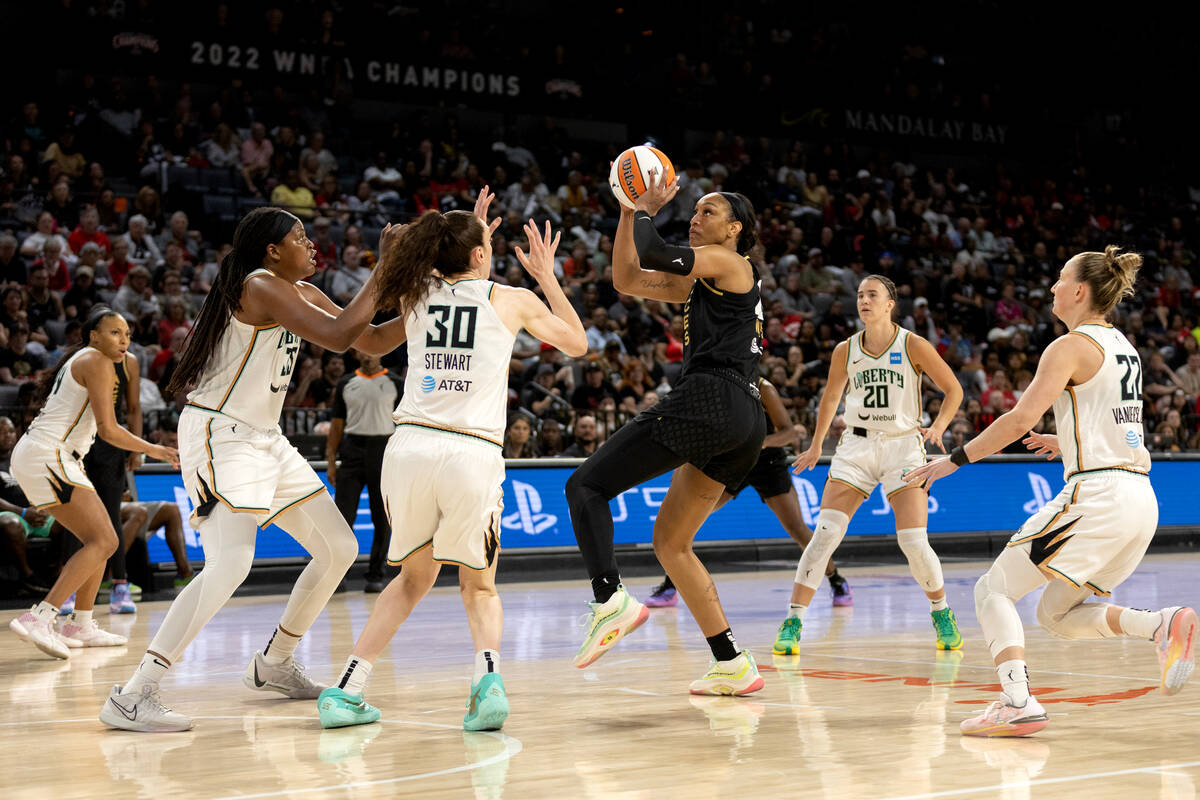 The Aces might not miss Candace Parker against most of the teams in the WNBA.
But they miss her against the New York Liberty — and that's the one team they'll need to beat.
Sans their injured do-it-all forward, a seven-time All-Star and two-time league MVP, the defending WNBA champions have been outscored 181-124 in their last eight quarters against the Liberty, to whom they lost 82-63 on Tuesday in the Commissioner's Cup championship game at Michelob Ultra Arena before an announced crowd of 8,967.
The Aces were also beaten down last Sunday in Brooklyn, where they lost 99-61 to the team they seem destined to face in the WNBA Finals.
A rematch on Thursday resumes the regular season.
There isn't a timetable for Parker's return. She had surgery last month to repair a fracture in her foot.
"Kudos to them, I think they've had a good game plan," Aces coach Becky Hammon said. "We'll have to figure out what we're going to do."
Less size, less spacing
The Aces (27-3) remain dominant against the rest of the league, but Parker's absence is conspicuous against the Liberty, who boast, like the Aces, a squad full of stars and are the other obvious contender for the WNBA title.
When they played the Liberty (24-6) with Parker in the lineup, their offense flowed and their defense dominated. They rolled 98-81 and rested their starters in the fourth quarter.
In the two matchups without her, they've been outmuscled.
New York's massive frontline — former league MVPs Jonquel Jones and Breanna Stewart — overpowered the Aces again on Tuesday, generating a 49-28 rebounding edge against their smaller opposition. They outrebounded Las Vegas 48-24 last week in New York, playing Parker's replacement, Kiah Stokes, right off the floor by exploiting her weaknesses on the offensive end.
A steady rebounder and reliable defender, Stokes lacks Parker's scoring prowess, shooting touch and play-making instincts — meaning the Liberty can ignore her to instead blitz ballhandlers, so long as they eventually box her out.
Such a strategy forces Hammon to downsize with veteran forward Alysha Clark, giving the Liberty an even bigger size advantage so they can pack the paint like they did Tuesday. With Jones and Stewart camped closely to the paint, Aces superstar forward A'ja Wilson has struggled to score inside — shooting 4 of 24 from the floor in the past two meetings.
Her gravity still creates premier looks from the perimeter, from which the Aces shot 5 of 26 on Tuesday and 6 of 23 last Sunday.
"Those are shots that we'll live with each and every time," Aces point guard Chelsea Gray said. "We got good looks. Just got to knock them down. That's all."
Time to adjust
Perhaps they will Thursday. Perhaps they won't. But either way, what the Aces won't do is panic. They remain the rightful championship favorite and boast a championship-caliber team.
Wilson, Gray, Jackie Young and Kelsey Plum will always ensure that.
But Parker elevates them into an all-time great team.
Her averages of 9.0 points, 5.4 rebounds and 3.7 assists this season belie the basketball brilliance that further fortified the Aces' defense while amplifying their offense.
"We used to have a 6-5 point guard in the pocket. That makes a big difference," Hammon said. "That's my job to figure out ways to use Kiah better, to use (Clark) better. So we'll go back and look at it and see if we can't find ways to make it easier on ourselves offensively"
If not by Thursday, then by the postseason.
Contact Sam Gordon at sgordon@reviewjournal.com. Follow @BySamGordon on X.