Gordon: Snubbed by voters, Aces' Young stars on both ends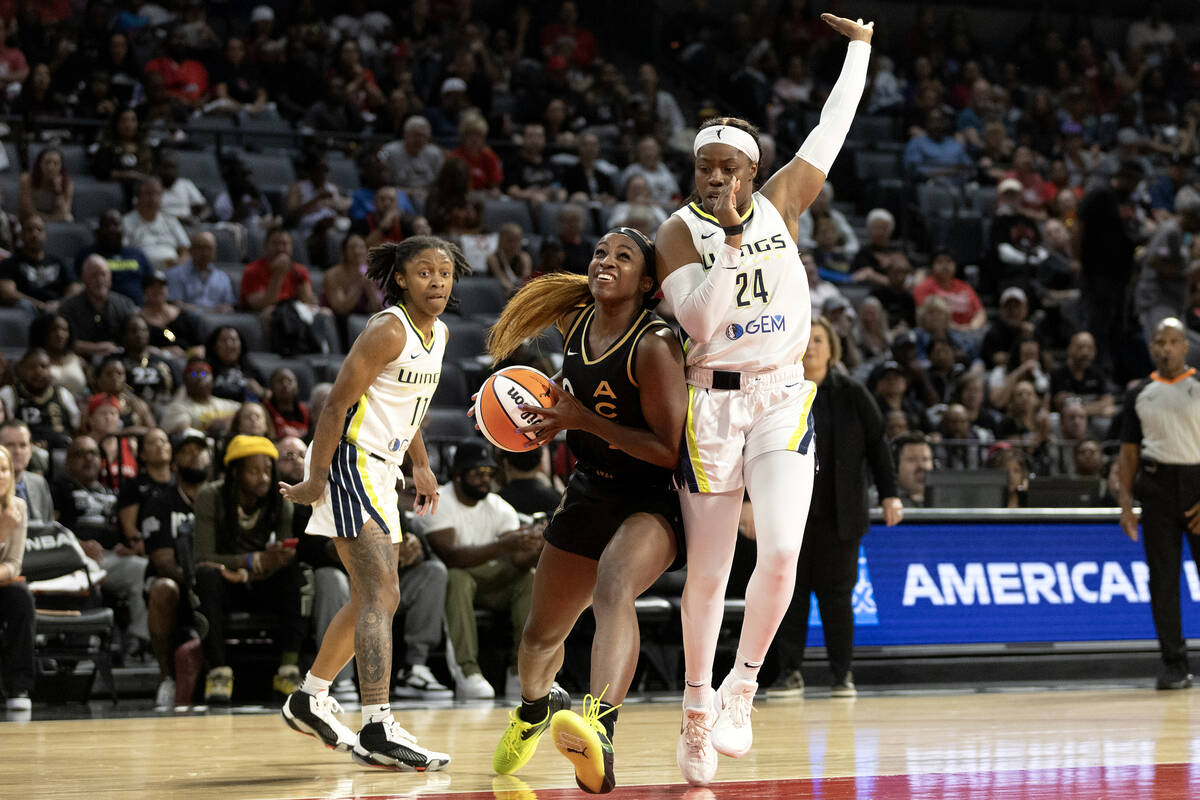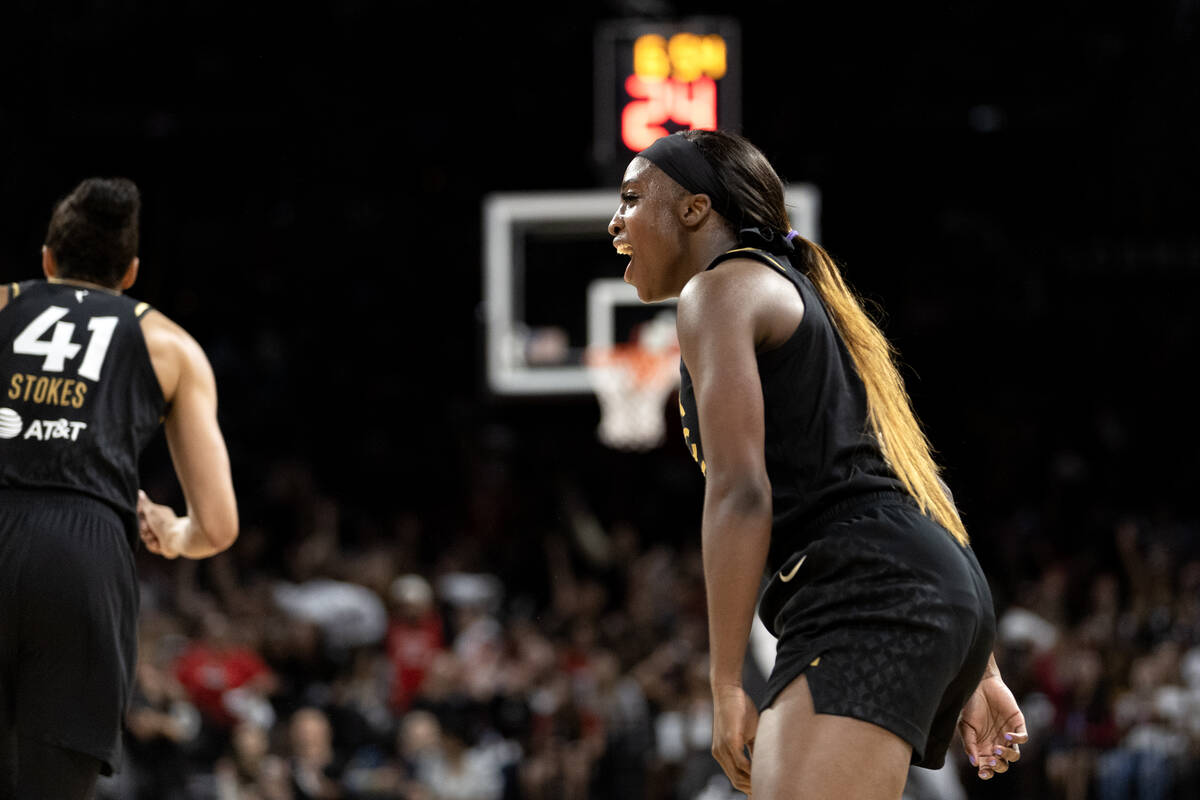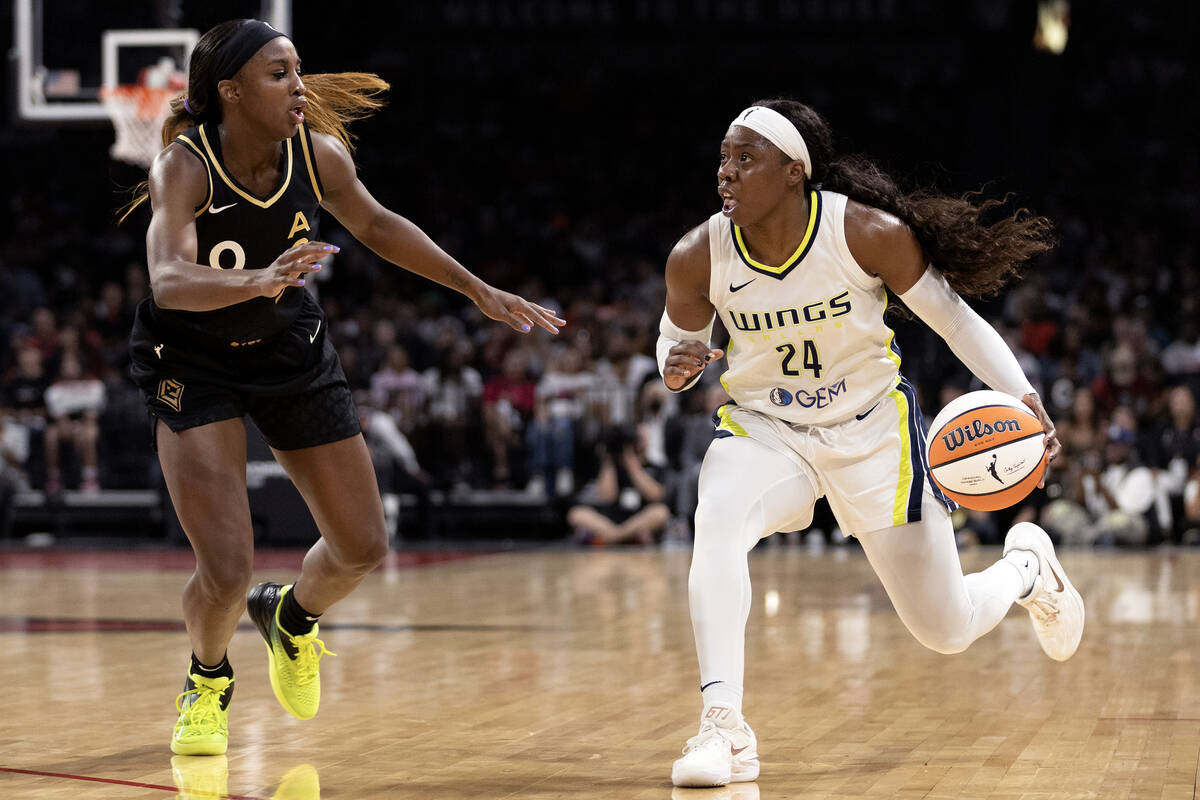 A momentary scan of the WNBA all-defensive teams announced by the league Friday revealed an egregious omission: Aces guard/wing Jackie Young.
The snub generated this response Sunday from teammate A'ja Wilson after another two-way clinic from the fifth-year standout.
"She should have been on the (all-defensive team) for sure. She's earned her way there," said Wilson, twice the WNBA's MVP and the two-time reigning Defensive Player of the Year. "She's one of the best two-way guards in our league. She guards the best guard every single night … and still performs and still produces on the offensive side."
As the Dallas Wings found out firsthand during Game 1 of the WNBA semifinals at Michelob Ultra Arena.
Young shrugged off the snub to tally 19 points, 10 rebounds, seven assists and two steals in a 97-83 victory. Even more impressive, though, is how she helped stymie the opposing All-Star duo of Arike Ogunbowale and Satou Sabally. They profile differently, with contrasting skill sets, but Young subdued them all the same in a display of her malleability.
Ogunbowale, a speedy, scoring guard, shot 4-of-14 en route to 12 harmless points, her movements mirrored by Young, whose active hands are as deft as her feet and her heady sense of anticipation. Sabally, a sturdy ball-handling forward, shot 5-of-14 for 16 points, often stonewalled by Young, who's equally as sturdy while being alert to the proximity of her help-side defenders.
Young also topped both teams in rebounding, powering the Aces to a 36-29 advantage despite conceding considerable size across their starting lineup.
Snubbed for certain
"She's someone that we can really trust to make it hard for the other person," Wilson added. "Being on the side where the defense gears toward me, I know how that feels."
How else would the Aces rank No. 1 defensively in the regular season if not for multiple elite individual and team defenders?
But the panel of voters — 60 journalists and broadcasters, including the Review-Journal's Andy Yamashita — declined to appropriately honor Young, leaving Aces coach Becky Hammon as equally perplexed as Wilson, her superstar power forward.
"We have the No. 1-ranked defense and we had one player on there?" she posited, rhetorically — endorsing Young and Washington Mystics guard Natasha Cloud as rightful honorees.
"Disagree with it, but we can't control that."
So they dominate instead.
Yes, it's a small sample size, but the Aces through three playoff games are far better defensively than they were in the regular season — allowing a paltry 87.2 points per 100 possessions via a league-low 38.5 percent shooting.
At the epicenter of their perimeter defense is Young, who oscillates effortlessly between assignments amid her evolution into one of the WNBA's best offensive players as well.
A scorer, too
Lest we forget, she averaged a career-high 17.6 points per game this season while converting a league-high 44.9 of her 3-pointers, improving from 25 percent just two short years ago. She made 5 of 6 Sunday, spotting up to preserve ideal spacing around Wilson and swiftly attacking opposing closeouts to create additional creases in the Wings and their defense.
She's a blur with the ball, a terror in transition — and one of the best all-around players in basketball.
Added Wilson: "Jackie shows up every single night and doesn't take a play off."
Whether the league's all-defensive teams include her or not.
Contact Sam Gordon at sgordon@reviewjournal.com. Follow @BySamGordon on X.