Gordon: Spence Jr., Crawford embrace big-fight buzz, historic stakes
Updated July 28, 2023 - 10:47 pm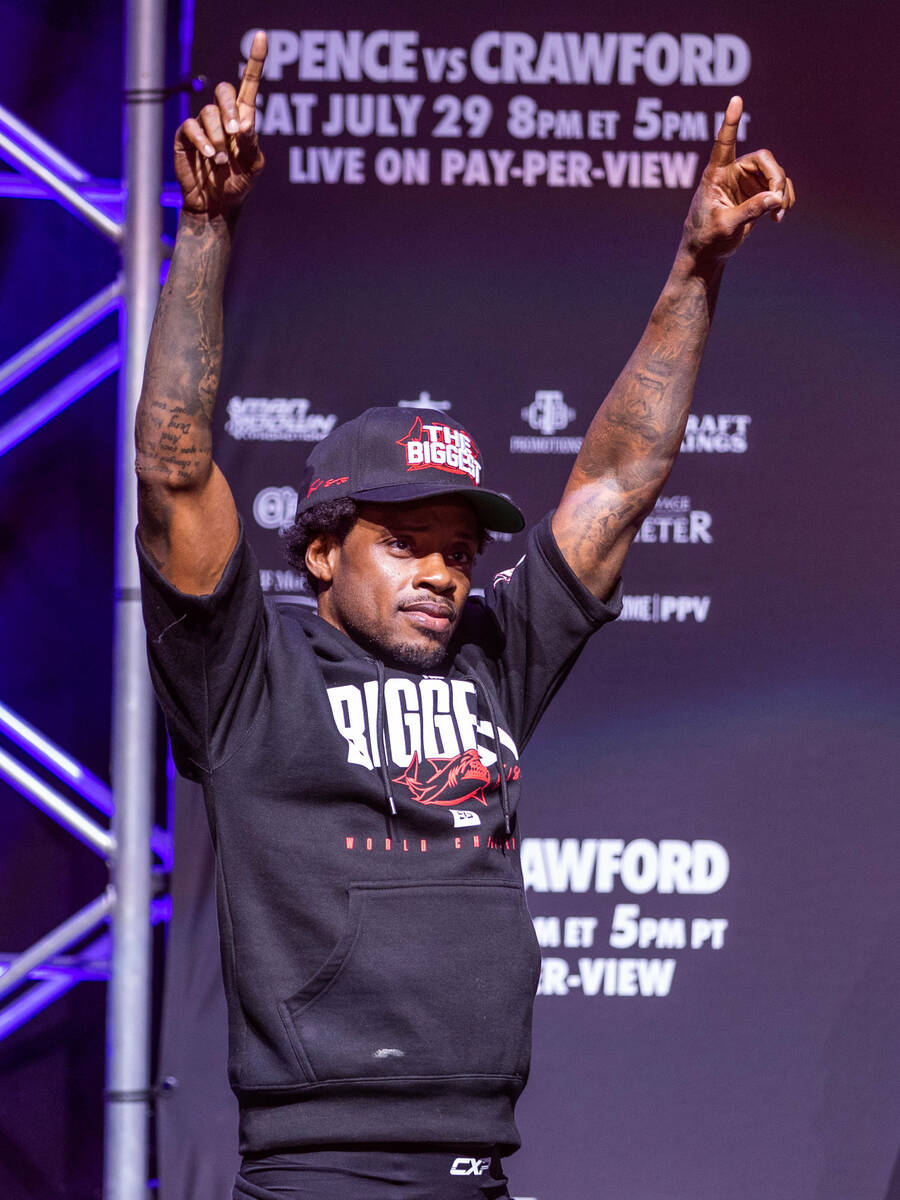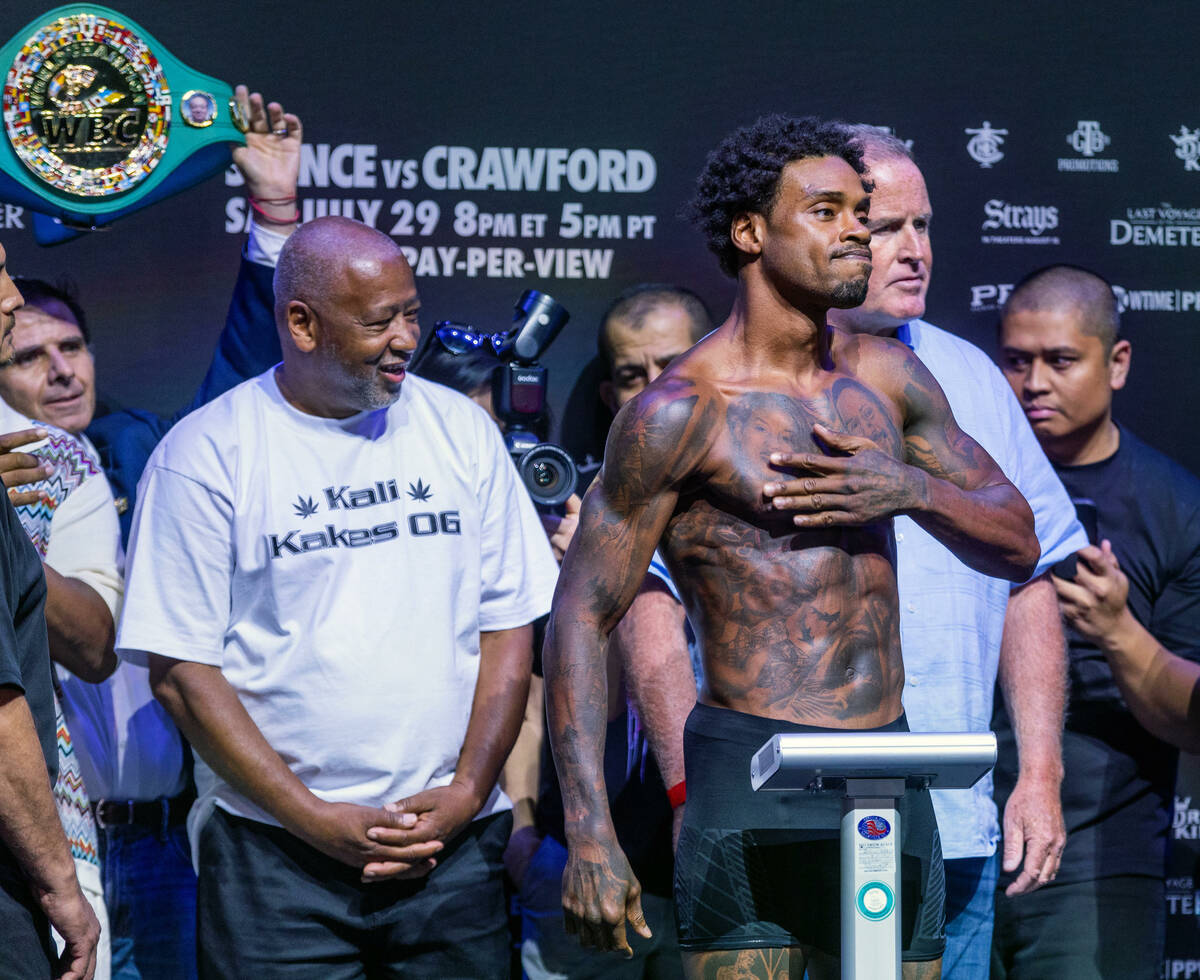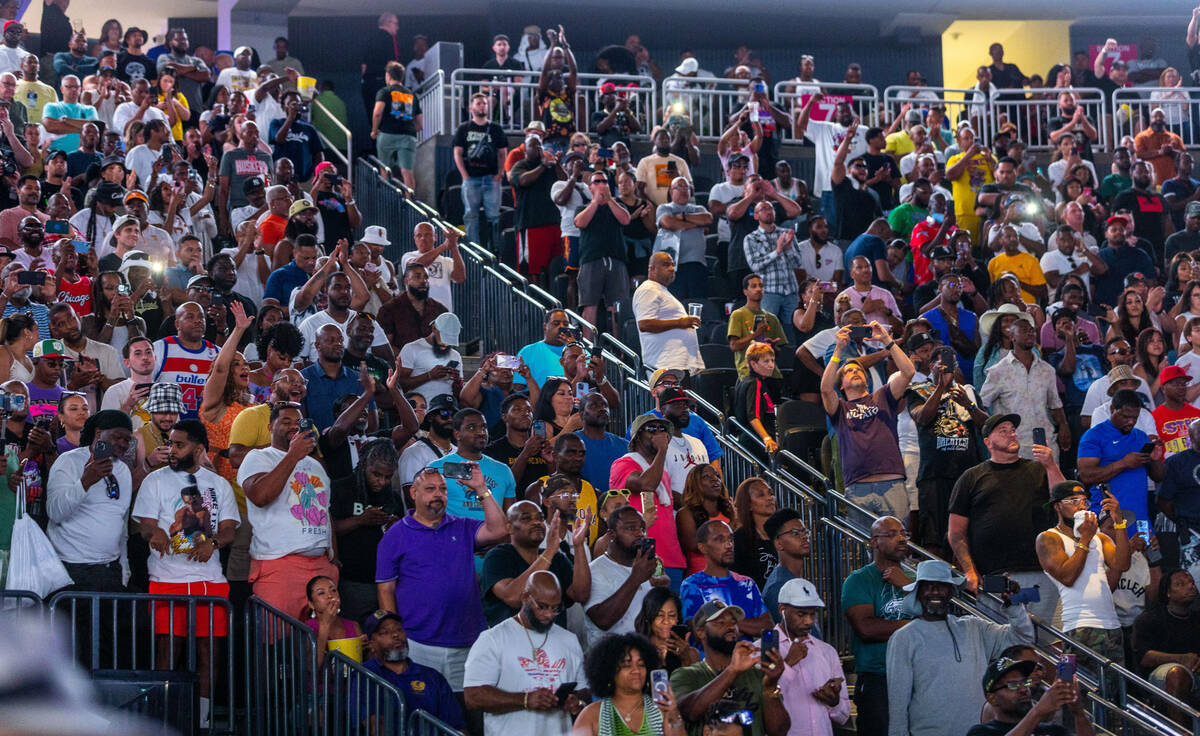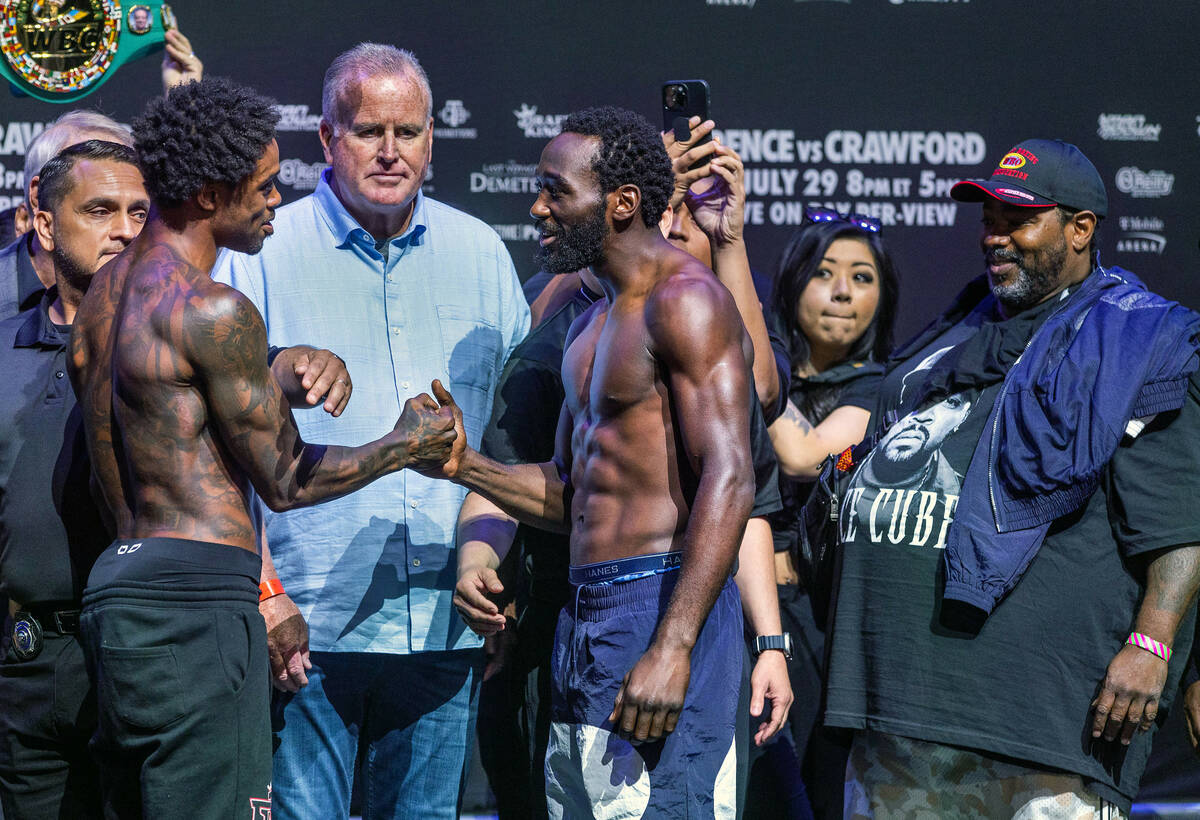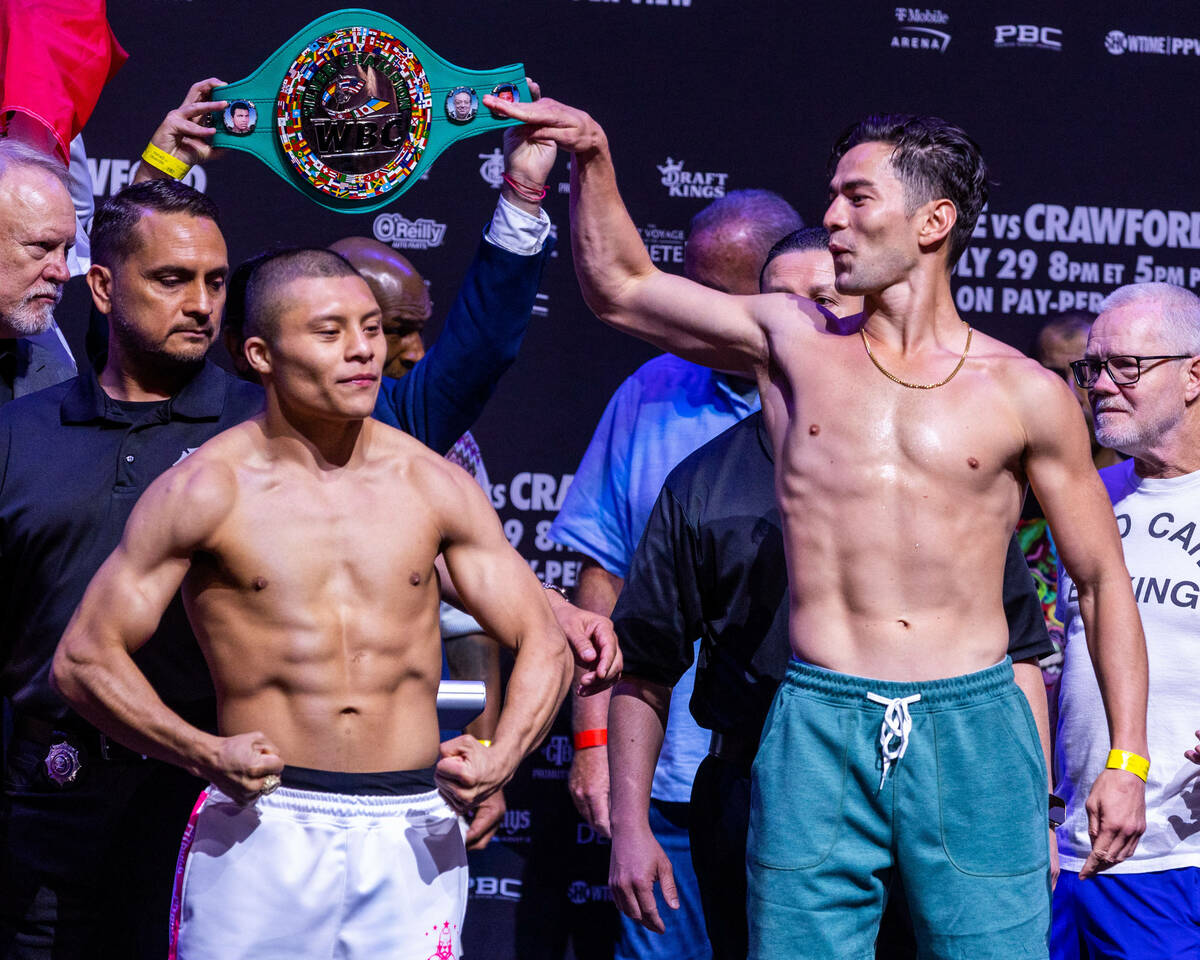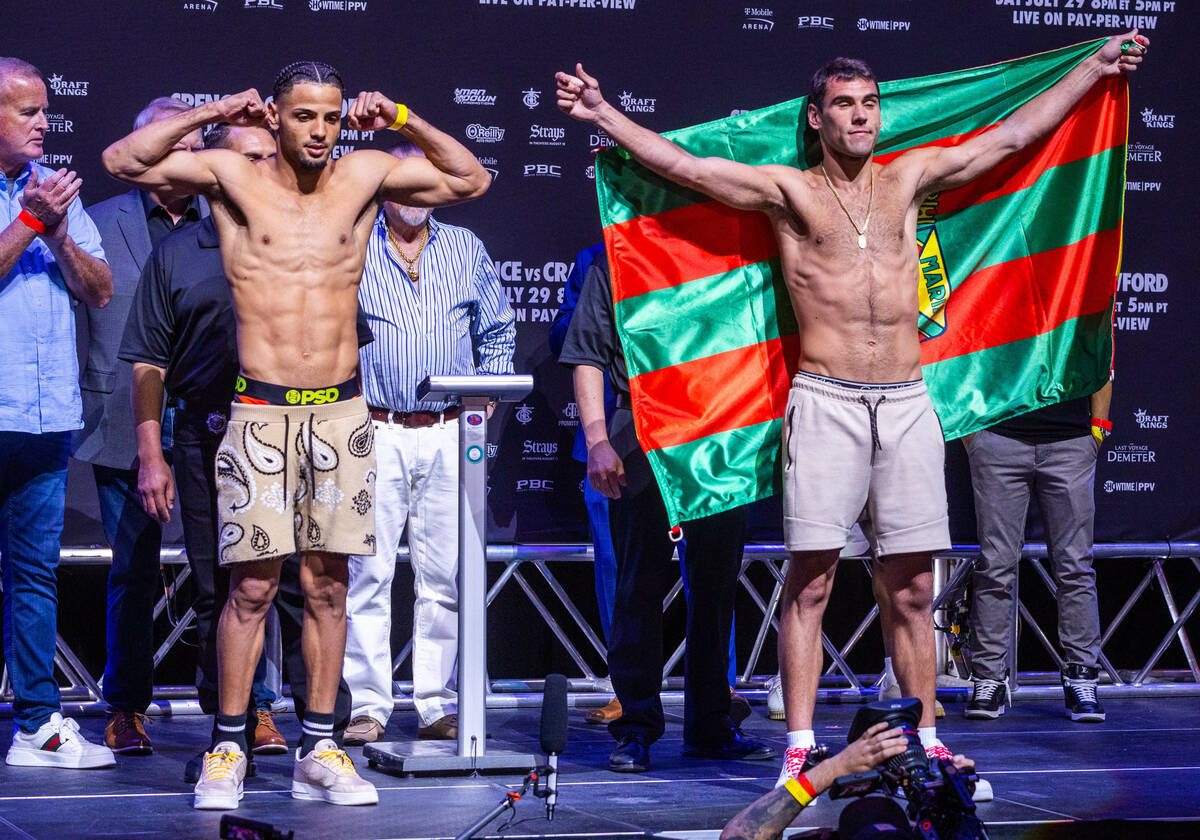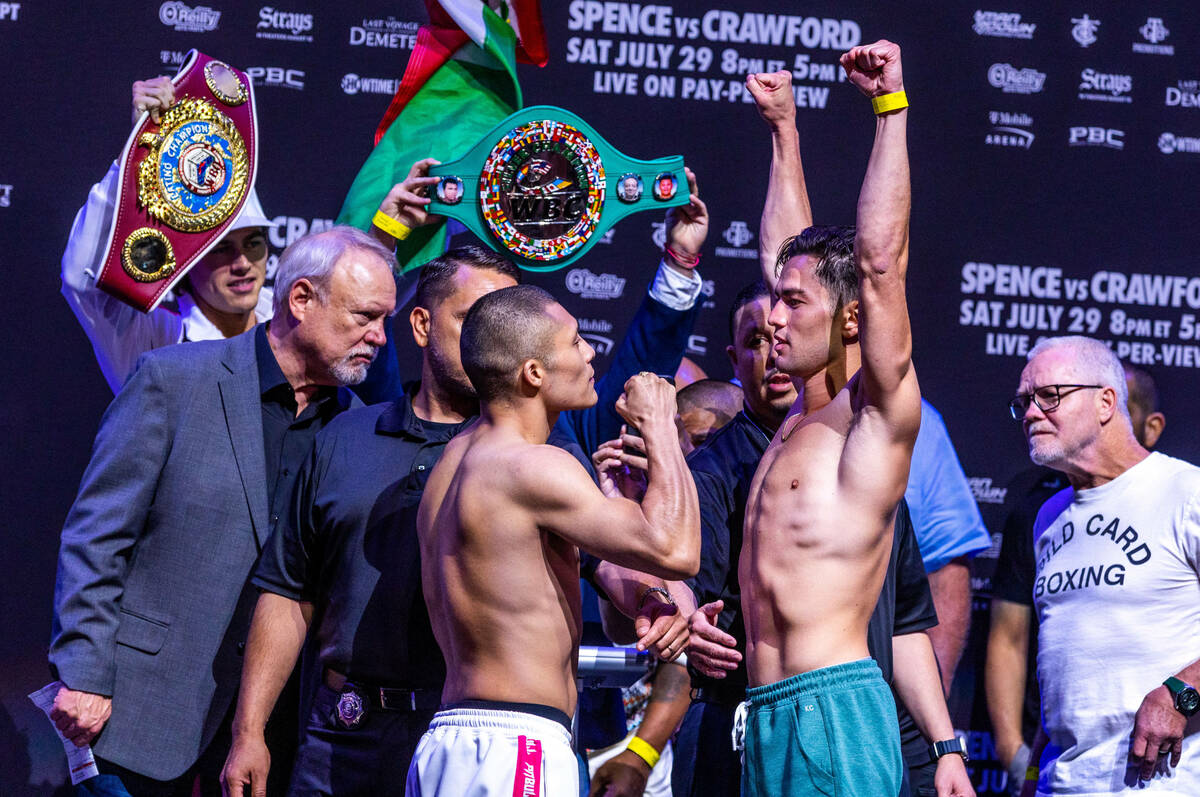 They shared one final faceoff before they finally face off, their fight five years in the making.
But before Errol Spence Jr. and Terence Crawford wage their welterweight war Saturday, they first acknowledged its significance Friday at their ceremonial weigh-in at T-Mobile Arena.
"You ain't going to thank me for making this fight happen?" Spence asked Crawford through a subtle grin, drawing a sly smile from Crawford, a handshake and a respectful response in return.
"I know. You ain't got to thank me, either," Crawford said.
"We're going to make history, baby."
A new name gets etched in boxing lore TOMORROW night🔥

Order #SpenceCrawford: https://t.co/32LwrbgAKD pic.twitter.com/ItAw7l4EzD

— SHOWTIME Boxing (@ShowtimeBoxing) July 28, 2023
Either Spence (28-0, 22 knockouts) or Crawford (39-0, 30 KOs) will leave T-Mobile Arena on Saturday as the first undisputed welterweight champion in boxing's four-belt era — and the winner of the most significant superfight since Floyd Mayweather fought Manny Pacquiao in 2015.
Several thousand watched them weigh in, Spence at the 147-pound limit, Crawford at 146.8. Mike Tyson and Evander Holyfield shared center stage, and the unapologetically primal passion for pugilism emerged in Las Vegas, where it often lies dormant until the world's greatest gladiators gather.
"This is what us high-class fighters deserve," Crawford said to Showtime's Ariel Helwani, basking in the chaos he helped create. "We both putting our life on the line to entertain each and every one of y'all. It's only right y'all come out and show support."
50-50?
They inherently are putting their lives on the line. It's the nature of their sport. The fate they accepted when they first laced their gloves. A dance with death isn't a possibility but a promise — and why the respect for one another runs deeper within them than their rivalry.
Yet Spence, the 33-year-old IBF, WBA and WBC champion, has vowed "to break him down and break his will" when they share the ring.
Crawford, the 35-year-old WBO champion, said he doesn't "go in there looking for the knockout, I go in there looking for the win. If he gets out of line, he's gonna be the next one going down."
Months of preparation underscore their confidence.
The case for Spence as the victor is such: He's the bigger, sturdier fighter, with an unparalleled penchant for overwhelming pressure. "The Big Fish" in the welterweight waters with an educated jab, and volume, pace and in-fighting expertise that are infallible thus far.
The case for Crawford centers around his deeper set of skills: He can box and bang from both stances, adjusting in accordance with the offerings of his opponent. Fast with his hands, fleet with his feet, deft with his movement and devoid of predictability.
Undisputed supremacy is the simplest of their spoils.
Pride and legacy are on the line.
"People are going to talk about this fight 30 or 40 years from now when you talk about legendary fights," Spence said. "They're going to talk about this fight the same way they talked about the 'Four Kings' era. There's going be an amateur 20 years from now watching our fight on YouTube and saying, 'Man, I want to be in a fight like that.' "
A big-fight feel
Maybe Caleb Plant and Jermall Charlo do, too, based on the apparent tension between them that simmered as they departed Friday's event. Plant fired a left at Charlo, the WBC middleweight champion whose brother, Jermell, fights Canelo Alvarez on Sept. 30 in Las Vegas.
‼️ Caleb Plant HITS Jermall Charlo in an altercation backstage at the Errol Spence vs Terence Crawford weigh-in…

[🎥 Ed_Itt] pic.twitter.com/59b2efTkhY

— Michael Benson (@MichaelBensonn) July 28, 2023
Can't think of better chief support for Saturday.
Roy Jones Jr., Shakur Stevenson and David Morrell Jr. were among other weigh-in attendees, only adding to the aura. Luminaries expected to attend the fight include Tracy Morgan, Shannon Sharpe, Damian Lillard, Cardi B, Emilia Clarke, Michael Irvin and Micah Parsons.
Plus the world's greatest gladiators — past and present.
Said Spence to Helwani: "It's beautiful just having people come out and support us. It's huge, and now it's time for me to put on a big show come Saturday night."
History, indeed.
Thanks to Spence and Crawford.
Contact Sam Gordon at sgordon@reviewjournal.com. Follow @BySamGordon on Twitter.
Up next
Who: Errol Spence Jr. vs. Terence Crawford
What: Undisputed welterweight title
When: 5 p.m. Saturday
Where: T-Mobile Arena
Tickets: Starting at $564 on axs.com
TV: Showtime pay-per-view, PPV.com ($84.99)
Odds: Crawford -145; total 10½ (over -250)
Tale of the tape
Errol Spence Jr.
Age: 33
Hometown: DeSoto, Texas
Record: 28-0, 22 knockouts
Height: 5-9½
Weight: 147 pounds
Reach: 72 inches
Stance: Southpaw
Terence Crawford
Age: 35
Hometown: Omaha, Nebraska
Record: 39-0, 30 knockouts
Height: 5-8
Weight: 146.8 pounds
Reach: 74 inches
Stance: Switch