Gordon: 'Stronger, faster, meaner': Crawford in Vegas for a fight, not the fanfare
Updated July 20, 2023 - 5:18 pm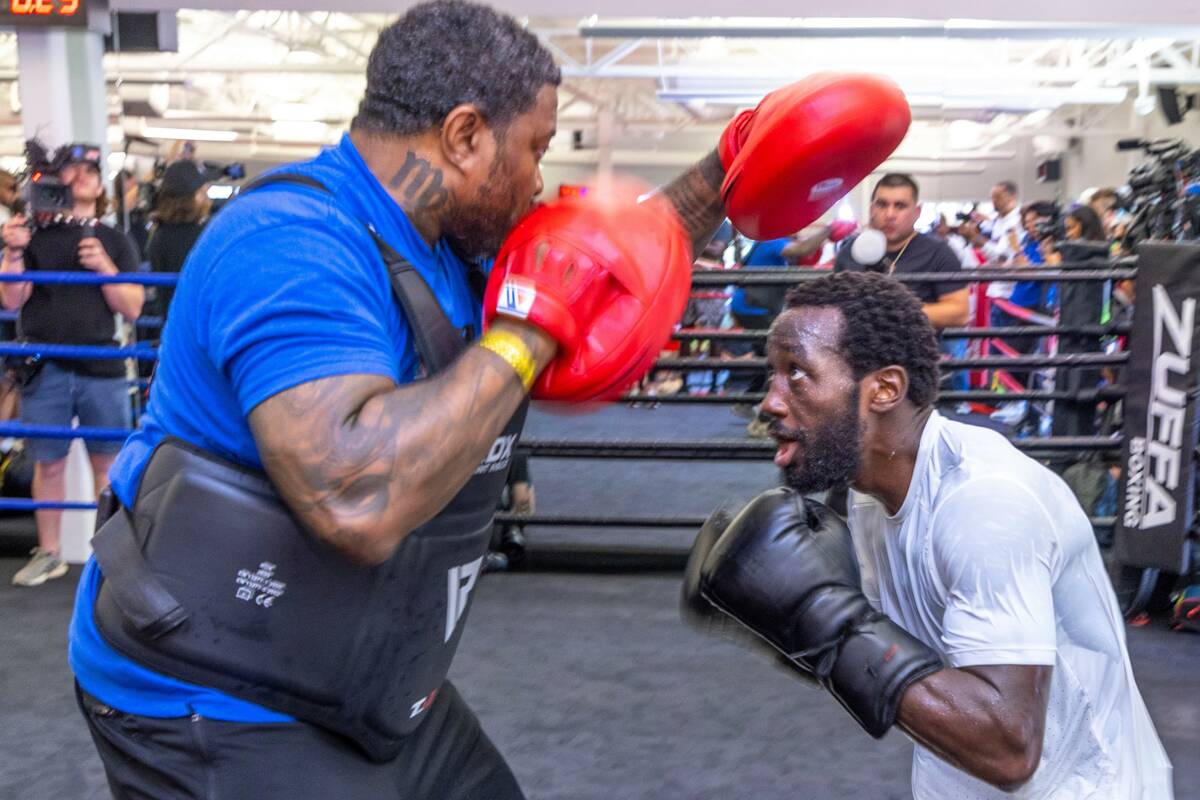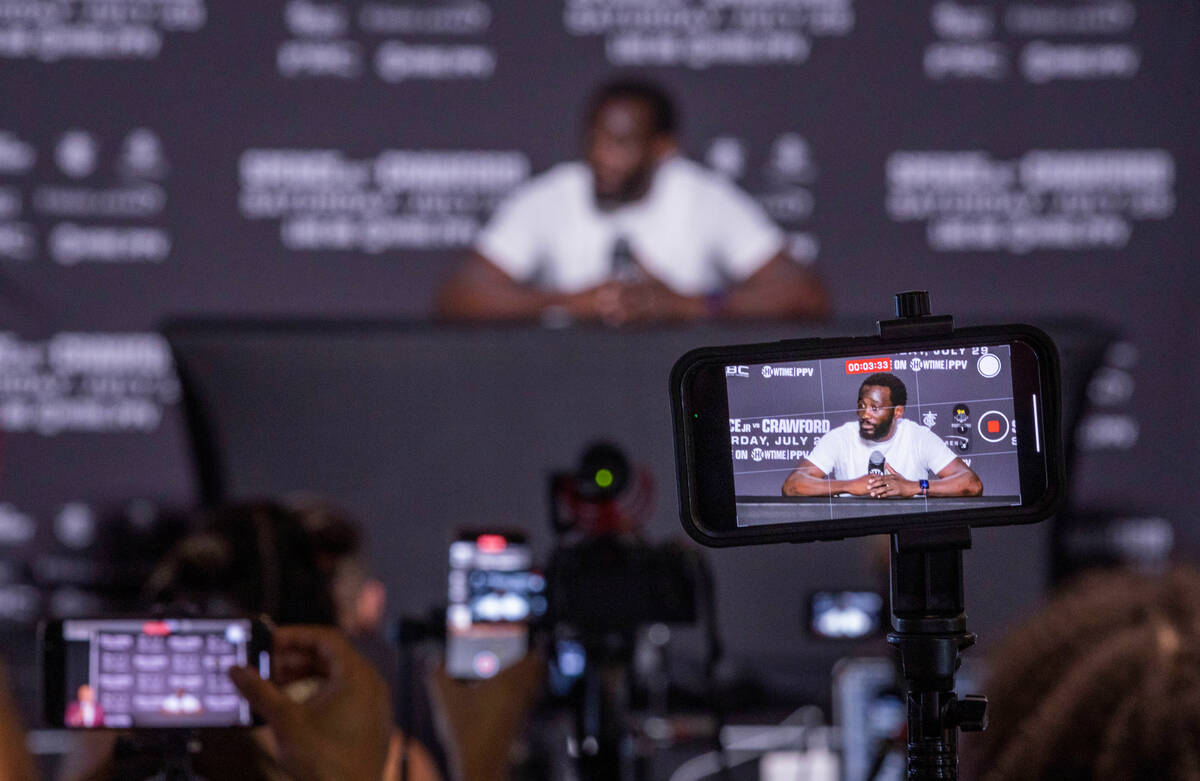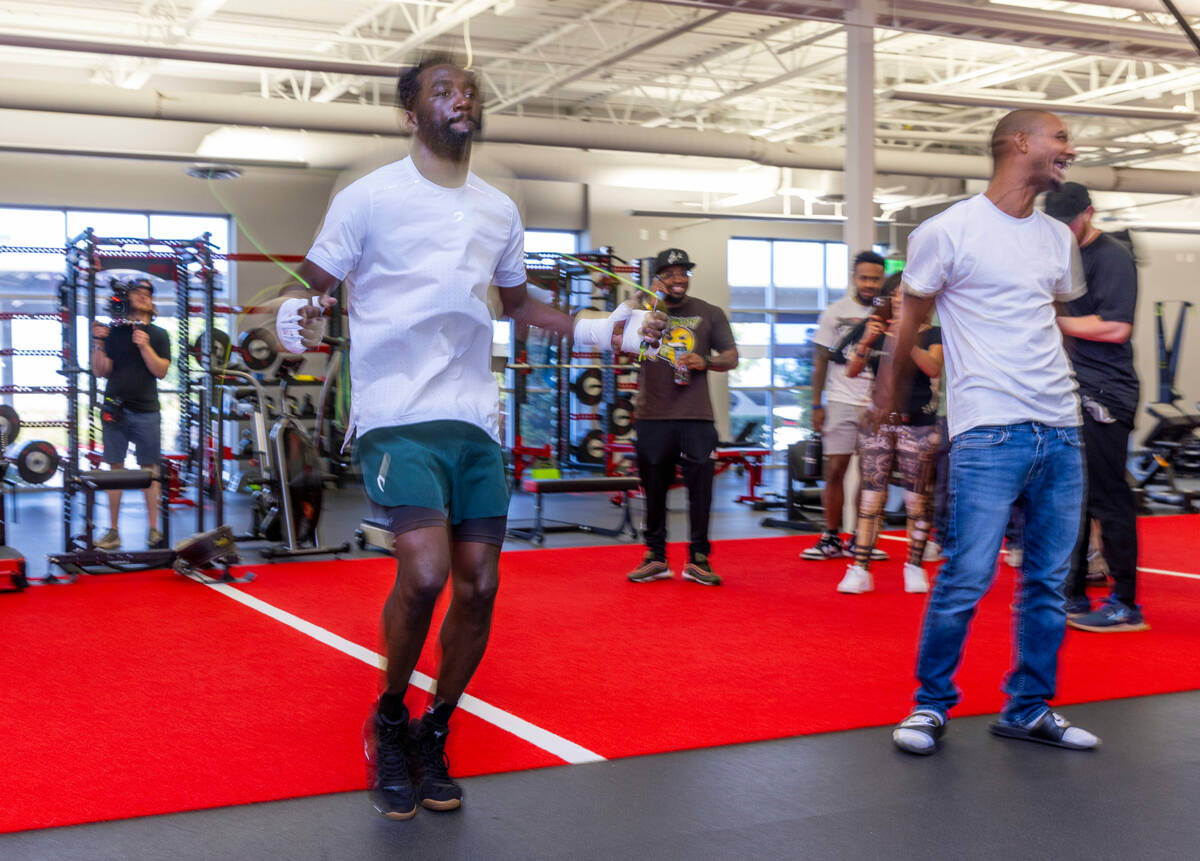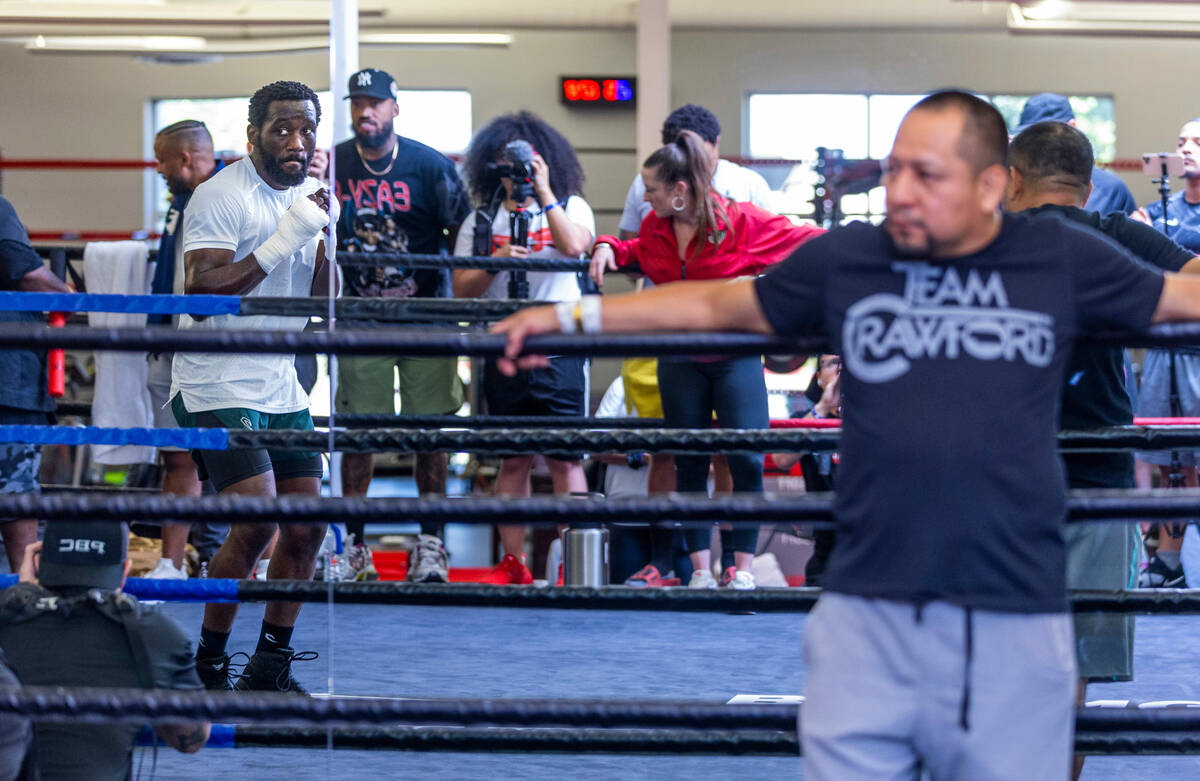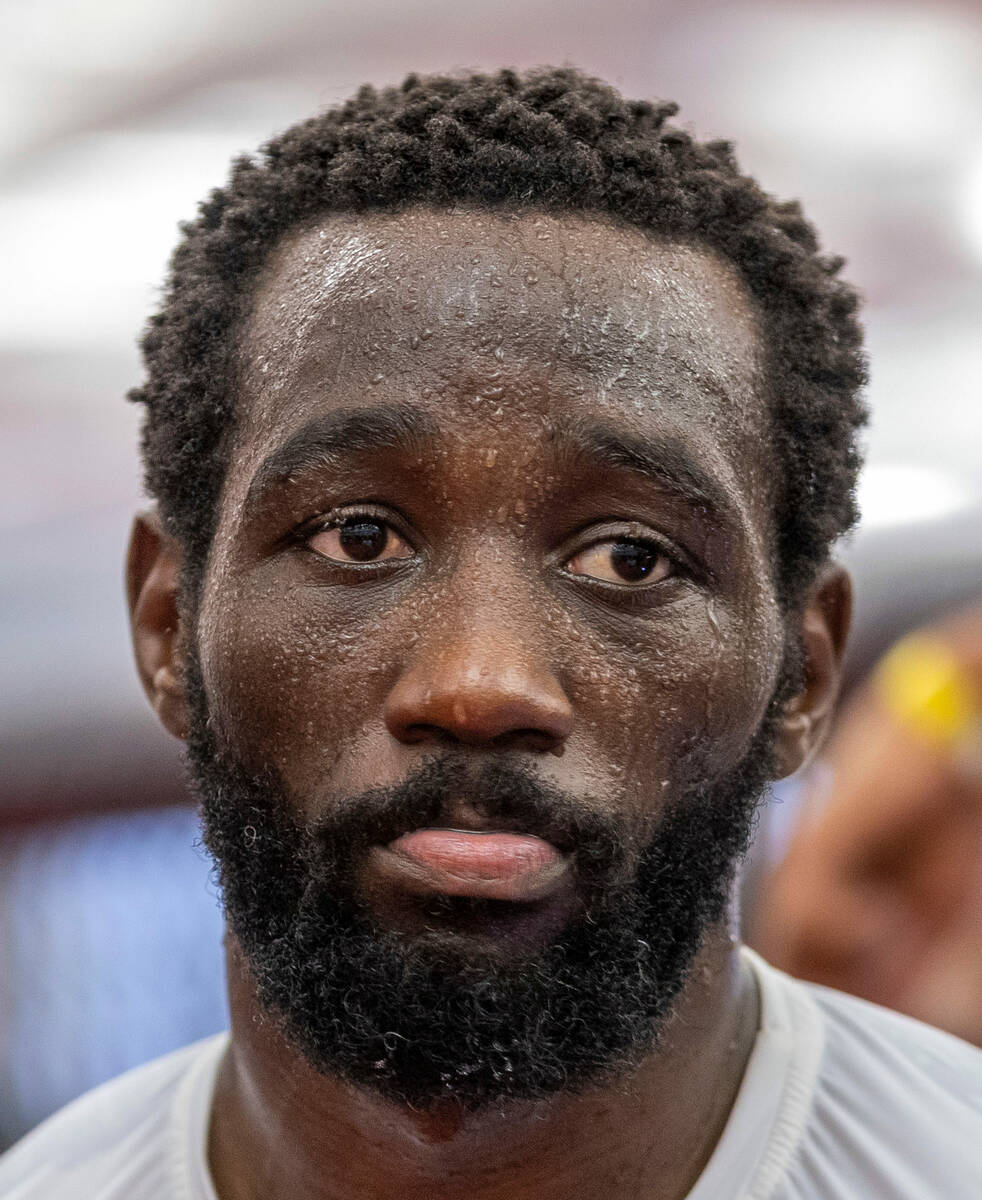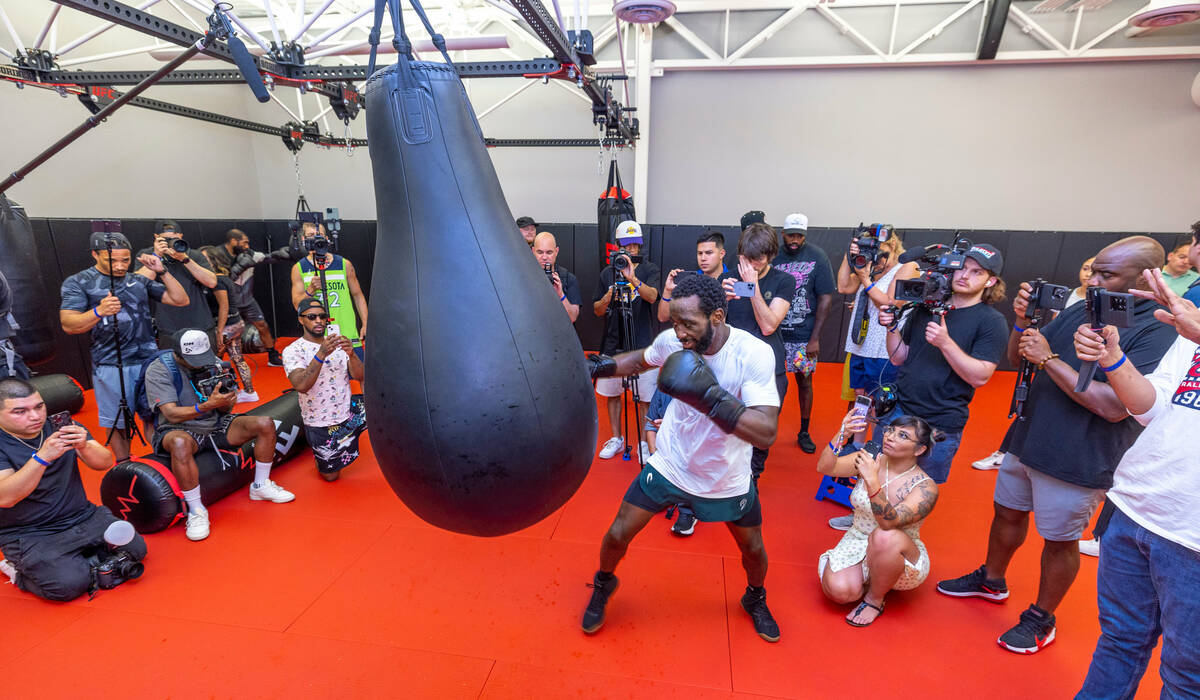 The media workouts are cosmetic in nature. Among the final pieces of the promotional pie.
Go back-and-forth with an assembly of reporters. Jump the rope, snap the speed bag, hammer the heavy bag.
Head home having hardly broken a sweat.
Except somebody forgot to tell Terence "Bud" Crawford, who couldn't care less about cosmetics.
The WBO welterweight champion trained nearly 90 minutes Wednesday, seemingly oblivious to the gathering inside UFC Apex while he shadowboxed alone — envisioning Errol Spence Jr. across from him and the glory that awaits July 29 at T-Mobile Arena.
"I've been waiting for this moment for a long time now," said Crawford, a three-division champion and former undisputed 140-pound king from Omaha, Nebraska.
"It's here now, and I can't wait until (next) Saturday to get it on."
Crawford (39-0, 30 knockouts) is concluding his training camp in Las Vegas, where he'll vie for history in boxing's most consequential fight since Mayweather-Pacquiao: a mega matchup between two of boxing's very best presented by Premier Boxing Champions.
Should the 35-year-old beat Spence (28-0, 22 KOs), the 33-year-old IBF, WBA and WBC welterweight champion, and capture the undisputed 147-pound title, he'll become the first male boxer to claim undisputed glory in two divisions during the four-belt era.
Slick slugger
Hence the focus he put forth and the puddle of perspiration his white T-shirt absorbed — mild compared to what the heavy bag absorbed Wednesday to the sounds of Young Dolph, Drake and Meek Mill, among others.
Said Crawford's trainer of 27 years, Bryan "BoMac" McIntyre, who leads what's long been a close-knit camp: "As long as Errol Spence brings his best performance … I know for a fact you'll see a performance you've never seen out of (Crawford)."
That's quite the proclamation considering the pound-for-pound pedigree possessed by Crawford, a stoic, slick, switch-hitting slugger who effortlessly oscillates between stances and styles.
He's 8-0 at welterweight, winning every fight via knockout or stoppage. Yet his very best will be required to beat Spence, a lifelong welterweight and fellow pound-for-pound stalwart — with a bigger frame, boxing's best fundamentals and more seasoning on the sport's biggest stages.
But as Crawford was "moving up and getting bigger and bigger, he's also getting wiser," McIntyre said. "That's the great part going into this fight. His ring IQ is elevated. His weight is elevated in the right way. … I'm talking about stronger, faster, meaner. The whole … package you need to conquer the division."
Indeed, it would seem Crawford is already on weight, his calves cut from diamond, his thighs lean and layered with dense muscle to buoy an equally lean torso.
He could fight tomorrow.
He'll wait nine more days instead, having arrived Sunday in Las Vegas to get used "to the heat, get used to the atmosphere, everything."
Carrying the torch
The Las Vegas heat and the Sin City atmosphere are exactly what Crawford dreamed about as a youth in Omaha, from the city's north side he so proudly champions. Where he'd train until everybody left the gym and where B&B Boxing Academy opened in 2013, courtesy of Crawford and McIntyre.
"Dead smack in the middle of the community," said McIntyre, "because Bud can't keep doing this forever. Sooner or later he's got to quit, and there's got to be other athletes to come along and carry the torch."
But right now it's carried by Crawford, who will bring his fire July 29 into the boxing ring inside T-Mobile Arena. And who brought it Wednesday to his media workout.
Somewhere, he's still sweating. Maybe. Probably.
"You can't get no higher than this. You can't get no higher than this," McIntyre said. "This is the highest you can ever get. I love it. I'm ready."
So is Crawford.
Cosmetics — and his white T-shirt — be damned.
Contact Sam Gordon at sgordon@reviewjournal.com. Follow @BySamGordon on Twitter.
Errol Spence Jr. vs. Terence Crawford
What: Undisputed weltwerweight title
When: 5 p.m. July 29
Where: T-Mobile Arena
Tickets: Starting at $564 on axs.com
TV: Showtime pay-per-view, PPV.com ($84.99)
Odds: Crawford -160; total 10½ (over -240)