Las Vegas fans excited for MLB, but not necessarily the A's
Updated April 26, 2023 - 12:54 pm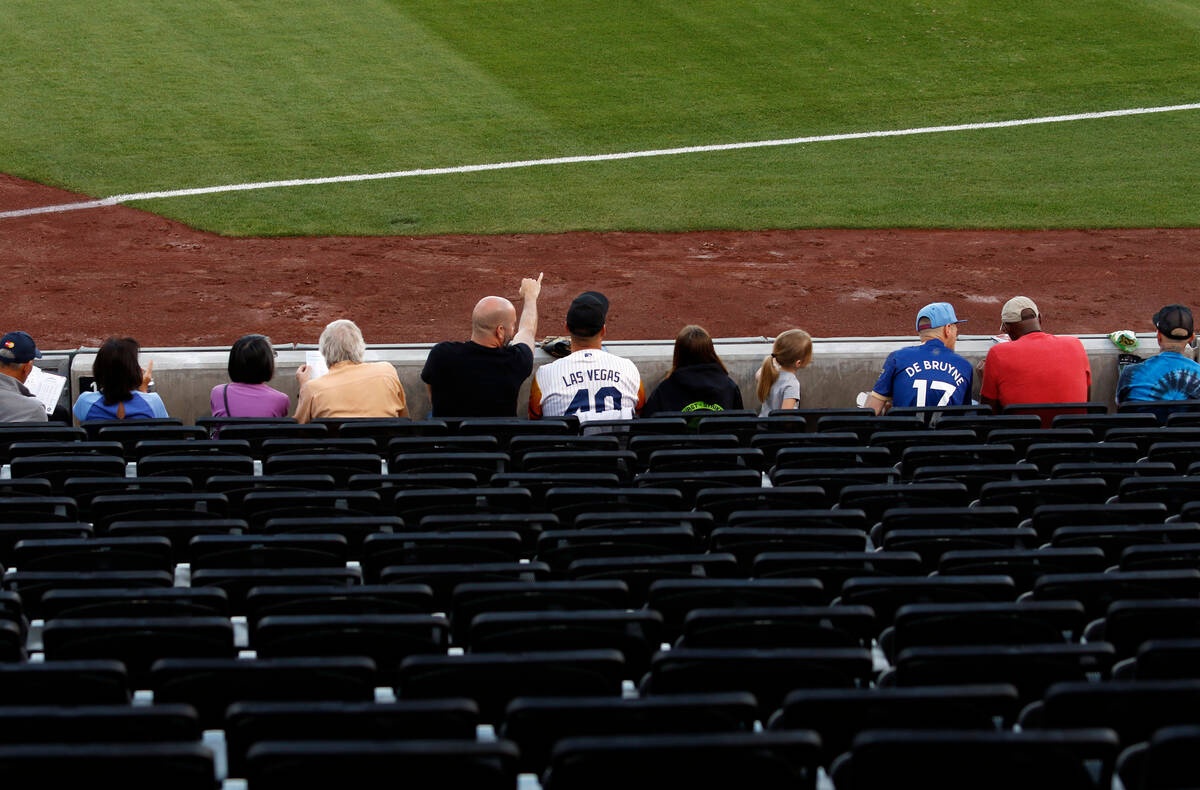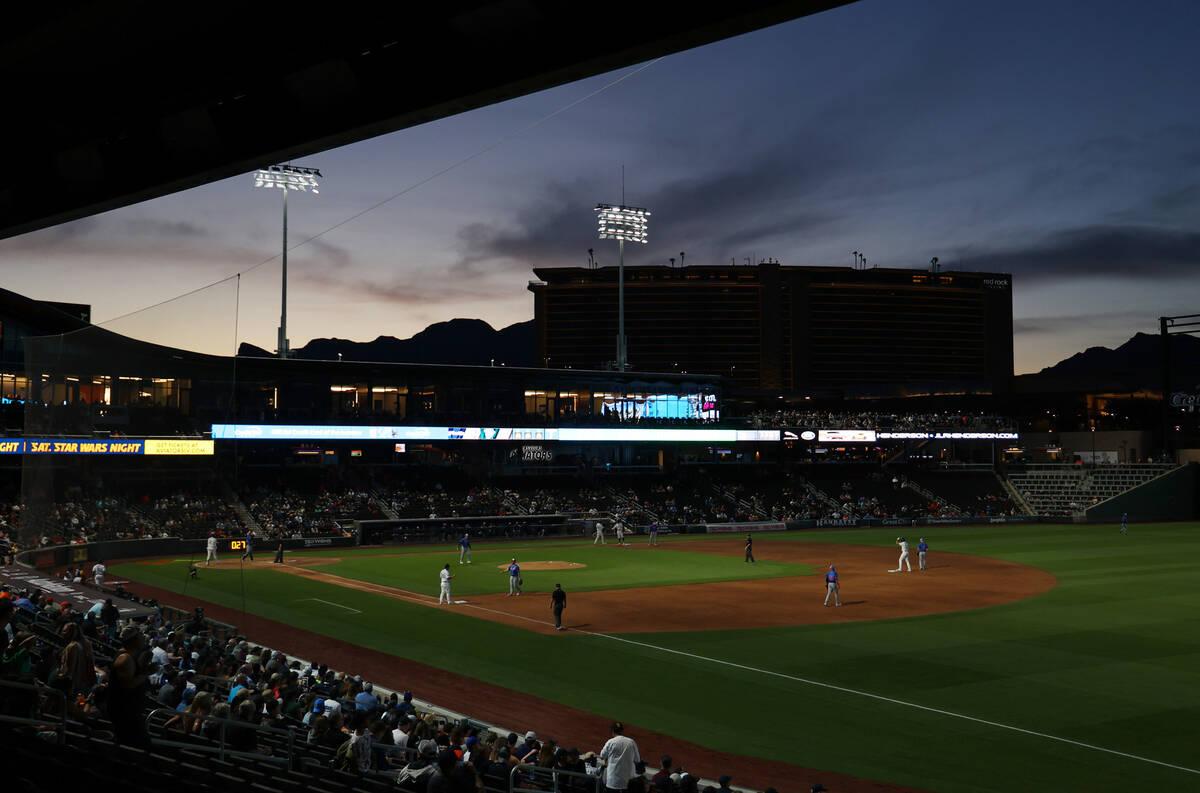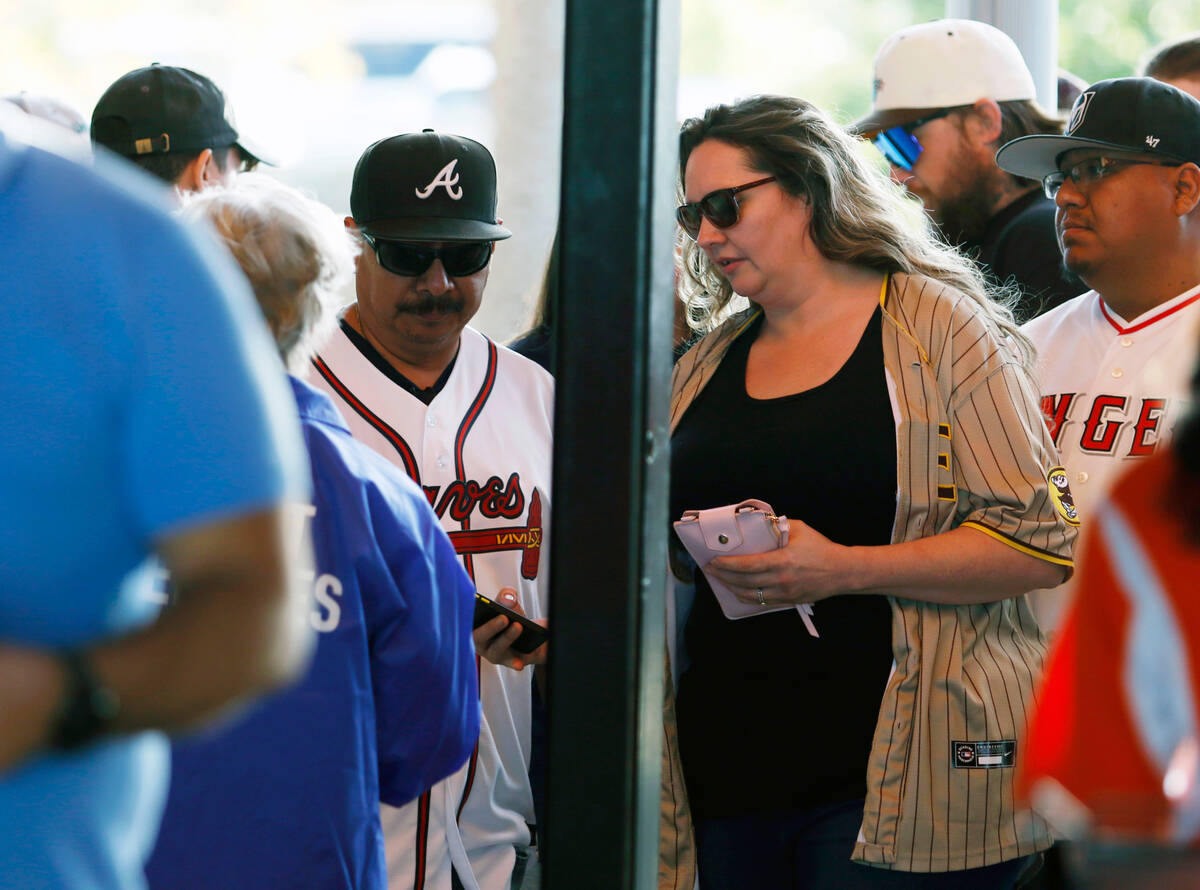 The gobs of empty seats inside Las Vegas Ballpark on Tuesday night didn't seem to bother Jeff Evtushek, who sat comfortably among them along the third-base line to watch the Aviators host the Tacoma Rainiers.
If the Oakland Athletics can secure the $500 million they seek in public funding, count the 60-year-old Michiganian among those who plan to watch them play in person.
"Until it gets to 105 (degrees)," he said with a laugh — and Detroit Tigers slugger Miguel Cabrera's last name and No. 24 across his back.
"It's going to be high in demand, I think. I think it's going to be a great thing."
Evtushek is eager for MLB to arrive in Las Vegas, though not necessarily eager for the impending arrival of the Athletics, who announced last week their plan to relocate here.
A crowd of 5,684 on Tuesday watched their Triple-A affiliate begin its first home series since they made their announcement.
A mere 200 miles away, the Athletics played the Los Angeles Angeles of Anaheim, falling 5-3 — and to major-league worst 5-19 for the season.
'Long time coming'
Other MLB franchises represented by spectators Tuesday included the Angels, Blue Jays, Braves, Giants, Guardians, Mariners, Mets, Phillies, Red Sox, Rockies and Royals.
Hardly represented were the Athletics. No more than a handful sported their garb.
Count Buford Kenton among them, though. He wore his green, gold and white hat while sitting alongside his 9-year-old son, Charleston, with whom he cheered the Aviators from a second-row seat on the first-base line.
"It's been a long time coming," Kenton, a 40-year-old Northern California native, said of the franchise's impending relocation.
But some of his family remembers remain in Northern California, and his sister is a season-ticket holder — sitting in the right-field bleachers with the Oakland 68s, a diehard faction of Athletics fans.
"She's obviously really disappointed, and I'm sad for my family members," he said. "But happy for us because we get to go to the ballpark and see the A's."
So too are Noe and Jeannie Vasquez, who attended Tuesday's game with their son Felix and daughter Alex.
They indicated they're excited to attend major league games in Las Vegas, even though they don't support the Athletics at all. Noe wore a Braves jersey and Jeannie a Padres jersey, while Felix represented the Angels.
Alex did not identify with a franchise.
"It's going to be great. We get to watch games," Felix said.
"I think Major League Baseball is needed in Las Vegas. The more professional teams the better. I think it would be great. Great for families," Jeannie said.
'Who does that?'
Jeannie understandably balked at the prospect of funding $500 million publicly. Athletics owner John Fisher is worth $2.8 billion. He pays $57.795 million to his opening day roster this season, last among the MLB's 30 payrolls.
"I wish it wasn't priced so high, but I think they definitely could get funding from the public," Jeannie said. "I'm not sure about that much of it, but I think it's going to be something good for the city. It's something that's going to be good for Vegas."
They'll still support their respective teams, except from up close when they play here and not from afar.
Evtushek won't abandon his Tigers, of whom he's been a fan his entire life.
"When the Knights came here, they were born here. They're like a little baby," Evtushek said. "These other teams who come here, it's like adopting a 50-year-old man. Who does that? But I will come to the games, and I will enjoy them and participate."
The way he did Tuesday night.
Contact Sam Gordon at sgordon@reviewjournal.com. Follow @BySamGordon on Twitter.