Opinion: Athletics owner doesn't deserve public funding from Las Vegas
Updated May 2, 2023 - 6:37 am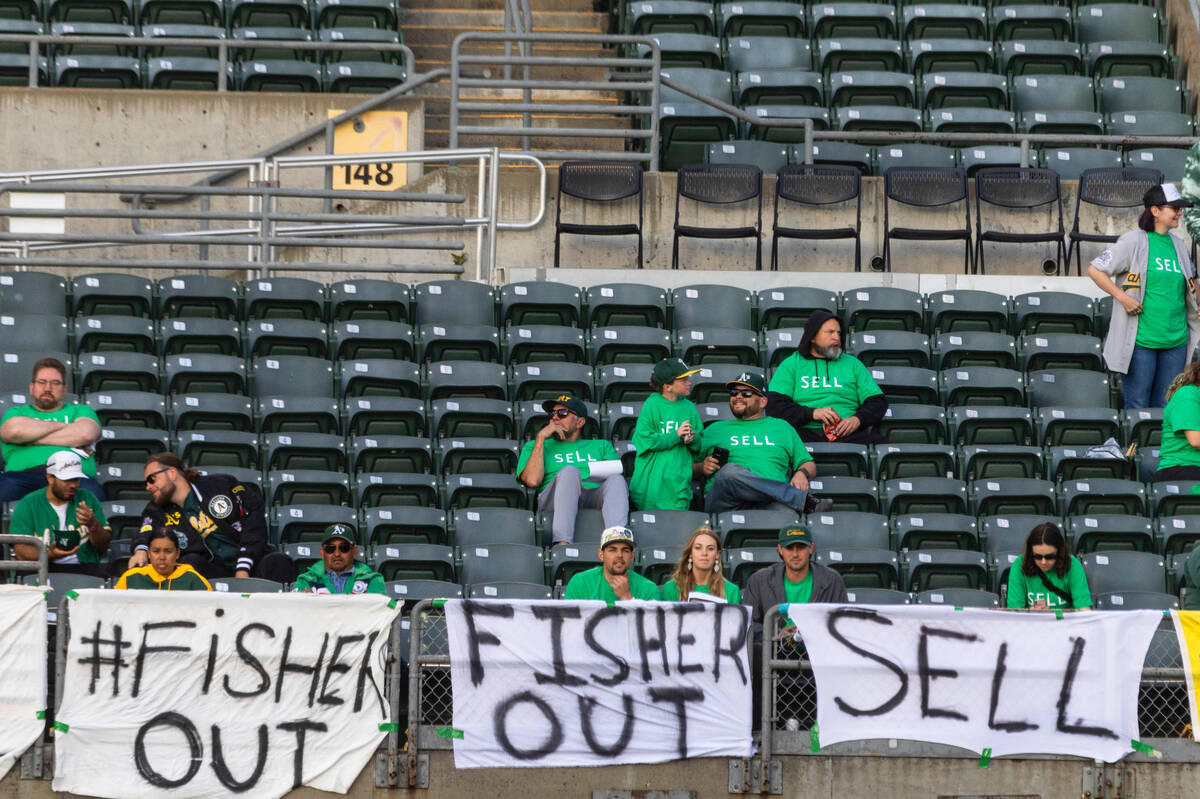 The Major League Baseball team that plans to play in Las Vegas is not the one the city should want. Nor is it one taxpayers should pay $500 million to pry from its rightful home in the Bay Area.
Las Vegas doesn't deserve the Oakland Athletics.
The Oakland Athletics don't deserve Las Vegas.
Expansion remains a far better option for baseball fans in Las Vegas than the pathetic A's, who have announced plans to purchase 49 acres for a $1.5 billion ballpark west of the Strip.
The Athletics are unapologetically arrogant — a red flag as their prospective relationship with the city intensifies.
Then there's the more glaring white one that Athletics billionaire owner John Fisher is waving with the composition of his roster, fielding MLB's lowest opening-day payroll ($57.795 million) and subsequently its worst record (5-23).
"To me, I think (a potential move to Las Vegas) should be all positive on the competitive front," MLB commissioner Rob Manfred said last week in a meeting with the Associated Press Sports Editors.
"You have smart baseball operations people. You have an owner who wants to win, and I think Las Vegas presents a real revenue-enhancing opportunity."
Killing competitiveness
Here's the thing, though: Oakland and its decrepit Coliseum don't prevent the Athletics from being competitive. That falls on Fisher, whose frugal approach to team-building undermines that competitive spirit that Manfred was entrusted to protect.
Fisher is the one who assumed sole ownership of the franchise in 2016, inheriting a team that would win 97 games apiece in 2018 and 2019 — and the American League West in 2020.
He's also the one who wouldn't pay the stars who drove the aforementioned success, initiating one of the most egregious tanks in the history of professional sports — and alienating a base of fans that predates his arrival.
"I think the A's baseball operations staff is as good as any in the game," Manfred said. "John Fisher wants to win."
The Athletics want $500 million in tax revenue to bring MLB's worst team to Las Vegas, where public schools remain underfunded and roads are perpetually under construction.
"This deal has to work for the county," said economist Jeremy Aguero of Applied Analysis, who is working with the Athletics to secure the requisite funding. "It has to work for the state — inclusive of the governor and legislative leadership — and it has to work for the A's."
Don't have to do this
Here's another thing: No, it doesn't. It doesn't have to happen at all.
If the Athletics don't relocate to Las Vegas … then the city still maintains its status quo as an international epicenter of tourism and entertainment and as an emerging sports mecca.
That doesn't mean MLB still can't come to Las Vegas. Manfred obviously believes it's a fertile major league market.
Expansion remains an option, and with it, other billionaires or ownership groups who don't require public funding — and the opportunity for a franchise to forge its own identity.
"There is real momentum in Las Vegas to get something done," Manfred said.
The Athletics don't deserve to be a part of it.
Sam Gordon at sgordon@reviewjournal.com. Follow @BySamGordon on Twitter.
A previous version of this story incorrectly said that the Houston Astros weren't disciplined when they cheated to win the World Series.