5 best bets on college football win totals
Updated May 31, 2018 - 6:56 pm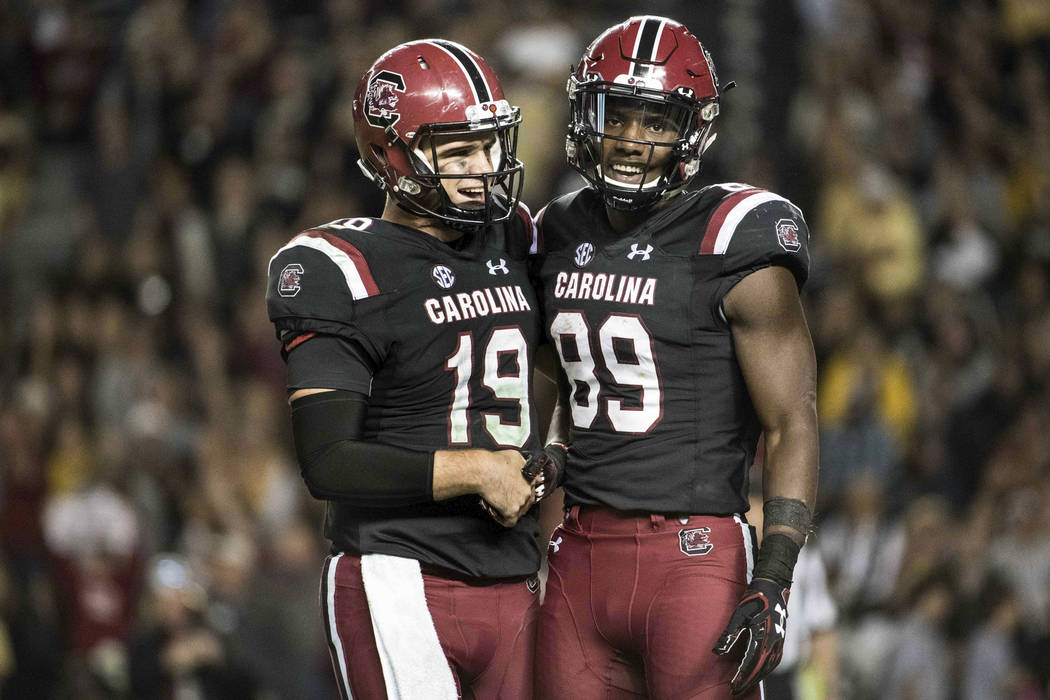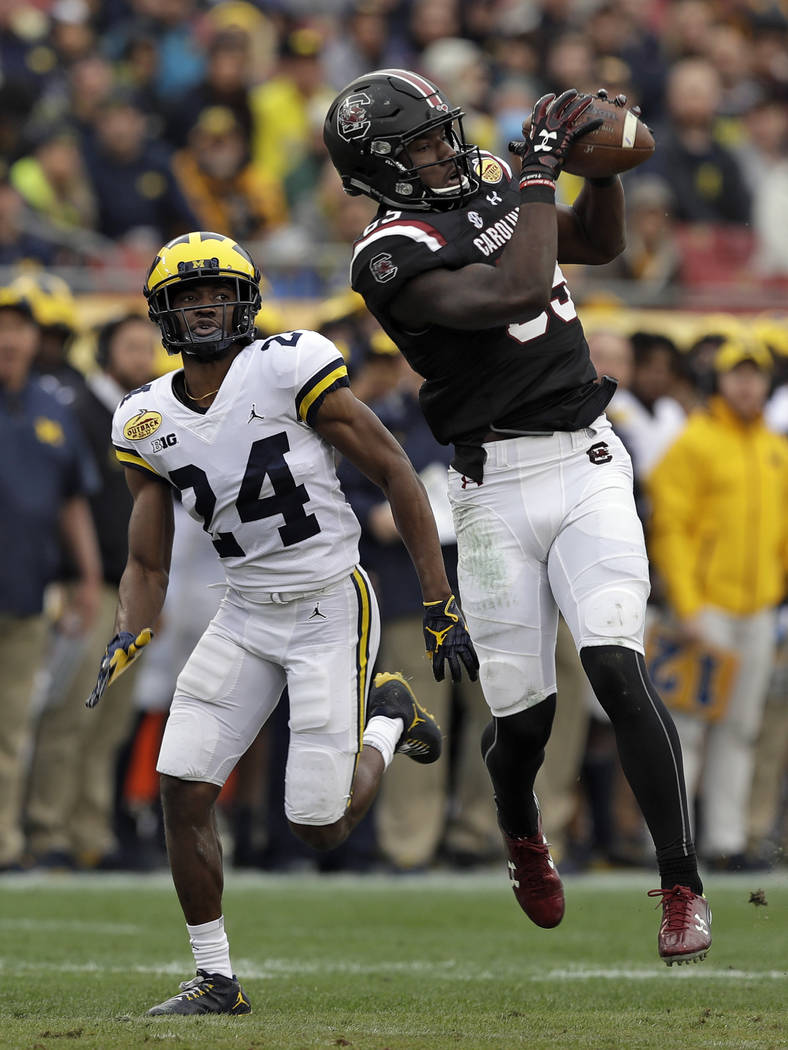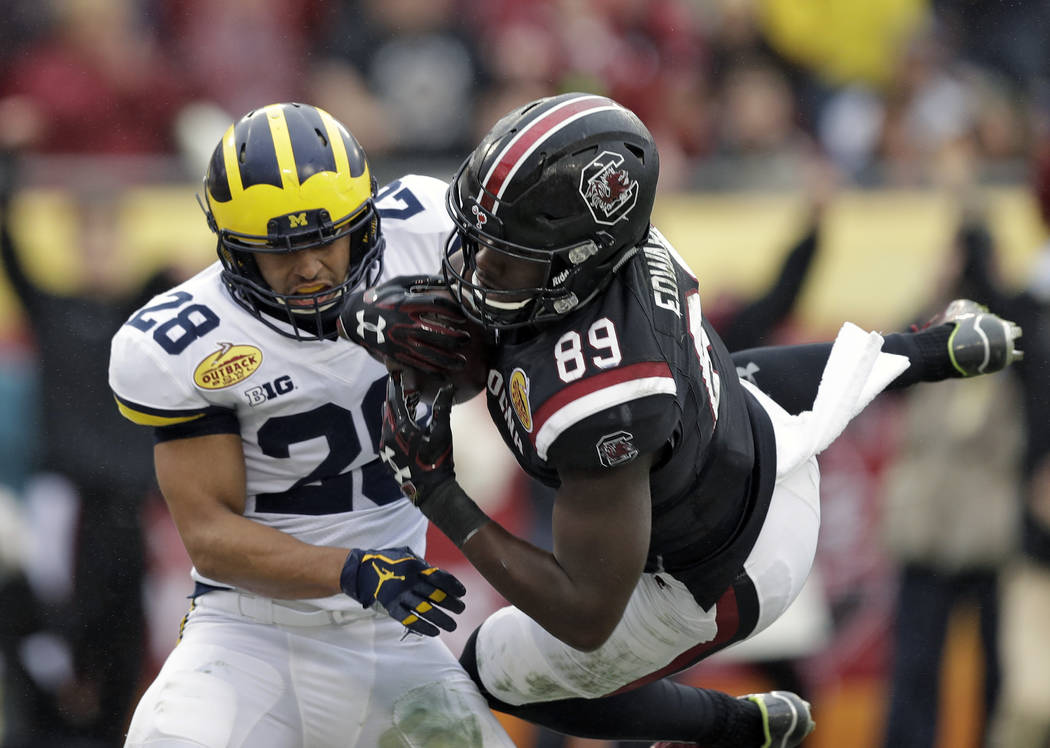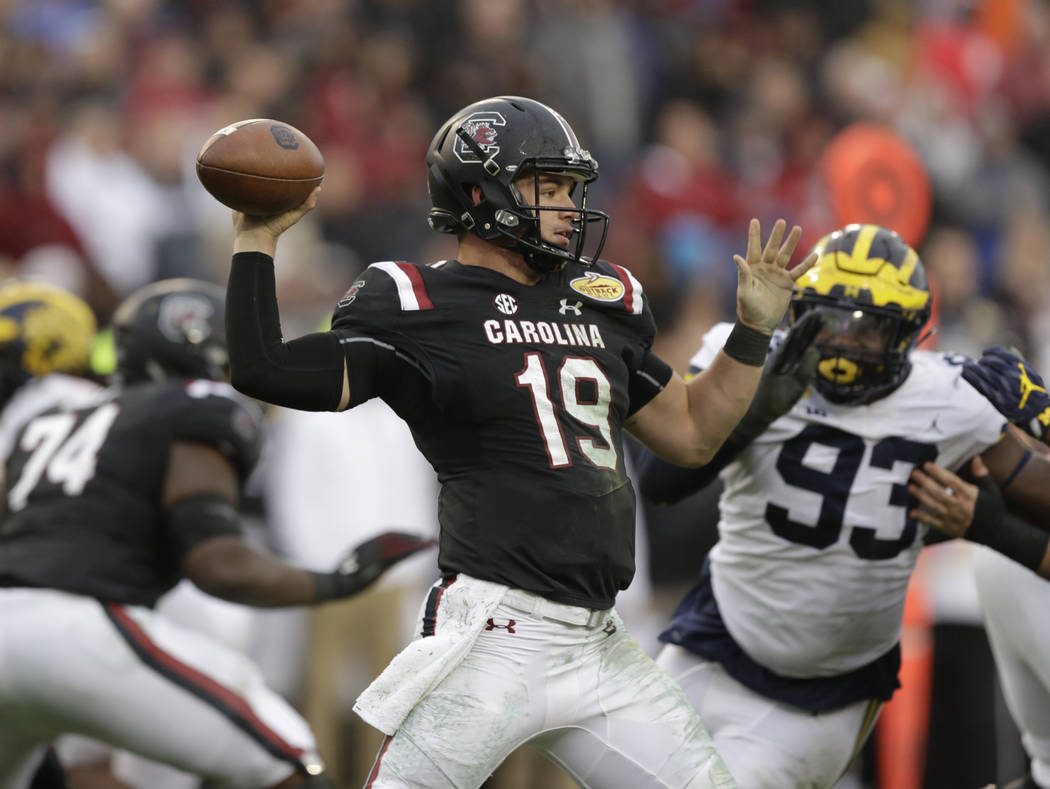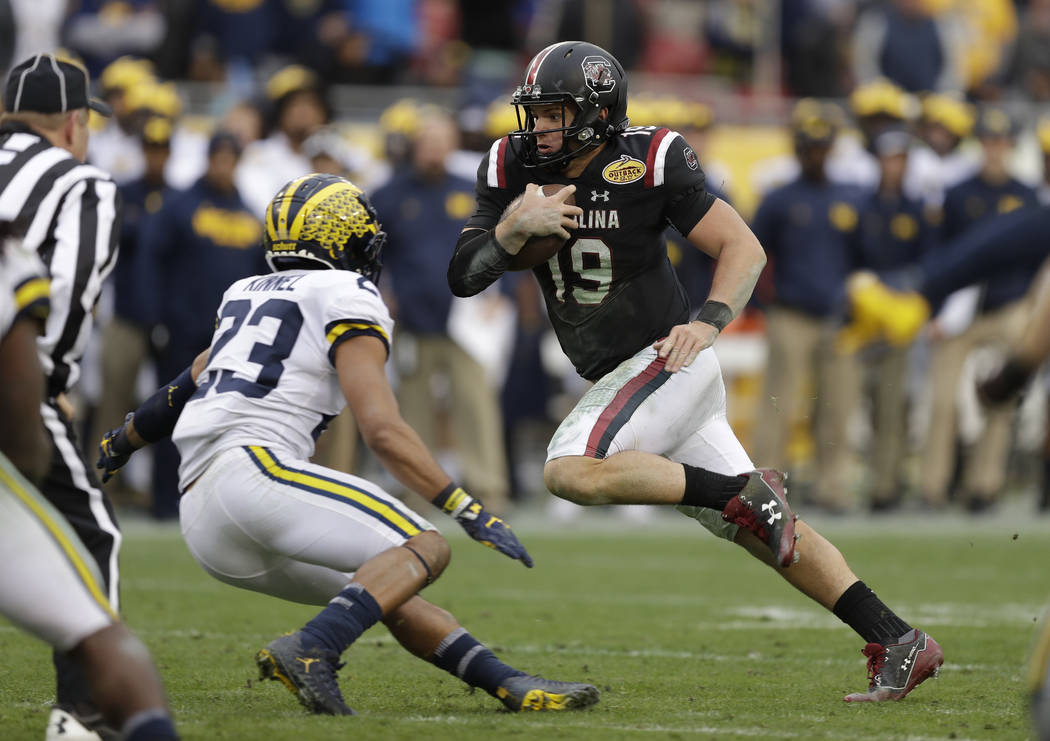 Georgia is one of only seven college football programs with a 2018 regular-season win total of at least 10 at the South Point sports book, which posted numbers Monday on 129 teams.
Clemson leads the way with 11, followed by the Bulldogs, Alabama, Ohio State and Washington at 10½. Oklahoma and Boise State are at 10.
Despite the great expectations for Georgia, handicapper Brian Edwards expects South Carolina to easily cover the spread as a 14-point home underdog to the Bulldogs in Week 2. He also loves the Gamecocks to go over their win total of 7.
When the South Point posted lines on its college football games of the year Friday, it opened Georgia as an 11-point favorite in the Sept. 8 matchup at South Carolina.
"I thought Georgia would be 7, but my line is 4½. When I saw it at 11, I would be all over that if I was in line at the South Point in Vegas," said Edwards, who is based in Florida. "Then it moved to 14. Are you kidding me? I think South Carolina has got a great chance to win that game. I'm calling for an upset."
The Gamecocks are coming off an 8-4 regular season and erased a 19-3 deficit in a 26-19 win over Michigan in the Outback Bowl. Edwards expects them to be even better this year behind third-year starting quarterback Jake Bentley.
Here are five best bets on win totals from Edwards and professional sports bettor Frank Carulli:
South Carolina (Over 7)
"South Carolina is going to go easily over 7," said Edwards (Brianedwardssports.com, @vegasbedwards). "Jake Bentley has 20 career starts, and he's a coach's son doing nothing but getting better. He's a great leader."
The offense also returns its three leading rushers and three starting offensive linemen, along with a talented receiving corps led by Bryan Edwards.
"His mama spelled it wrong," Brian Edwards quipped. "But he's a beast. And you know (coach Will) Muschamp is always going to have a solid defense and a great plan every Saturday.
"Look at their schedule, and they've only got one guaranteed loss at Clemson. They could go 10-2."
San Diego State (Under 8.5)
Carulli's top play is on the Aztecs' under.
"No Rashaad Penny, no Donnel Pumphrey, a suspect offensive line and they have road games at Stanford, Boise (State), (UNR) — which I think is going to be a lot better — and Fresno (State)," he said. "If they lose three of those four, which I think they will, it will be real solid bet."
Notre Dame (Under 9)
Notre Dame already has dropped from a 7-point to a 1-point favorite over Michigan in Week 1, from an 8-point to a 6-point favorite over Stanford on Sept. 29 and from a 9-point to a 7-point favorite over Florida State on Nov. 10.
The Fighting Irish's win total also has dipped from 9½, but Carulli still likes the under.
"They lost two offensive linemen who were taken in the first 10 picks of the NFL draft, and they lost their star running back (Josh Adams) and star wide receiver (Equanimeious St. Brown)," he said. "Five of their opponents' win totals are between seven and nine, and three others are at six. They have a tough schedule and lost some very key players."
Stanford (Over 8)
Edwards likes the Cardinal to cover as 6-point underdogs at Notre Dame and also likes Stanford to go over its win total. The Cardinal went 9-3 in the regular season last year and return Heisman Trophy runner-up Bryce Love, quarterback K.J. Costello and All-Pac-12 tight end Kaden Smith.
"I thought K.J. Costello played really well down the stretch, Love is the best running back in the country and Smith is the guy," Edwards said. "The only sure loss is at Washington, and every other game they can win. I'm not predicting 11-1, but 9-3 easy and probably 10-2."
Florida Atlantic (Over 8½)
Edwards expects the Owls to roll over North Texas as 7-point favorites Nov. 17 and also likes them to top their win total. Florida Atlantic went 10-3 in the regular season last year and beat North Texas twice by an average of 31 points.
"The worst-case scenario is FAU may go 9-3, but I think they go 10-2. They may lose at UCF and probably lose at Oklahoma, but I see them favored in every other game," Edwards said. "(Coach) Lane Kiffin has got this thing rolling, and they're going to be good on defense with 10 starters back. I think they smoke North Texas."
Contact reporter Todd Dewey at tdewey@reviewjournal.com. Follow @tdewey33 on Twitter.
College football win totals
Posted at South Point sports book
Team Open Current
Air Force 4.5 4.5
Akron 4 4.5
Alabama 11 10.5
Appalachian State 8.5 8.5
Arizona 7.5 7.5
Arizona State 5 4.5
Arkansas 6 5.5
Arkansas State 9 9
Army 7.5 7
Auburn 9 9
Ball State 4 4
Baylor 6 6
Boise State 10 10
Boston College 5.5 6
Bowling Green 5.5 5
BYU 5.5 5
Buffalo 6.5 6.5
California 5.5 6
Central Florida 9 9
Central Michigan 4 4.5
Charlotte 3.5 3.5
Cincinnati 4 5
Clemson 11 11
Coastal Carolina 3.5 3.5
Colorado 4 4.5
Colorado State 5.5 5.5
Connecticut 3.5 3
Duke 6.5 6.5
East Carolina 3 3.5
Eastern Michigan 6 5.5
Florida 7.5 7.5
Florida Atlantic 9 8.5
Florida Intl 5 5
Florida State 7.5 7.5
Fresno State 8 8
Georgia 10.5 10.5
Georgia Southern 6.5 5.5
Georgia State 5 4.5
Georgia Tech 5.5 5.5
Hawaii 3.5 3.5
Houston 7.5 8
Illinois 3.5 3.5
Indiana 5 5
Iowa 7.5 7.5
Iowa State 6.5 6.5
Kansas 3 2.5
Kansas State 6 6
Kent State 2.5 2.5
Kentucky 5.5 5.5
Louisiana Tech 7 7
Louisville 7 7
LSU 7 7
Marshall 7.5 8
Maryland 4.5 5
Massachusetts 5 5.5
Memphis 8.5 8
Miami, Fla. 10 9.5
Miami, Ohio 6 6.5
Michigan 9 9
Michigan State 9 9
Middle Tenn. St. 7 7
Minnesota 6 6
Mississippi 6 6
Mississippi St. 8.5 8.5
Missouri 7.5 7.5
Navy 7 7
Nebraska 6 6
New Mexico 4 4
New Mexico St. 6 6
North Carolina 5 5.5
North Carolina St. 7 7
Northern Illinois 7 6.5
North Texas 8 8
Northwestern 6 6
Notre Dame 9.5 9
Ohio 8.5 8.5
Ohio State 10.5 10.5
Oklahoma 10 10
Oklahoma State 8 8
Old Dominion 5.5 5.5
Oregon 8.5 8.5
Oregon State 2.5 2.5
Penn State 9.5 9.5
Pittsburgh 5.5 5
Purdue 6 6
Rice 3 3
Rutgers 4 4
San Diego State 8.5 8.5
San Jose State 3 2.5
SMU 6 5.5
South Alabama 3.5 4
South Carolina 7 7
South Florida 8.5 8.5
Southern Miss. 6.5 6.5
Stanford 8 8
Syracuse 6 5.5
TCU 7.5 7.5
Temple 6.5 6.5
Tennessee 5.5 5.5
Texas 8.5 8.5
Texas A&M 7 7
Texas-San Antonio 5 5
Texas State 3 3.5
Texas Tech 6 6
Toledo 8.5 8.5
Troy 8.5 8
Tulane 5.5 5.5
Tulsa 4 4
UAB 7.5 7.5
UCLA 5 5.5
UL-Lafayette 5 4.5
UL-Monroe 6 5.5
UNLV 6 6
UNR 6 6
USC 8.5 8.5
Utah 7 7
Utah State 7.5 7.5
UTEP 2.5 2.5
Vanderbilt 4 4.5
Virginia 5 5
Virginia Tech 8.5 8.5
Wake Forest 6 6.5
Washington 10.5 10.5
Washington State 6.5 6.5
West Virginia 7 7
Western Kentucky 4.5 5
Western Michigan 5.5 6
Wisconsin 10 9.5
Wyoming 6.5 6.5